Marketing technology has evolved past relying on guesses and assumptions; your social media marketing strategy should, too!
These days, social media listening is essential for digital marketers, giving them the ability to conduct:
Crisis monitoring and management
Brand assessment
Social media customer support
Marketing campaign monitoring
Influencer identification
Competitive and market intelligence
Trendspotting
All driven by comprehensive data analytics and insights. 
Whether you're considering using a social listening solution like Meltwater's for the first time or are dissatisfied with your current choice, it's best to have a clear understanding of what's out there. But with so many social listening offerings available today, it's easy to get lost in the sea of options. Finding the right tool for your business doesn't have to be a struggle. Read on to learn more about the 13 best social listening tools for 2023.
Table of Contents:
How Does Social Listening Work?
Understanding how social media listening works is the first step in choosing the right solution for you. In a nutshell:
Social listening tools aggregate social data from social media platforms and analyze them according to specific attributes or metrics.
Marketers use that data to inform their marketing strategy, better understand their target audiences, predict trends, identify influencers, and so much more. Overall, social listening tools enable better decision-making through data.
Check out our Ultimate Guide to Social Listening to learn more.
The top listening tools on the market today overlap in some of the features they offer but are distinct in many others. When choosing the right listening tool for your needs, consider these features:
Choice of Social Channels: Not all listening tools "listen" to the same social media channels or at the same breadth or depth. 
Technology: These days, best-in-class social listening tools offer AI-driven insights like sentiment analysis and visual brand monitoring.
Data Access: Having access to real-time and historical data is a must when using social listening for market research, benchmarking, and trend spotting. Also, keep in mind that some social listening tools charge extra for social listening searches that exceed a certain limit, while others offer unlimited ad-hoc searches.
Usability: Across the board, top social listening tools need to have user-friendly interfaces and offer easy-to-understand analytics. Customer service and support options are also important parts of usability that can't be overlooked.
Your choice of social media listening tool will come down to which one best supports your social listening strategy and marketing goals. Luckily, there are a number of competitive social listening options worth checking out. Let's dive in.
Tip: For a deep dive into social analytics, take a look at the best social media analytics software on the market.
The Top 12 Social Media Listening Tools for 2023
Meltwater: The Best Social Media Listening Tool
Our social listening platform saves marketers time and resources by providing them with a consolidated view of traditional media, social media, digital media, and audience segmentation data in one place. It also monitors one of the widest ranges of platforms and networks, including:
Twitch
YouTube
Reddit
Pinterest
Douyin
WeChat
Sina Weibo
Twitter
Our powerful search and reporting capabilities feature unlimited ad-hoc searches, queries, mentions, and dashboard analytics hand in hand with unlimited shareable dashboards, PDFs, slide decks, and data exports.
Plus, our customizable, in-depth insight reports ensure that users can keep key stakeholders in the know with accuracy, precision, and style.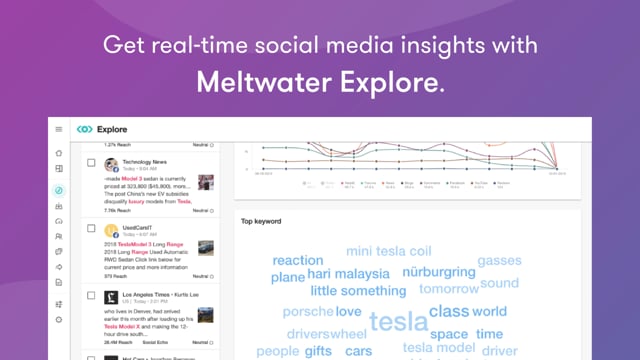 And though many listening platforms include influencer identification features, Meltwater's all-in-one social intelligence solution includes a dedicated influencer platform that helps you manage your campaigns from start to finish and identify macro-influencers, micro-influencers, and everyone in between. Compare this capability to other products that only show you social conversation authors with the highest numbers of followers.
Tip: Learn more about the Meltwater influencer platform, and check out the best influencer marketing platforms and influencer management tools on the market.
Finally, our easy-to-use interface combined with 24/7 global customer support, extensive knowledge base, and client community platform ensures no question you have goes unanswered.
An all-in-one solution that is scalable to businesses of all sizes anywhere in the world, Meltwater social listening is a must-have solution for data-driven marketers.
Awario
Awario is a brand monitoring tool that offers shareable social listening reports and a social listening API.
And along with letting users track brand names and industry-related keywords across Twitter, YouTube, and Reddit (among other online sources like news sites), the brand tracking software also includes influencer and lead identification tools.
Its analytics dashboard even features a special feed for mentions from heavily-followed influencer and media accounts. 
Tip: For social intelligence suites that include more influencer campaign management solutions, check out Meltwater and BuzzSumo. We have listed the top social media monitoring tools for you as well.
Digimind
Digimind's easy-to-use platform is tailored to medium and small businesses and offers social listening across 10+ social networks, including Facebook and Baidu. And unlike some other options on this list, all Digimind packages come with unlimited user access and data storage (though it does limit the number of queries and keywords you can track before you have to pay extra).
One feature that sets Digimind apart is its built-in reputation analytics drawn from Google searches about your brand or product. And like Meltwater and other options on this list, it offers customizable and automated reports to keep stakeholders aligned.
Brand24
Brand24 is comparable to Awario in that it offers competitive social listening features, including sentiment analysis, alerts, social media analytics reporting, and a free trial.
The "Analysis" section of its social monitoring dashboard aggregates mentions from Twitter, Facebook, and Instagram.
One of Brand24's main social listening use cases is hashtag tracking and analysis to help you increase the reach of your marketing campaigns. However, if you're on the hunt for more in-depth analytics from a wider range of social media network sources, consider a higher-tier social listening platform.
Tip: Learn more about the top alternatives to Brand24.
Talkwalker
Talkwalker is the next company that has to be part of any list of top social listening tools on the market.
It offers "Analytics," its traditional social listening platform, as well as a Quick Search tool for ad-hoc queries into 13 months of social data from 10+ social networks.
Its data visualizations, including Virality Maps and Conversation Clusters, offer high-level overviews of how online conversations are trending.
Tip: Take a look at these data visualization tools.
One offering that makes Talkwalker stand out is the more than 30 pre-built dashboards for different use cases like crisis management, competitive intelligence, brand tracking, and campaign tracking.
And like some other options on this list, Talkwalker integrates with the Hootsuite platform (We also have listed the best alternatives to Hootsuite for you).
Brandwatch
Acquired by Cision in 2021, Brandwatch is a consumer intelligence platform that includes social listening and research tools like AI-powered image and sentiment analysis.
This social listening tool offers customizable dashboards and, with access to a ton of social posts dating back to 2010 (at an extra cost), it is a good resource for trendspotting and consumer research alike. And though that data isn't accessible through ad-hoc searches, you can dig into it with the help of a seven-step boolean builder.
Brandwatch's strengths include Vizia, its data visualization tool that lets users build and share real-time reports. And, like Meltwater, it has strong coverage of Asian social networks like QQ and Sina Weibo. Overall, Brandwatch is a good option for experienced social listening platform users at organizations of many sizes.
Tip: Take a look at the top Brandwatch alternatives and learn more about Meltwater's Chinese social monitoring capabilities.
YouScan
YouScan's social media monitoring platform includes a number of social listening features and tools, including a mentions stream that highlights user-generated content about your brand or topic and automatically categorizes them based on sentiment.
Like Meltwater, YouScan integrates directly with Slack and Microsoft Teams so users can get alerts about mentions spikes even when they're not working right in the platform.
One of YouScan's newer additions is an AI-powered visual listening and insights tool (available as an add-on feature) that allows for tracking brand logos, objects, and more for added brand reputation assessment and trend analysis.
Overall, YouScan is a good choice for teams that need a listening tool to complement a more robust analytics and reporting solution.
Agorapulse
Agorapulse is one of the social media management platforms on the market that includes some social listening capabilities.
This social listening tool allows users to search for keywords across Twitter, Instagram, and Facebook conversations, as well as YouTube handles and video descriptions.
Listening search results are then delivered to a separate tab within the platform's Social Media inbox, where all users can view them. G2 reviewers praise Agorapulse's easy-to-use collaboration features, making it a good social listening tool for mid-size and small businesses to consider.
Tip: Learn more about how Agorapulse compares to other top platforms.
BuzzSumo
Primarily a content marketing platform which we have also covered in our blog featuring the best content marketing tools, BuzzSumo's social listening capabilities are geared toward uncovering the most popular (i.e. most shared and engaged with) content across the web and social networks like Facebook, Twitter, Pinterest, and Reddit.
Its dashboard allows users to filter content by format, domain, social network, and author to determine what content and influencers resonate most with their audiences. Plus, the dashboard's "Trending" tab highlights high-performing content in real-time for a quick look at what is currently capturing the internet's attention.
For marketers who primarily use social media listening for content research, BuzzSumo can be a big day-to-day time saver. 
Tip: With broader social listening data sources and analytics features, platforms like Meltwater and Brandwatch may be better options for organizations with highly data-driven social media strategies.
Oktopost
In early 2022, social media management tool Oktopost launched its social listening module, which monitors Instagram, Twitter, Facebook, and LinkedIn, as an add-on license with a free trial of 1,000 mentions per month.
Along with letting users tap into social conversations about their brand, it enables analysis of specific competitor social profiles without using queries.
The module's competitive benchmarking tab also includes a "Themes" option, which allows for comparing performance metrics of brands, topics, or campaigns against one another. Then, when it comes time to share your social listening findings, Oktopost offers downloadable reports of query and top author metrics.
Synthesio
Synthesio's social intelligence suite offers advanced social listening analytics, primarily for Enterprise-level users, complete with interactive data visualizations and customizable, use case-specific dashboards (available as an add-on feature).
Like Meltwater, Synthesio is well-suited for global brands thanks to a wide range of international social media sources and sentiment analysis in more than a dozen languages.
Plus, though the platform requires extensive initial setup, it provides robust analytics in numerous categories, from demographics to Twitter heat maps to psychographics.
For convenience, its quick search tool creates queries based on previous searches (though meticulous users will still opt to create and specify their queries themselves or with the support of a representative).
Overall, Synthesio is a competitive social listening option for large, data-forward businesses that don't require dedicated influencer marketing and management tools.
Sprinklr
Monitoring more than two dozen social networks, Sprinklr's social listening tool is bundled with its Enterprise-level customer experience management platform.
And though not available as a ready-to-use, standalone product, its engagement analytics dashboards allow users to monitor mentions from multiple platforms in one central place and drill down into social conversations.  
When it comes to sharing your findings, Sprinklr offers standardized and use case-specific report templates. Plus, the platform features an option to turn dashboards into "live" slide decks that update in real-time for use in stakeholder meetings and presentations.
Tip: Read our across-the-board look at the top Sprinklr alternatives.
--
Marketers: If you're not informing your marketing strategies with comprehensive social listening insights using one of the social listening tools listed above, you're leaving opportunities — and conversions — on the table. Luckily, there is no shortage of social listening options built on best-in-class technology with access to the world's most popular social networks.
More than 27,000 customers in 120+ countries trust Meltwater for their social intelligence needs. Want to learn why? Fill out the form below for more information.