Before the internet was created, competitive intelligence was often done through industrial espionage. Whilst, industrial espionage still occurs today, there are much easier and more ethical ways to get insights on our competitors. By paying attention to the data your competitors and their consumers leave on the Internet you will be able to make better-informed strategic decisions.
Competitive intelligence is beneficial and can be a growth driver for a company. Any entrepreneur can (and should) learn from the successes and failures of their competitors, so they can boost business quickly and cost-effectively. 
What is competitive intelligence?
Competitive intelligence is the action of defining, gathering, analyzing and distributing intelligence about products, customers & competitors in order to anticipate their competitor's likely next steps, spot potential threats & opportunities, and understand the marketplace. 
Competitive intelligence meets many objectives:
Anticipate the next moves of your competitors
Identify strategic market developments (geographic development, marketing, recruitment, etc.)
Position oneself strategically in the market
Analyze the competitiveness and reputation of your brand, in relation to the industry 
Benchmarking is a good way of understanding how a company is performing against others and importantly ensure that they can stay competitive in the market. It provides insight into what a competitor is doing, what works, what doesn't work, and what companies can use to their own advantage, whether that's by adopting successful practices or avoiding ineffective ones. Says Tanya Houston, Managing Director, Wildwood PR.
But how to put in place a solid competitive intelligence? Here are some ways to analyze your competitors to gain the most insights possible in your market.
Set up your competitive intelligence
1. Define your competitors
The first thing you need to do is select which competitors to analyze. Create a list of any company that targets the same market as you and sells a product or service similar to yours.
Once this list is done, divide it into 3 categories:
Direct competitors: 
These are the ones who target the same audience and offer a product or service similar to yours.
Indirect competitors: 
They offer a different product or service, but which meets the same needs as your company.
Tertiary (or substitution) competitors: 
They offer products or services that are different from yours but at the same target. Their usefulness is limited to the fact that they can potentially become partners or threats.
Top Tip: Speak to your sales teams about who they're frequently coming up against and losing to when trying to bring on a new client. 
2. Decide what the purpose of your competitive analysis is
Why are you performing a competitive analysis? Is it to improve the customer experience? Benchmark your marketing efforts or to review your business as a whole? Keep in mind the purpose of your competitive analysis as it may determine the activity you look at.
3. Consider the buyer journey
How do your competitors sell their products? How do they shape their customer journeys? To find out, you will have to put yourself in the shoes of one of their clients!
One way to do this is by analyzing each stage of the buyer funnel.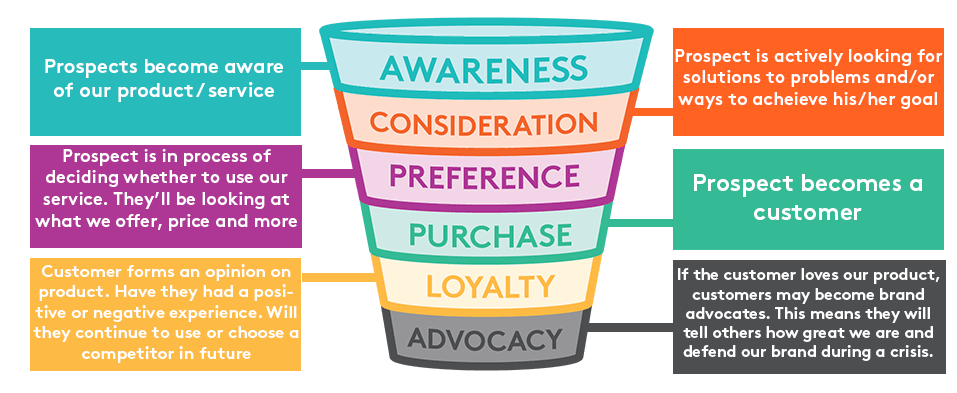 If you primarily operate online, visit your competitors' websites to better understand their marketing strategy. Use tools like SEMRush to discover their traffic sources and the keywords on which they are positioned. Also analyze their content, their incentives, and their pricing policies. Tools like Moz can help you understand how they rank for the keywords that you're trying to position yourself on. 
Do they have case studies? Who are their case studies, what are the case studies about?
4. Understand competitor hiring strategy
It is difficult to obtain information on the personnel of a competing company, but finding it can be very useful. Knowing how many employees, their education level, and how many offices they have can be Useful. Whilst, not an accurate art, LinkedIn can be a good indication of the number of employees a brand has, and their role and education level.   
We should also keep an eye on job ads. At Meltwater, using our reports we compared our hiring strategy with that of other players in our market. To do this, we analyzed job offers published on Linkedin according to various criteria such as the type of job, location, and level of experience required.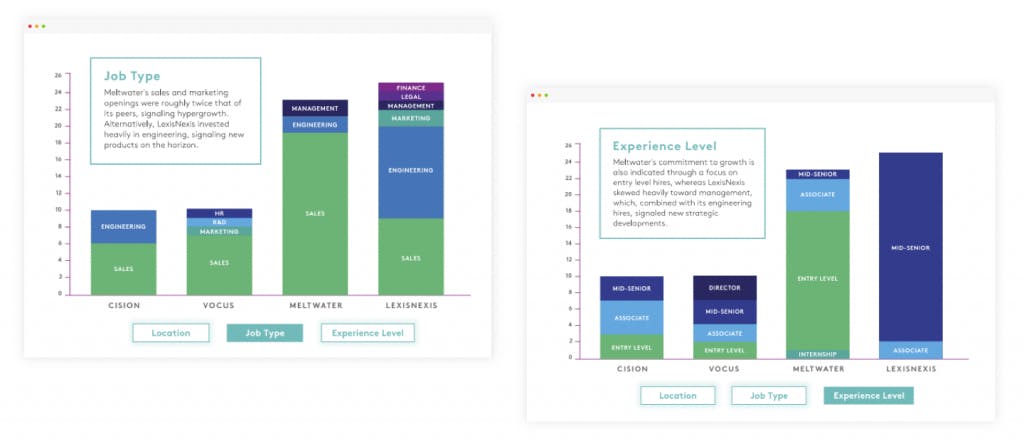 This analysis helps to identify the players experiencing strong growth. We can also predict their next actions. For example, the recruitment of a large number of engineers suggests new products under development. Whereas, hiring salespeople in a new country means that the company is going to try and break into that market.  
5. Comparison of financial services
Monitoring the financial health of a competing company is an excellent method of competitive benchmarking. Examples include gross, operating, and net profit margins, wages, sales, and profitability of competing companies. All you have to do is notice the differences and try to find out why these discrepancies exist.
If a company is public, financial data is easier to find. A few resources to get you started: Companies House, CompanyCheck and Endole
6. Browse your competitors' website
Viewing your competitors' website is an effective and quick way to find out what their offerings are. Evaluate their website, is it well designed? Easy to navigate? Where are their CTA's placed?
You can also view the kind of content they're publishing. Do they have a blog? How often do they post and what kind of content do they post?
Browsing a competitor's website is also a good way to gain information on new products or services. 
7. Analyze the media coverage of your competitors
One of the most interesting sources for competitive intelligence is media coverage. 
In our recent webinar with client Wildwood PR, they explained how they use media monitoring to create competitive intelligence reports. "One of the things we track and find to be important to clients is the number of mentions. How often do they appear in the media? How does that compare to their competitors?" Once they have a comparison chart of their competitor's total number of mentions, they dig into the sentiment of those mentions. "We then look at the actual content of the coverage…it's all very well looking at it from a quantity perspective, but it may be that the most mentioned brand has had lots of negative coverage" After this, Wildwood PR, look at the reach of their coverage.
Blending lots of different metrics within one tool can provide a better overall picture of how your competitors are performing.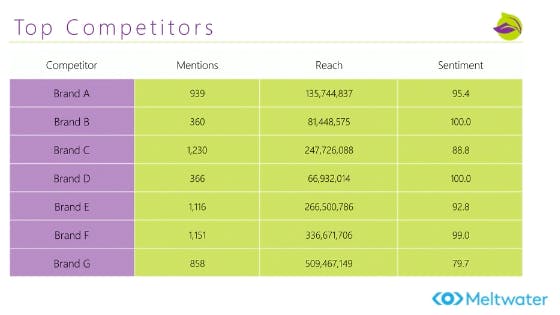 Another element of competitive intelligence that is really important is the themes being covered in the coverage. Word clouds can show you how the conversation has changed over two periods of times says Tanya, Wildwood PR.
Top tip: "Take advantage of the free tools out there and your supplier's talents. We've certainly found that working with Meltwater, we've learned from them, they've learned from us… it's a collaborative approach."
Media coverage can also reveal the latest actions of your competitors such as new products, partnerships, acquisitions, and even PR crises.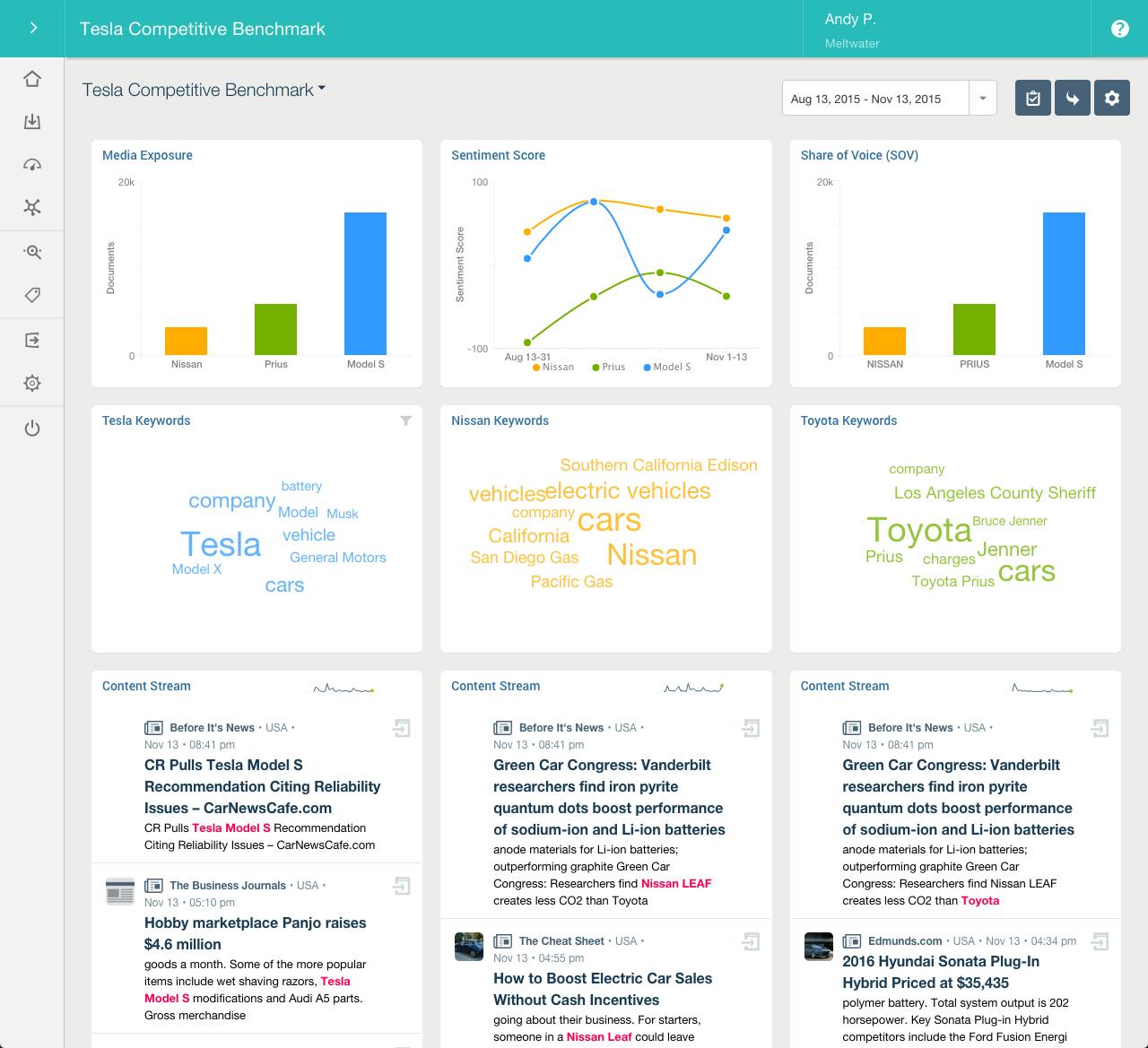 Example: Competitive analysis of Tesla, Nissan and Toyota press mentions via Meltwater
We have been working with Meltwater for a number of years and have found the benchmarking reports we can generate extremely useful not only to understand how our clients are performing against their competition but also as a way to set objectives and meet KPIs. – Tanya Houston, Managing Director, Wildwood PR
8. Analyze your competitors on social media
You can learn a lot about your competitors and industry from social media. Rather than looking at how many followers each brand has, you can also analyze engagement, sentiment, common complaints, and more!
The easiest way to do this is by using a social listening tool, which will allow you to analyze all the mentions of your competitors and the opinions on forums and blogs. You will then have an overview of their reputation, engagement, and what their audience likes and dislike about their products.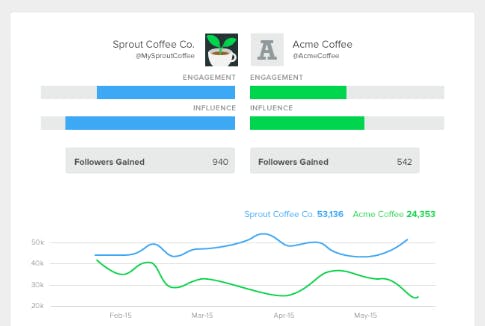 Top tip: You can also set up a boolean search with your competitor's names, and specific positive or negative keywords. For example "Coca-Cola" AND "acquisition" or "scandal". You can then set up instant alerts, to be alerted to big news or crises around a particular competitor. 
9. Encourage knowledge sharing within your teams
Chances are your customers and prospects have knowledge and experience with your competitors. Depending on your business, perhaps they've been pitched to or bought their products in the past. It can be useful to speak to these people and learn everything you can about your competitors. Why did they choose you (or not choose you) over your competitors?
It is essential to encourage the sharing of information. The story of a customer who has had a bad experience with a competitor will undoubtedly interest your sales and customer experience managers.
To encourage the sharing of this knowledge, you can create either an internal discussion group, where testimonials and 'battle cards' are shared. Creating a specific forum for this information ensures that everyone receives the information (as opposed to ad hoc information sharing) 
How to share your competitive intelligence?
Email alerts
Internal newsletters
On your intranet
10. Implement findings
The most important part of our competitive intelligence is to learn and improve. Consider how each part of your competitive intelligence can be used to improve your social media strategy, events, webinars, ebooks, and other marketing activities. Almost every aspect of our strategy can be improved with competitive intelligence.
Summary 
Be clear about what you want to benchmark
Remember that benchmarking should be an on-going process
Use the right tools
Have the right tracking and analytics in place
Make it actionable
If you'd like to learn more about how Meltwater can help you perform competitive intelligence, fill out the form below!