Getting your brand noticed and not just seen is arguably becoming harder. The bar to entry for new brands is lowering, thanks to digital technology and talent access across borders. Consumers are constantly bombarded with advertising messages—as many as 10,000 ad impressions per day—which leads to overstimulation and a reluctance to retain information. But a strong PR campaign can be game-changing for brands that want to break through the noise and be remembered. 
Unlike traditional advertising or marketing, a PR campaign is designed simply to get people talking. It's a way to put your brand in the spotlight, drum up some press, and make a lasting impression on your audience. 
What exactly goes into a PR campaign? Let's look at some specifics as well as some of the best recent PR campaign examples from 2021.
Table of Contents:
What Is a PR Campaign?
Let's start with a definition. A PR campaign is a series of planned activities designed to give a company or brand publicity. Most PR campaigns have specific business goals, such as driving website traffic, getting notice about a new product, or drawing attention to a cause. Activities are carried out in a specific time frame relevant to the overarching goal. 
A successful PR campaign hinges on a strong communication campaign strategy. Create the right message for your intended audience. Choose the right channels for your message. Know who else might be listening (e.g., your competitors). With communication as your foundation, your brand can start to make a positive connection with the public. 
Why Should Campaigns Be Part of Your PR Strategy?
In a world driven by sales messaging and calls to action, your public relations strategy can be a breath of fresh air for consumers. The brand isn't asking for anything in return from the public. Instead, a PR campaign gives the audience a chance to learn more about the brand without marketing or sales pressure. 
Taking this pressure away allows consumers to lower their guards and be more receptive to your company. A well-designed campaign breaks through their internal "ad blockers." Campaigns aren't just about the products or services you sell, but rather your brand identity.
As a result, brands can establish greater credibility with their audiences. Brand identities become stronger and more memorable. And in many cases, sales naturally follow. 
How Does a PR Campaign Work?
Every PR strategy begins with a goal. Maybe you want to call attention to a new product or a rebrand. Or maybe you want to put your brand in a positive light after receiving some negative publicity. Whatever your goal, start your PR campaign with a goal and work backward to decide the best approach for sharing your message.
Some PR campaigns are nothing more than a well-written press release distributed on large media networks. News media outlets, blogs, and other publishers may pick up the press release and share it on their channels. You can share this same press release on your channels, too, such as a website, blog, email subscriber list, and social media. 
Or, you might choose to launch a solely social PR strategy. Social media PR targets your social audiences and relies on likes, shares, and comments to help you spread the word. You can also pay for ads to expand your reach.
Other campaigns take publicity to new heights, though. For example, Red Bull's New Moon event showed wingsuit-clad stuntmen descending from the sky with sparklers, creating the image that UFOs were landing on Earth. In the UK, a nude art installation promoted Sky Arts and its milestone in becoming a free-to-air television channel.
Whether a written press release or a live publicity stunt, a PR campaign's role remains the same: to intentionally attract attention from an audience to promote a brand (and ideally receive some sort of response).
For help planning, executing, and measuring the impact of a PR campaign while minimizing their time and cost investment, get in touch to learn more about Meltwater's media database and PR reporting.
Best PR Campaign Examples of 2021
Ready to launch your own PR campaign? Glean some inspiration with some of the best PR campaigns we've seen in 2020-2021.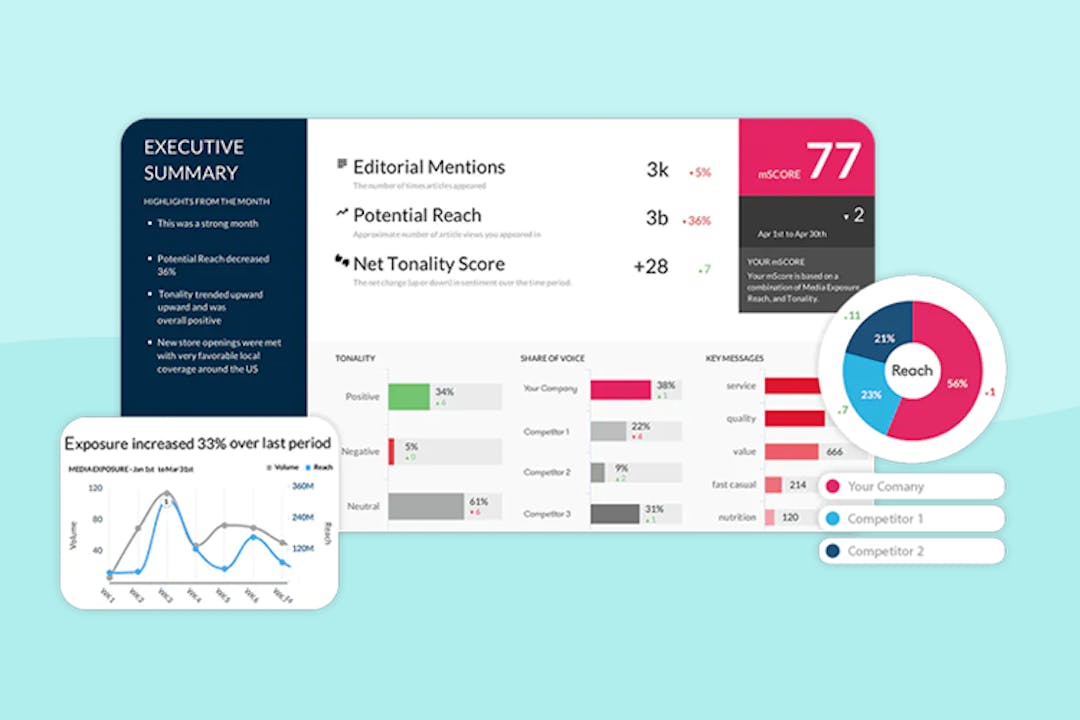 Meltwater PR Solutions
Measure every aspect of your PR
1. Carlsberg Adopt-a-Keg Campaign
In the era of stay-at-home orders, going to the bar wasn't on most people's radars. Denmark beer producer Carlsberg used this time to stay top of mind with its audience by launching the Adopt-a-Keg campaign. 
During the campaign, customers could use their smartphones to scan Carlsberg products bought in-store, which would start filling a virtual keg. After scanning four cans, customers would receive a "credit" to redeem for two free beers in a bar or restaurant once establishments reopened. This PR campaign not only helped to generate immediate in-store sales but also created a lasting impression for the brand for having consumers' health and safety in focus.
2. IKEA #StayHome Campaign
As lockdowns were falling into place around the world, home expert Ikea saw the opportunity to encourage people to stay at home and enjoy doing so. The brand launched its #StayHome campaign by paying tribute to homes around the world. The campaign focused on the feelings of comfort, nostalgia, and togetherness that being at home offers, reminding us there's truly no place like it. And naturally, we can improve our spaces quickly and affordably with Ikea furniture and home goods, though this wasn't a direct part of the brand's message.
3. Zara Shot From Home Campaign
International clothing retailer Zara also capitalized on the stay-at-home trend to promote the idea that fashion is important everywhere, even at home where no one else sees it. The Shot From Home campaign highlights models who have taken photos from the comfort of their own homes instead of exotic places or photo studios. This was an excellent response to the decline of clothing sales while more people were dressing for comfort instead of style.
4. KFC "It's Good" Campaign
While KFC's famous "Finger-Lickin' Good" tagline is firmly established with the brand, it's one that didn't translate well during the health-focused pandemic. So, KFC decided to temporarily get rid of the finger-lickin' part as a way to keep up with the times. The change served as a fun, on-brand way to promote personal hygiene without being too obvious or serious. 
5. LEGO's Rebuild the World Campaign
After a year of upsets and shakiness, many people came into 2021 with a mindset to rebuild and restrengthen their lives. As a brand focused on building the future starting from childhood, Legos launched its Rebuild the World campaign to promote hope, creativity, and resilience. The message is nothing short of inspiring at a time when children and their adults need it most. The campaign does a good job of showcasing the brand's products beyond their basic function.
Honorable mention: LEGO's well-timed release of the "Everyone is Awesome" set ahead of Pride Month, grabbed global headlines. The new LGBTQIA+ inclusive set attracted both new and old LEGO fans, many of whom had not built a kit since childhood.
6. Houseparty/Fortnite Trivia Challenge
The Houseparty/Fortnite Trivia Challenge shows the power of collaborative efforts between non-competing brands that share similar audiences. With no purchase required, Houseparty launched a gamified Fortnite trivia series to attract fans of the video game to its app. At the same time, Fortnite benefits from the promotion as it receives a piece of Houseparty's audience.  
7. Netflix's "Wanna Talk About It?" Campaign
On the surface, Netflix's "Wanna Talk About It?" campaign might be filled with spoilers of trending shows. But instead, the brand turned its focus to mental health awareness during a time when many people were at home binge-watching their favorite series—and perhaps experiencing feelings of loneliness and depression. 
This powerful example shows the increasingly essential intersection of PR and social media. The brand launched an IG Live channel where users can connect with mental health experts to provide the value and support customers really needed during this time. As a result, the brand may anticipate greater long-term loyalty and an improved brand image.
8. Dove #ShowUs Campaign
PR and social media go hand-in-hand, especially when it comes to gaining a response from your audience. Getting your audience involved in the campaign leads to user-generated content that can naturally strengthen the impact of your campaign.
As a leader in body positivity for women, Dove stays true to its brand with its latest campaign, #ShowUs. The campaign is a collection of 10,000+ images from women and non-binary individuals around the world who want to see more people who look like them. The images are available for all media, advertisers, and brands to use in their marketing in an effort to create more inclusive imagery in the media. 
9. Gillette's The Best Men Can Be Campaign
Catering to 2021's themes of mental health awareness and breaking traditional stereotypes, Gillette's latest PR series redefines what it means to be a man. The brand's short YouTube film depicts men in a variety of comical and serious situations that debunk common idioms, including "All men are alike" and "Boys will be boys." The core message of the video is that men today create the men of tomorrow and only by choosing to do better can society make positive progress.
10. IPC & WHO WeThe15 Campaign
The Paralympics had to wait an entire year before taking the stage in Tokyo due to COVID. The International Paralympic Committee teamed up with the World Health Organization to ensure the competing athletes received the attention they deserved. They jointly launched the WeThe15 campaign to spread the message that roughly 15% of the world's population is disabled in some way—and yet are about as ordinary as anyone else. The fact that many were competing on a world stage underscored this idea, showing how little our differences really matter.
How will you create your next PR campaign? Meltwater can help you shine when you need it most. Request a demo today.