What is Online Reputation Management? 
Reputation management was once the only concern of big corporations and household names who had a need to protect their public image. Fast forward to today's world, where businesses are considered behind the times if they are not on social media, and reputation management is an industry in itself.
Some people think it's just social media monitoring, while others believe it has something to do with public relations, but in reality, reputation management spans across your whole online strategy. Here's a brief definition that attempts to sum up the practice:
"Online reputation management (or monitoring) is the practice of monitoring the Internet reputation of a person, brand or business, with the goal of suppressing negative mentions entirely, or pushing them lower on search engine results pages to decrease their visibility."
Wikipedia's definition does cover the primary goal of reputation management—which is to suppress any negativity directed towards your company—however, with corporate transparency and user-generated content becoming an integral part of any business' marketing efforts, it is no longer sufficient to just block spammy and hateful comments.
Long gone is the age of direct advertising where companies sell their products or services to a passive audience—now it is all about engaging with your customers, listening to what they have to say, and learning/growing as a result. Therefore, it's important to manage what is being said about your business online.
So, what does reputation management actually involve?
Addressing criticism publicly
Publicly asking for feedback
Allowing employees to engage with your audience
Speaking with your audience directly
Where to start with Online Reputation Management
In a time when brand crises hit the mainstream media news after they spread like wildfire on social media, understanding brand reputation management can protect your company.
Online content adds a dimension to your brand – and ultimately your reputation – because the same brand can be perceived differently by online and offline audiences. The best way to manage brand reputation is to tell a cohesive story – to a receptive audience. While controlling the message in an age of social media is no longer an option, you can still steer the dialogue.
Brand Transparency 
Opening up your business to be transparent may seem risky, but realistically, in the long run, not being transparent is riskier. That being said, an important part of reputation management is contingency planning. As a business, you must be ready to face criticism and be prepared for the worst-case scenarios.
Here are just a few questions you will want to consider:
What if your product or service causes too much criticism?
What if you receive an extremely negative comment that is unfounded?
What if someone with power or influence online publishes a negative review of your product or service?
What if your employees act unreasonably or in a way that could harm your business?
What if your competitors take advantage of this. 
How Not to Deal with a Reputational Crisis 
Thanks to companies who were unprepared, we have some prime examples of how not to deal with such instances.
A few years ago, Nestlé began to receive negative comments about their environmental practices. Unfortunately, they decided to ignore the comments and the public became aggressive—even posting altered versions of the Nestlé logo online. As a result, Nestlé was forced to take down their public page. 
Main takeaway:
Address public criticism as soon as possible in order to neutralise the situation and prevent it from growing into a major problem.
In an alternative approach, Amy's Baking Company decided to respond to a one-star review of their company in what can only be described as a ferocious meltdown. Their insults were eventually picked up by the local media, and consequently, their public image suffered a blow. 
Main takeaway:
Always look at problems as opportunities. One negative review is a chance to show how eager you are to please your customers and resolve any issues they may have experienced.
Online reputation management is not just about reacting well to what people say about your company, but knowing whether to react at all and if so, when.
The Do's and Don'ts
Media monitoring and social listening are indispensable tools for brand building and reputation management. But so is a clear strategy. You need to know who's talking, what they're saying, and where they're saying it. Was it on a blog, in the news, or maybe a review site you didn't even know was out there? You'll also want to follow the advice here to set yourself up for success and guide the conversation in the right direction.
There's a saying that, "Any publicity is good publicity." It's wrong. If you have negative publicity it can sink your company. Here are some do's and don'ts of reputation management online.
The Do's: 
Do Work to Improve Your Search Ranking: The view from the top of the search engine rankings is pretty great. A study from online ad network Chitika found that the first organic listing on any given Google search page (that is, the first listing that is not a sponsored ad), receives 32.5% of the traffic. The second listing receives 17.6%, the third listing just 11.4%. "Position zero" search results, like Google's "Featured Snippet" and "People Also Ask" boxes may garner even more attention. 

Do Ask for Feedback: Assuming you're not in the middle of a big scandal that's likely to elicit more negativity than you need, asking the online universe for feedback is a great way to elucidate your commitment to providing the best product or service possible. Try a simple Facebook post asking your followers what else they'd like to see from you or where you can improve. This shows initiative and humility, both of which play into your company's trustworthiness and likeability.
The Don'ts:
Don't Spam Search Results: If you create a large number of web profiles in an effort to overwhelm Google, you're digging a hole for yourself. There are a lot of reputation management companies that offer to build a lot of social media profiles, press releases, and other garbage web content. It's both cheap and ineffective. Google and Bing are smarter today, and they don't fall for this technique anymore.

Don't Respond Publicly If You're Upset: Some of the worst reputation problems happen when a business owner, attorney, or PR professional responds to a bad review, blog post, or article in an ill-advised manner. Whether with anger, sarcasm, or just badly worded responses. It amazes us how many people respond in ALL CAPS. Trust us, it's a bad idea… always.
Your brand reputation management strategy should put particular importance on getting your listing to the top of the search page and making sure it stays there. That means providing varied, quality content, and doing the proper SEO legwork to make sure you stand out.
5 Guiding Principles For Effective Reputation Management  
1.Make a Good First Impression
What first impression do you want your brand to portray? … Time's up. It takes less than 50 milliseconds to form a first impression. First impressions are so important because they give way to a 'halo effect.' Consider how visual design and the colors you use impact the way people feel about your website on the first view, that assessment is often transferred to its functionality.
2. Own and Embrace Who You Are
Your brand is derived from a mix of who you are (your executives and colleagues), who you want to be (your brand values), and who people perceive you to be (the user experience and branding).  In a perfect world, your reputation follows the brand. Help this along by making your brand present across the customer touchpoints in the business: how employees answer phones, what employees and salespeople wear, what language they use when describing your services or products, e-mail signatures, social media presence and how they engage online, everything one can think of. The brand is every employee's responsibility–not only the communications team's. As a PR pro, you can ensure the whole company understands the corporate mission, vision, values, and goals so you can all live and breathe this.
3. Unite and Conquer
People are converging over multiple online channels. It's important to streamline and manage your brand consistently for every social channel you use. A good place to start is to review and assess aspects of each platform such as reach, popularity, interactions, the level of engagement, effectiveness of messaging, audience demographics, and whether there is any conflicts or confusion. Try not to use online channels for the sake of it–be strategic and decide where your brand needs to be seen regularly, what messages work, and where your influencers are. If all else fails remember it is all about going to where your audience is and giving them the content they want.
Building a circle of influence online can have a positive impact on your brand. We all know about the power of influence; it travels faster than ever in a socially-networked world. As every PR pro knows, this message virality is a double-edged sword. The good news is that people who follow your brand on social most likely already like you, so it's important to craft a strategy that speaks to fans as people. Converse with them in a timely manner, and always be professional and courteous (no matter what was said). Partake in discussions, offer a professional opinion on the topic, and avoid being too 'salesy'–only recommend products or services when you feel it can solve a problem or encourage the discussion to move forward. Be sure to acknowledge positive comments, and attempt to respond to complaints and issues quickly. Build and nurture your brand ambassadors and let them spread the good word about your brand.
5. Listen and Pay Attention
It's important to keep track of brand conversations, interactions, and positive and negative brand sentiment, so you can join discussions, answer queries, dispel myths, and actually see if your communications strategy is effective. Media monitoring tools let you view and analyze perceptions and activity around your brand and determine ROI. You can turn conversations into customers and customers into brand ambassadors through social media engagement. Successful engagement is often attributed to retweets, shares, reach, clicks, and various other KPIs.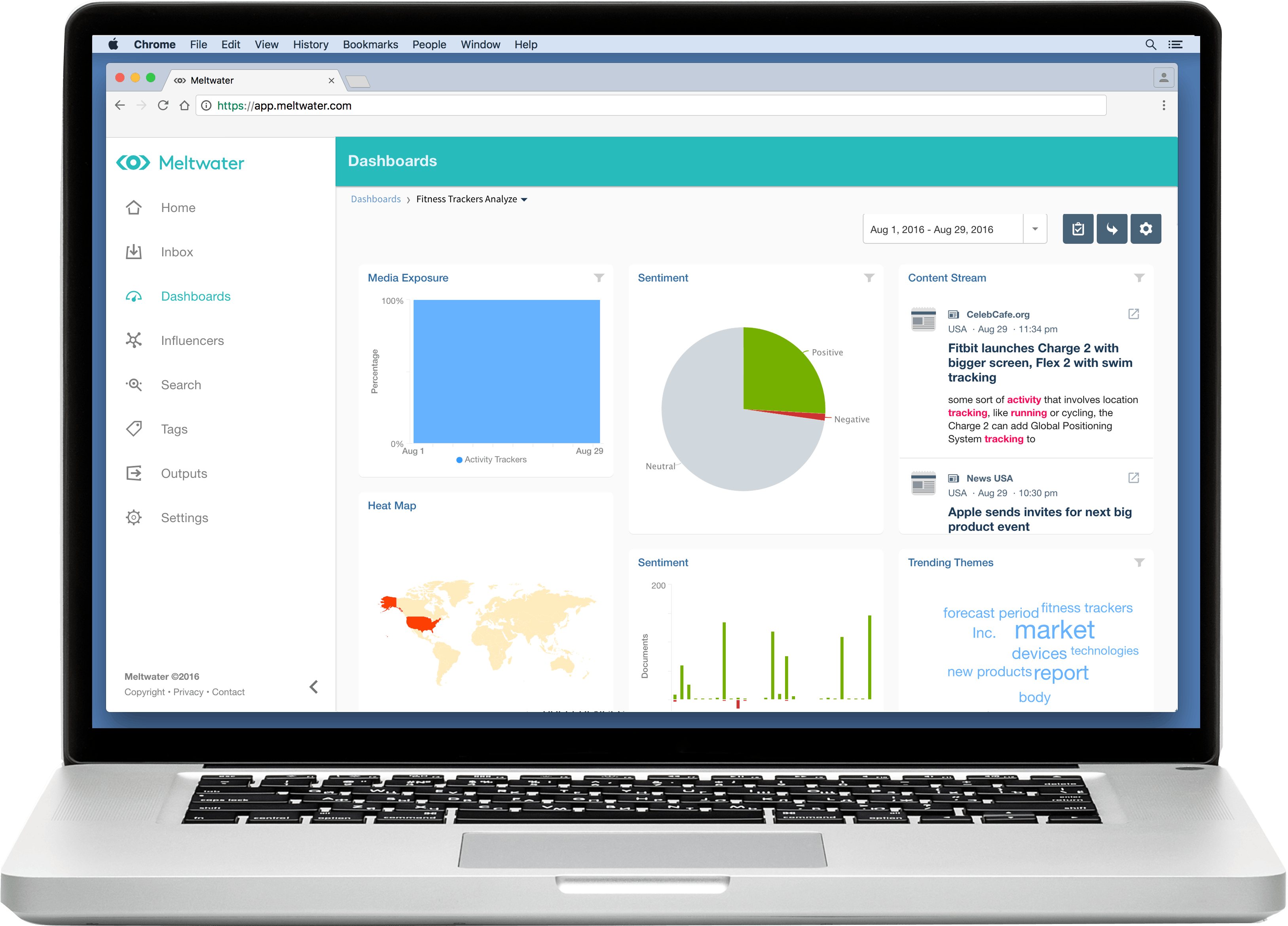 Media Monitoring and Online Reputation 
There is, of course, one really easy way to manage your business online reputation. That, of course, would be to sit back and do nothing except when something goes good or bad. OK, you definitely won't get to sit back and do nothing. Your business won't run itself, will it?
The easiest way to manage your online reputation is to use all-encompassing media and social listening platform. When something good happens you get to run in and be the hero. If something bad happens you'll know about it immediately so you can take the necessary steps to mitigate the negative.
If you're interested in seeing how media intelligence can impact your workflow while you're protecting your online reputation, download our ebook: Using Media Intelligence to Manage Brand Crisis