Social media management is no easy task without the right tools. That's why many social media managers and other marketers use platforms like Zoho Social to lighten the load of their digital marketing tasks. 
A popular social media management tool, Zoho Social has many features that help businesses move their social initiatives forward while keeping different team members on the same page. However, it's far from the only one available today. 
Social media marketing and management platforms are investments you need to be sure about to meet your business goals. We put together this overview of Zoho alternatives to help guide you as you consider your options.
Table of Contents
What Is Zoho Social?
Zoho Social is a social media management platform that businesses use to schedule, publish, monitor, and analyze their social media content.
Some of its primary features include:
It is one of the many great social media management platforms on the market.
What Are Zoho Social Alternatives?
If you're looking for alternatives to Zoho Social, the top options to explore are:
Read on to learn more about each one. 
The Best Zoho Social Alternative: Meltwater
Our social media management platform Engage is a category leader — designed to scale to organizations of any size — that supports publishing and scheduling content on Facebook, Instagram, LinkedIn, TikTok, Twitter, and YouTube.
Along with the publishing feature (which includes an easy-to-use calendar and post review/approval tool), it offers conversation monitoring as well as in-depth owned media analytics and reporting that lets users measure and communicate the ROI of their social activities.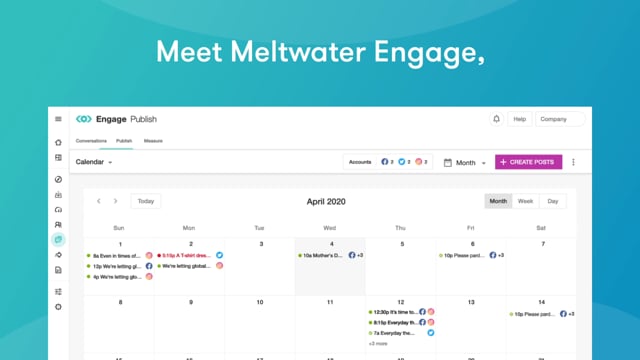 Meltwater vs. Zoho Social
Meltwater Engage and Zoho Social both help social media managers conquer the task of managing profiles and content on multiple social media channels. But though each one supports publishing on top social platforms like Facebook and YouTube, only Meltwater lets users publish on TikTok, the fastest-growing social channel for marketers, according to our Global State of Social 2023 report. 
Meltwater also helps agencies and data-driven marketing, PR, and comms professionals overcome another common challenge: knowing what social strategies and content are working for their business needs and which ones are not. With campaign tracking and analytics, competitor monitoring and analytics, and marketing ROI tracking, our platform offers more tools for evaluating and improving your social media program.
Both Meltwater and Zoho help marketers cut down on the number of platforms they need to use to create posts with content management and collaboration features. But when it comes to uncovering new marketing opportunities, only Meltwater features an influencer discovery, tracking, and relationship management tool. 
Meltwater offers best-in-class customer support and education resources, including knowledge banks, live and video trainings, phone support, and 24/7 access to a live rep. If you're looking for the leading Zoho Social alternative, our platform takes the top spot.
Other Top Alternatives to Zoho Social
Meltwater is a leader in social media management solutions, but it's not the only Zoho Social alternative. Others are:
Here's how each of them measures up. 
Hootsuite
Hootsuite is a well-known platform that lets users manage, monitor, and analyze content on multiple popular social channels (including Facebook, Instagram, Twitter, LinkedIn, and TikTok). On the software review site Capterra, many users praise its easy-to-use interface and post scheduling tool.
Hootsuite vs. Zoho Social
When it comes to costs, Zoho's pricing is lower than Hootsuite's. But Hootsuite offers more customer support resources, like access to a live representative 24/7 and in-person or live online training.
Generally, Zoho is a good option for small businesses to consider, while Hootsuite has many features that may appeal to enterprise businesses or others with broad, multi-channel social media marketing programs.
One catch is if your business is already using the Zoho CRM — in that case, Zoho Social is an easy choice due to its seamless integration, letting you transfer social leads directly to the CRM.
Tip: Check out our overview of the best alternatives to Hootsuite.
SocialPilot
Another platform designed to make the lives of social media managers easier, SocialPilot's main features include a publisher and scheduler, analytics tool, content library, and team management tools. 
SocialPilot vs. Zoho Social
According to Capterra, SocialPilot is best suited for businesses with 1000+ team members, while Zoho is better for small- and mid-size businesses with up to 200.
With brand tracking, activity tracking, campaign scheduling, dashboards, and customizable reports, Zoho has a lot going for it in terms of usability and functionality.
It is likely the better option for businesses looking to ramp up their social marketing programs. Luckily, both offer free trials that let you make sure they meet your needs before committing to a plan. 
Sendible
Designed with agencies in mind, Sendible offers collaboration tools and the ability to create an agency-branded social media management tool.
Its publisher and analytics reporting tool supports Facebook pages, Facebook groups, Google My Business listings, LinkedIn profiles, LinkedIn company profiles, Twitter profiles, Instagram accounts, and YouTube accounts.
Sendible vs. Zoho Social
Sendible's basic tier starts at $29/month while Zoho's costs $10/month, but many agencies may find that Sendible is worth the extra cost for the collaboration features and higher user limits.
For those same reasons, freelancers and other teams of one may find that Zoho is more cost-effective and worth doing without Sendible's channel-specific reporting tool and intuitive calendar.
Agorapulse
Agorapulse is a social media management software that lets users publish content and measure ROI on seven channels (Facebook, Instagram, LinkedIn, Twitter, YouTube, Google My Business, and TikTok) and social listen on four (Facebook, Instagram, Twitter, and YouTube). It also offers a free version that allows users to schedule 10 posts a month and access a limited, integrated social inbox.
Agorapulse vs. Zoho Social
Both Agorapulse and Zoho Social are geared for small to large businesses, but Zoho has the added advantage of being great for freelancers.
It also has much more competitive pricing.
On the other hand, Agorapulse has more workflow management tools, like permissions and approval process controls.
With its campaign management and analytics tools, Agorapulse may be a better option for larger businesses that run many social media campaigns — especially simultaneous ones — each year.
Tip: Learn more about the best Agorapulse alternatives.
Sprout Social
A popular social media management software, Sprout Social earns high ratings on review sites for its real-time analytics and reporting features.
The full Sprout platform includes analytics, engagement, publishing, scheduling, social listening, and employee advocacy tools.
Sprout Social vs. Zoho Social
If you're looking for a variety of software integrations to make your social media management easier, Sprout offers more than Zoho (including ones with social networks like WhatsApp and Facebook Messenger and CRMs like HubSpot and Salesforce).
Sprout also includes a wider range of customer support options, but those added features come with a higher price tag. As of this writing, Sprout's standard pricing tier starts at $249/month while Zoho's starts at $10/month.
Overall, enterprise businesses may gravitate to Sprout for its robust analytics, reporting, and other features, and small businesses will see the value in Zoho's budget-friendly, easy-to-use platform. 
Sprinklr Social
Social media management tool Sprinklr Social is one component of the Sprinklr unified customer experience platform. Along with social publishing and engagement, it offers a conversational commerce tool that lets businesses automatically connect with customers via AI-enabled live chat, direct messages, and social media tag replies.
Sprinklr Social vs. Zoho Social
According to software review site G2, Sprinklr users love the platform's ability to report across earned, owned, and paid media in a single report, as well as its workflow management features.
At the same time, some are less fond of its social listening capabilities and usability. If having an easy-to-use dashboard that delivers in-depth analytics is at the top of your must-have list, take a closer look at Zoho.
But if you're looking for a tool to help you create consistent, responsive customer experiences across social media platforms, Sprinklr may have more relevant capabilities. 
Tip: Read our rundown of the best alternatives to Sprinklr.
--
As we've covered in this blog, there's no shortage of alternatives to Zoho Social. But with the Meltwater platform's usability, robust social listening capabilities, and confidence-inspiring reporting, we're proud to say that our platform is the #1 choice for data-driven organizations around the world.
Curious about Meltwater and how it helps businesses overcome their social media management obstacles? Get in touch to see our suite of solutions in action. Fill out the report below for a free demo.