With the help of APIs, data no longer lives in a vacuum.
Many companies use data to optimise their strategy but generally look inward towards items like sales figures, financials, and internal reports to monitor and understand their position. While this internal data is extremely useful, it's historical data, giving the user insights into events that have already happened. As a result, companies end up making decisions based on lagging indicators.
The truth is, no business is unaffected by what's going on in the outside world around them and we need to avoid living in our own internal bubble. Having all the data you need, both internal and external, in a single location is vital. This is where an application programming interface (API) becomes invaluable.
What is an API?
The term API stands for 'application programming interface', don't worry – this article isn't going to go into the technical elements of how it works. All you need to know is that an API is used to seamlessly transfer data from one place to another. To put it simply, this technology helps software talk to each other. For example, Meltwater's application programming interface allows customers to input media data into the application or server of their choice, like Tableau, so they can see the correlation between media data and other data sets, like sales volume, in teal time.
"The main benefit of the API is that you can layer structured internal data with unstructured external data, helping you find data correlations."
To do this, Meltwater leans on smart AI crawling to track millions of media data sets, in real time, every hour of every day, including online news, social media, job postings, financial filings, product reviews and more. By blending data from their applications or third-party business systems with online news articles and social conversations, executives can uncover insights that benefit all sides of your company. For example, the integration of data can help organisations yield a representative picture of their business and the surrounding eco-system.
Another key benefit of application programming interfaces is that they help to streamline business workflows, making them smooth and simple so users can spend more time achieving goals rather than ticking admin tasks off their list.
API use cases are often varied as they depend highly on the object you're analyzing or the goal you, or your developer team, want to achieve. From a Meltwater API perspective, we'll cover a few common ways businesses are using this software.

Finding Correlations Between Vast Data Types
Decision makers, developers and analysts can only truly get a 360-degree view of their organisation by feeding both external and internal insights into their business intelligence solution. By layering internal and external data, it's a lot easier to connect the dots and find correlations between the sources. For example, say you run a through leadership campaign to try and rebuild brand reputation after a recent company crisis, by layering a range of data types such as social media conversations, media coverage, website traffic and total sales, you'll be in a much better position to monitor the full impact of the campaign. 
In order to find correlations between vast data sets, it's important to look for APIs that offer the flexibility to export and/or stream data in real-time and integrate this straight into your business application interface, or command centre. That way, you can have all the insights needed to run a successful and competitive enterprise in one interface. 
Automated Reporting
We need to understand where we currently stand in order to get to where we want to be – but reporting takes time, sometimes a lot of time.
Fortunately, Meltwater's application programming interface takes the manual work out of reporting on analytics. Insights found via media intelligence can be plugged into a command centre platform and turned into powerful graphs to integrate into your report. What's more, results are delivered as JSON and include metadata. At Meltwater, data is enriched through our pipeline and additional information is added to the data including sentiment, language, reach and key messages.
Here's a practical example of a company doing this,
A sports consulting company client uses Meltwater's API to prove the ROI of sponsorships investments. They do this by tracking brand names in relation to specific sporting events and create insightful widgets to show how sponsorships affect the brands' exposure for key audiences. Given the volume of mentions during major events, they require a robust and reliable delivery pipeline, which the API provides. It also helps automate a cumbersome exporting process, saving them significant time each month.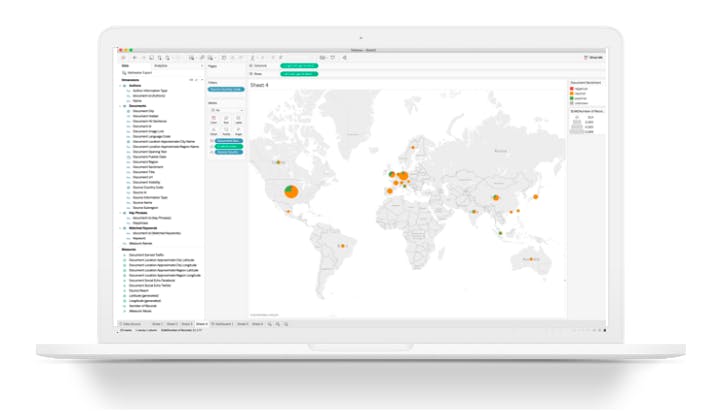 Collaboration & Communication
Lack of visibility can break a company, which is why many executives turn to APIs to facilitate internal communication and collaboration. For example, beyond brand management, online news and social media data can be used to create competitive advantages through supply chain risk mitigation, optimising processes, improving the customer experience, spotting trends, and more. When different divisions rely on the same data, they naturally come closer together. It's easy to distribute insights across teams using command centre platforms, or alternatively, you can also integrate insights found directly into Slack to keep entire teams in the loop around industry developments.
We've mentioned command centre platforms a few times now, think of command centres as centralised hubs that store information. Enterprises rely on unified reporting solutions to provide them with one source of truth – a single and unified view of all business functions. Since APIs are fed into command centres, both types of software are usually discussed hand in hand. 
Tailored Solutions
As mentioned, APIs have varied use cases, which means in most cases, off-the-shelf products just do not offer the malleability that business requires. With Meltwater's Media Monitoring API, you have ultimate control over how, where, and when you receive media analytics. Whether you want to see raw volume or specifics, the choice is yours. Just loop us in (our API can connect with just about every business intelligence platform) and get access to the largest source base of online news and social media content in the industry, associated metadata and historical archives.
You don't have to be a techy developer to reap the benefits of and API. APIs are a resource that can, and should, be used by all teams across the organisation. While marketing, PR and comms professionals usually take the most interest in editorial and social media data, that's not to say insights found can't be used to power the entire business. If you want to learn more about how Meltwater API can help solve your corporate problems, get in touch.