Market research is like turning on a light in a dark room; it shows you things you otherwise wouldn't be able to see. For companies, consumer insights tools are worth their weight in gold, as they reveal what customers really need and want from a business. Companies that regularly collect consumer insights are in the best position to meet their target audience where they are and deliver on their expectations.
There's more than one way to go about collecting and using consumer insights. Let's look at some of the top consumer insights tools and companies that will keep you "in the know."
Table of Contents
Tip: Download our free Buyers Guide: AI Enabled Consumer Insights Platforms
What Are Consumer Insights Tools?
Consumer insights tools are an essential part of any successful business. They provide companies with data-driven information to help them understand their customers. By leveraging audience insights, brands can identify trends, spot opportunities, improve the customer experience, and make informed decisions that will drive success.
Consumer insights tools offer a variety of features that allow businesses to monitor customer behavior, segment audiences, and analyze the effectiveness of marketing campaigns. With the help of these tools, companies can gain valuable insight into customer preferences and spending habits and create actionable strategies for reaching goals faster.
Additionally, consumer insights solutions give brands access to predictive analytics. This enables brands to anticipate customer needs before they even arise — a great way to stay one step ahead in an ever-changing market.
Why Consumer Research Matters
Back in 1992, Kevin McAllister was running around New York on Christmas Eve. Hurricane Andrew stole headlines across the country, while JNCO jeans became a fashion icon. Mob boss John Gotti went to prison, and the Mall of America opened its doors for the first time. Topics like these were common in daily conversations back then. Today, not so much.
Similarly, consumer preferences, interests, and needs are constantly evolving. Sometimes, these shifts are obvious. But sometimes, old topics and trends die while new ones emerge seemingly overnight. And with information being shared at the speed of a Tweet these days, it's more important than ever for brands to stay in the loop.
Online surveys, focus groups, and CRMs can only take you so far. Customer insights and market research play a key role in keeping you relevant. By learning what consumers are talking about, how they feel, and what they need and want, companies can cater to their customers and keep growing their business without delay.
9 Top Consumer Insights Companies and Tools
Staying on top of trends and topics can easily be a full-time job. Or, you can leverage these consumer insights companies and tools that do most of the work for you. Here are our top picks for consumer insights tools to help you get to know your customers better than ever.
Tip: Download our free Buyers Guide: AI Enabled Consumer Insights Platforms
1. Meltwater Consumer Insights Tool
As a social and media intelligence tool, Meltwater's consumer intelligence suite monitors millions of conversations in real-time across myriad channels, including social media platforms, blogs, forums, videos, news, podcasts, and even offline channels. Going beyond social listening, Meltwater tracks unlimited keywords and analyzes data around the global conversations captured.
Companies leverage Meltwater's consumer insights tool for market research to:
Improve product offering
Acquire new customers
Market to multiple audience segments
Show how marketing directly impacts revenue
Analyze competitors
Gauge consumer sentiment
Collect industry knowledge
Tip: Take a look at some Consumer Insights Example Reports!
2. Linkfluence - Radarly Consumer Intelligence Platform
Linkfluence, A Meltwater offering, is an AI-driven consumer insights platform that builds a deeper profile of your customers and market in real time. The Radarly consumer intelligence platform combines readily available social media data with proven data methodologies and human data scientists to make sense of the data it collects.
Rather than just looking at facts and figures, Linkfluence provides actionable insights so you'll always know what to do with all that data.
Adding context to the data helps brands stay ahead of consumer shifts (and their competitors). With preferences evolving faster than ever, companies have a better way to stay in tune with trends, topics, and conversations that will guide their marketing and outreach.
3. Euromonitor - Global Analysts Specializing in Consumer Products
A market research platform specializing in consumer products, Euromonitor works with global analysts to uncover the latest trends and business intelligence that allow companies to maintain a competitive edge. Much of their research is "on the ground," working with local partners in more than 100 countries to uncover local and culturally relevant insights.
Along with custom market research projects, which cater to individual client questions, the consumer insights company also offers technology products for daily analysis of eCommerce trends.
4. GlobalData - Consumer Insights Throughout the Value Chain
GlobalData provides insights throughout the consumer value chain, from customers to suppliers to manufacturers and everyone in between.
Offering global insights and trends, the market research company spans more than 50 countries across 745 different audience segments. They also offer consultancy services on a client-by-client basis, allowing you to gain contextual market insights that matter most.
Brands can request a free demo of the platform to see everything from how consumer perceptions are collected to what's included in the reports.
5. IQVIA - Healthcare Data & Trends
Specializing in healthcare data and trends, IQVIA supports life science organizations on their missions to make the world a better place.
Market research and consumer intelligence are critical for speeding up the development of new drugs, improving product safety and quality, and expanding access to healthcare.
All of the above contribute to better health outcomes, helping to change the world in more than one way.
6. GreenBook - Free Consumer Insights Tool
One of the best free customer insights tools makes real-time market research more accessible to more companies.
Users can conduct a simple search on GreenBook without downloading any tools or software. Just type in a query and the directory goes to work sourcing relevant real-world case studies, articles, and other digital data that can prove useful in your strategy.
Use GreenBook when you need quick, high-level insights into customer service trends, new products, the customer journey, buyer personas, customer feedback, and similar needs. The insights you get aren't in-depth, but they can provide solid starting points for your market research.
7. Mintel - Consumer Insights Predictions
Mintel is a global market research firm that monitors current customer trends and makes predictions for the future.
The consumer intelligence platform serves a range of industries, including:
automotive
financial services
e-commerce
insurance
telecommunications
and more.
Additionally, users can collect insights based on their role within the organization (marketing, legal, package design, etc.). This allows each user to gain insights that are contextually relevant to their responsibilities and goals.
As a market research agency, Mintel leverages both in-house expertise and technology to track consumer behavior, customer satisfaction, trends within different demographics, and other insights to help make business decisions. 
8. Savanta - Consumer Insights for B2C and B2B
One of the best consumer insights companies, Savanta specializes in both B2B and B2C market research.
The company works with agencies, consultancies, governmental agencies, and brands to gain a deeper understanding of broad and niche markets.
The company's consumer intelligence tool provides support for marketing strategies and delivering customer-centric experiences. Develop end-to-end strategies by learning more about your key audiences and what makes them tick and choosing the right KPIs to align with your efforts.
9. Google Trends - Free, Reliable Consumer Insights Data
Another powerful free tool for consumer learnings, Google Trends is a simple yet solid solution to discover what customers are talking about.
Google data is among the most reliable data, given that it accounts for more than 92% of all online searches.
It's extremely user-friendly, too. Just type in a keyword or topic, then Google Trends will find a variety of trends you can filter down to your specifications.
Use these insights to create high-quality content, improve the customer experience, and make your company more consumer-centric. 
Use Cases for Consumer Insights Tools
Curious about what to do with all the insights you collect? Here's how four of our Meltwater clients have put consumer insights tools into practice.
Brut. - Using Meltwater to Uncover Relevant Topics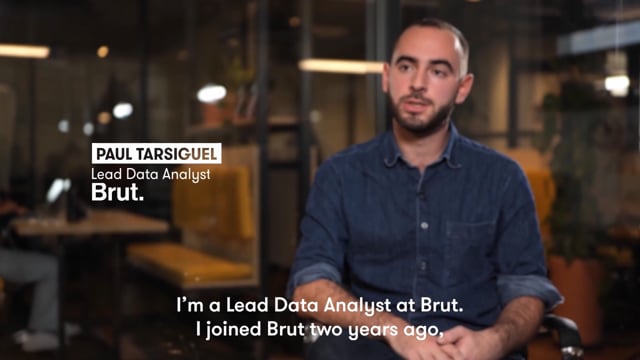 Digital media firm Brut specializes in socially conscious videos and news. Their goal: to find topics of interest for their target audience to inform journalists' conversations and coverage.
Brut. relies on Meltwater data to analyze conversations that were already occurring so the firm's clients could join in authentically.
Tip: Read the full Meltwater x Brut. customer story
Vans - Optimizing Brand Presence
Sneaker brand Vans relies on influencer partnerships and current trends to design its products, attend events, and stay top of mind.
The brand turned to Meltwater to optimize its brand presence in local markets and stave off encroaching competition.
Tip: Read the full Meltwater x Vans customer story
Fifty Acres - Understand Social Conversations
This communications agency supports non-profits on a variety of social issues.
To learn more about the social conversations people care about, they use the Meltwater media intelligence suite to determine the best places to share and publish stories that will make an impact.
Tip: Read the full Meltwater x Fifty Acres customer story
W Singapore
The hotel brand aimed to make a splash in an already-crowded hospitality space.
Using Meltwater data, the brand learned more about their customers' preferences to build more personal connections, gain insight into the guest experience, and measure the ROI of social media and events.
Tip: Read the full Meltwater x W Singapore customer story
Tapping Into Meltwater's Consumer Insights
When it comes to choosing the best consumer insights tools and companies, no other solution compares to Meltwater.
Meltwater's global analytics captures more conversations and customer data than any other platform, allowing you to learn more about your customers at scale. With no keyword limits, you can track as many topics as you like.
Meltwater goes beyond basic social listening to help brands make sense of the data they collect. The platform turns numbers and information into rich visuals, reducing the time-consuming process of mining your data for actionable information. From discovering new topics to learning how a crisis has impacted audience sentiment, brands can rely on real-time media coverage and see the impact of their efforts on their target audience.
Learn more when you schedule a demo!