Video marketing has become an absolute necessity for marketers looking to both reach and capture audiences on social media and online platforms. Marketers are certainly no stranger to the benefits of video marketing today — it helps potential buyers understand products and make purchasing decisions through a digestible visual medium, and this is true for both the B2C and B2B sectors.
And while it seems like every layman can now produce engaging videos of decent quality and appeal (just take a look at social platforms such as TikTok), not every video goes viral or leads to the boost in sales or leads your higher-ups are looking for. 
This happens because marketers may not always be creating the types of video content that their audiences crave. Furthermore, it takes time for a brand, page, or new content format to gain sufficient traction. As such, marketers can't create one-off video content in the hopes that they deliver on the results that were planned for. While this caveat can make video marketing seem daunting, marketers can easily venture on the path to success with the right video content strategy.
In this guide, we spill the secrets for successful video marketing so that you can add video content to your marketing arsenal with ease.
Table of Contents
What is Video Marketing?
Video marketing is simply the use of video for business marketing, be it directly or indirectly. This can mean using video content as a marketing tool to attract followers, raise awareness about your brand or product, drive leads to your site, or generate greater sales. 
Video content can be hosted on owned platforms such as your website, blog, or social media platforms, as well as third-party sites such as Wistia, YouTube, or Vimeo. 
In the following section, we will take a look at the various types of content available to marketers.
What Types of Video Should You Create?
The first step towards successful video marketing involves the creation of the right type of video content for your audience.
The types of video content that marketers can create are as follows:
Brand & Product Videos
Brand videos serve to introduce your brand to consumers who may not be familiar with your company.
Product videos fulfill a similar purpose but go deeper into explaining a certain product or product feature.
As such, this format is more top-of-funnel and serves to create greater interest in your brand. Animated videos can be used to put a creative spin on your brand or concept.
Who brand and product videos are for: Potential clients looking to discover new brands or existing clients looking to learn about new features.
Microsoft uses stylized animations to introduce changes to its Office 365 suite of products
Slack's product video introduces new emoji reactions for its messaging application
Explainer Videos
Explainer videos break down a new or complicated concept that is often, but not always, related to your product. This can help consumers better understand more complicated processes related to the purchasing or usage of your product.
Explainer videos that discuss peripheral concepts or issues can be used to invoke thought leadership and showcase your expertise. These can even be done in the form of short video infographics.
Certain explainer videos can also take the form of a product or brand video by exploring buyer pain points and providing solutions for them. Depending on the content of these videos, they can target both top and bottom-of-funnel consumers.
Animation can also be used to convey points that are less tangible and thus more difficult to explain.
Who explainer videos are for: Potential clients looking to compare your brand's features with that of a competitor; existing clients who may be researching specific features or are confused about how to use your product.
Chirp uses an explainer video to discuss how its core product offerings work
Interviews, Partnerships, and Speaking Opportunities
Brands looking to reach out to a wider audience or build greater brand credibility within their community often engage companies from other industries in the form of interviews, co-branded partnerships, or speaking opportunities. These opportunities help to put faces to your brand while displaying the wider applications of your product beyond your industry.
While these videos don't directly contribute to driving sales, they do serve to create potential leads for your business. 
Who interview, partnership, and speaking opportunity videos are for: Potential and existing clients in other industries looking for more expert content.
Meltwater teams describe their experience of the Meltwater Culture. Featuring employees from across the globe.
Event Recap Videos
Event recaps may seem like a no-brainer, but they can be great assets for both existing and potential clients. Existing clients are able to benefit from a summary of takeaways from the event and may be able to 'ride the high' by engaging in deeper conversations with you as a result. Potential clients may also benefit from developing a greater interest in your business. Ultimately, showing the event's scale or reputable partners can also help to build your own reputation. These videos should be pushed out as soon as possible to continue building on the momentum generated by your event. 
Who event recap videos are for: Event attendees who are interested in specific products and non-attendees who may develop an interest in your brand.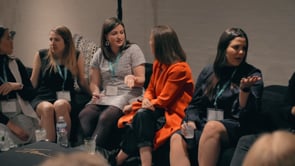 A recap video summarising Meltwater's event in Chicago. This video shows not only the scale of the event but also a summary of key soundbites and takeaways from speakers and attendees.
Client Testimonials
Both client testimonials and event recaps may seem like a way for brands to simply show off, but these are incredibly important sources of word-of-mouth marketing. These recommendations are more likely to be trusted and are therefore more valuable.
Client testimonials, in particular, explicitly detail why your potential clients should work with you and can help push undecided mid-funnel consumers over the edge.
Who client testimonial videos are for: Potential clients who are on-the-fence about your brand or considering various options.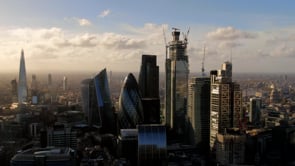 The Economist's customer story helps potential clients translate Meltwater's products into value for their organization.
Webinars, Workshops, and Live Video
As COVID-19 continued to limit the occurrence of in-person events, both B2C and B2B companies added webinars and other live video content to their regular content strategy, this has shown no sign of slowing post-pandemic as has become part of their scheduled content strategies moving forward.
Webinars and workshops allow B2B businesses to continue 'meeting' their clients and other stakeholders on a virtual platform, while live streaming is especially important to B2C services as this allows brands to showcase their products in real time.
Who webinar, workshop, and live videos are for: Potential clients who are interested in the topics you're covering and existing clients whom you are continuing to service
Despite the restrictions imposed on events due to COVID-19, our Social Media Festival in 2020 was still able to be held virtually. This means that audiences within and beyond the speakers' locations are still able to tune in and gain valuable insights long after the event has ended. 
Augmented Reality (AR) & 360-Degree Videos
AR and 360-degree videos can help to provide a more interesting approach to the above video types and help keep users engaged. For example, an AR short film or explainer video provides more visual stimuli for audiences and helps them to stay interested in your content.
However, these features are not utilized often by marketers as they can be difficult to create, require specific software or hardware for viewing, and may distract from the main point of your video.
As such, while it's great to keep an open mind when it comes to video content, marketers should decide whether these formats are best suited for the content they wish to create before utilizing them.
360-degree videos are best suited for long-form, slower-paced, 'exploration' type content, while AR videos best suit shorter-form, more impact-driven content.  
Who augmented reality (AR) & 360-degree videos are for: Potential clients who are looking for a hook into your content or brand or a break from the norm.
AR technology, best known for its use in filters on social media and other applications, adds novelty to the user experience as more customers continue to shop from home
Social-Specific Video Formats
In our article on social media video marketing strategies, we broke down the types of video content available on social media. This can also form part of your brand's video marketing strategy. Content specifically made for social media may have restrictions on size, length, and aspect ratio, and thus should be considered separately from other web-based or web-hosted video content.
Tipp: Check out all important and current video sizes.
Most importantly, audiences on social media may not always be watching your videos with audio, and while adding subtitles is a best practice across the board for all video content, it is especially important for social media. As a general rule of thumb, videos for social media should be kept as short and snappy as possible to grab attention within the short span that it comes into your viewers' purview.
Video production for social need not be complicated. In fact, platforms like TikTok have paved the way for big brands to show off behind-the-scenes footage and even outtakes as this kind of unpolished content resonates well with audiences, they can even be turned off if something is too polished and looks like an ad.
There are also video marketing services tailored to video content on social media. These include businesses like Animoto and apps like Mojo that can help you produce eye-catching content with the help of templates. 
Who social-specific videos are for: Your existing and potential target audiences, fans, and followers on social media
Videos made on or for social platforms can be vastly different from the traditional formats that marketers may be used to. TikTok's Duet function, for example, allows two or more people to collaborate or form funny video collages and scenarios. 
TEXT
TIP: Regardless of which type of video your team is looking to create, it's important to always think about your audience's needs and stage in the funnel before you embark on your project. Based on the above, your top-of-funnel audiences are going to want to see more content introducing your brand and what you have to offer, while mid-funnel audiences are looking for reasons to choose you over your competitors. Bottom-of-funnel audiences are likely your existing clientele and will want to see more how-to videos, educational videos, explainers, new product features, and other supplementary content that will continue to support them while they use your product.  Depending which stage the buyer is in: Awareness, consideration and decision stages, the video content should be tailored accordingly. Small businesses need not fret — a lower budget doesn't mean sacrificing on video content types or production quality. Video production can also be made simple with the help of video marketing services, templates, and apps like Adobe Premiere Rush, Adobe Spark, or even Canva.