At 8 a.m. on Wednesday morning, 900+ Meltwater Summit attendees and speakers began arriving at the beautiful Glasshouse venue in the heart of NYC.
The air was abuzz with anticipation as guests checked in, collected badges, grabbed a coffee and milled about, meeting colleagues, peers, and making new connections before the festivities kicked off. 
And kick off they did!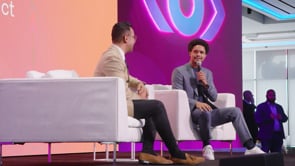 Jump in:
Meltwater Summit, Day 1: June 21, 2023
The conference started out with a bang began as our master of ceremonies, Meltwater VP of Culture, Zubair Timol introduced a fantastic and entertaining keynote with the founder and CEO of Skinnygirl, Bethenny Frankel. Frankel chatted with Jenny Force, senior marketing director at Meltwater, about her secrets to spotting entrepreneurial opportunities, staying ahead of the game, and the role social media plays in maintaining a personal brand.
We then jumped into a riveting Product Keynote, helmed by our CEO, John Box, and CTO, Aditya Jami who gave an inside look at how Meltwater helps companies use data to fuel growth, and maintain a competitive edge, with an eye toward the future.
The best part was the unveiling of our new AI enhancements, which were demoed by our product experts on Day 2. 🤖
Some of our favorite takeaways from Day 1
Day 1 covered a wide range of topics from varied and vibrant speakers, sharing their insights on how brands can connect with their audience in today's extremely crowded online landscape.
"Let's let the robots do the robot things. Let's let humans do the human things….While AI can help generate ideas and provide inspiration, a writer still needs to be able to think creatively and come up with unique and engaging stories."  - Miri Rodriguez, Senior Storyteller at Microsoft
"Your platform must be agile to keep your brand out in front of a fast-changing world. The key to an agile platform: A deep understanding of stakeholders' trust and what drives it. For this, you need to go beneath the surface. You need to know who's influencing your stakeholders and what they care about."
When you understand stakeholders' trust, you can:
Maintain a narrative that proactively articulates who you are
Show how you operationalize action
Promote trust and engagement across a disrupted multi-stakeholder world
Sheila Mulligan, Managing Director, Corporate Brand + Reputation at Edelman
"There's power in creativity – it's what makes people stop and pay attention – but now, more than ever before, people crave inspiration, personalization, and connection from the brands they know and love. The best brands can harness that creativity with genuine purpose to create something meaningful."
James Wright, Global CEO, Red Havas
The energy throughout the day was infectious!
The day culminated with our closing keynote speaker: comedian and bestselling author, Trevor Noah!
Meltwater Summit, Day 2: June 22, 2023
The second and final day of the Summit focused on product demos, practical application, and of course more amazing speakers addressing big questions and topics, such as:
Operationalizing a social listening strategy 📈
Taking calculated risks on social media 😎
Guaranteeing marketing success in a looming recession 💸
Attendees also had the opportunity to earn digital marketing certifications from mAcademy, and hear about the future of AI for Meltwater and beyond.
Some of our favorite takeaways from Day 2
Like Day 1, our speakers on Day 2 were full of powerful advice, observations, and tactics for success that we know our attendees can't wait to put into practice!
"Contrary to popular belief, disruption in marketing isn't always about doing something revolutionary. It's often about advocating for innate truths we all know and feel in our gut, but somehow still end up denying." - Zaria Parvez, Global Social Media Manager, Duolingo
"During a recession, downturn, or pandemic - the first instinct is to pull back on marketing investment (both in dollars and people). It's more important than ever to ensure marketing is seen as a growth lever. Because when a brand goes dark, they cede customers' "mental space" to competitors."
Rose Jia, Head of Growth Marketing, Amazon
"There are 3 key shifts happening in social media marketing:
Social marketers are becoming automation experts
Social marketers are now becoming customer service leaders
Social marketers are now empowering employees to be brand advocates"
Scott Brinker, VP Platform Ecosystem, Hubspot
"Humans want choice, just not too much. To simplify their decision process, first understand and remove what is irrelevant to their lifestyle, their needs, and their preferences."
Jackie Mockridge Mattina, Chief Strategy Officer, Head of Audience & Insights, Dentsu
Meltwater Summit Panels
Meltwater Summit was proud to also host an impressive array of panelists, from diverse backgrounds and areas of expertise, for lively discussions on a number of pertinent topics:
The agency perspective on PR 📣
The future of media 📺
Working with influencers 🤝
Navigating misinformation ⚠️
Our agency speakers came from the companies like VMLY&R, Finn Partners, Hunter PR, and Performance Art. They dove into the role earned media plays for companies today and how agencies can facilitate better communication between teams within large organizations.
On the future media panel we featured experts from all facets of the industry: 
Shawna Thomas, Executive Producer of CBS Mornings
Christine Haughney Dare-Bryan, Editor at Large for INC. Magazine
Audrey Cooper, Vice President of News and Editor in Chief at WNYC
Dayan Candappa, Chief Content Officer at Newsweek
It was a rich and timely discussion, touching on the need to make news content "social friendly" and expanding into new media types including podcasts, how newsrooms can combat the rapid rise of misinformation, the impact of AI, and more.
Influencer marketing has been a burgeoning industry for a while, and with that growing pains, one of which is the unfortunate tendency for businesses to "treat talent like a tactic." Our panel of experts addressed this trend from the perspective of the influencers themselves, as well as the agency point of view which balances both sides of the equation. 
They also discussed diversity in marketing and why you shouldn't depend on influencers for making sales. 
Lastly, we hosted a panel addressing a fear that's on so many marketing and PR minds today: the spread of misinformation. Panelists were uniquely qualified to speak on this subject, with entrepreneurial backgrounds dedicated to identifying, measuring, and stopping this threat when it arises:
Steven Brill, Co-Founder and Co-CEO of NewsGuard  
Rob Key, Founder & CEO of Converseon
James Wright, Global CEO at Red Havas
Wasim Khaled, CEO and Co-Founder of Blackbird.ai
The panelists all agreed that narrative manipulation has emerged as the newest battleground for cyberattacks and poses a significant threat to various sectors and professionals. This evolving danger affects a wide range of individuals, including strategic communicators, marketers, and risk managers.
Thank You to Our Sponsors!
We couldn't have put on Summit without the support of our amazing sponsors. Thank you so much for helping make this an incredible and unforgettable event!
Red Havas
Converseon
Hootsuite
Audiense
Packed with Purpose
3BLMedia
Bowen
TVEyes
Gild Creative Group
You all helped make this event possible and we can't thank you enough!
Praise for Meltwater Summit
Our attendees had a blast! Don't take our word for it though.
Check out what people were saying on social media! 👀
The #MeltwaterSummit exceeded expectations, making the day-long ✈️🚕 journey worthwhile. From meeting with our account team, fostering new connections and seeing my co-workers in person, it was an incredible experience!

Having #FOMO today! pic.twitter.com/OAgt60qM5R

— DeAnna Sposito (@deannacmj) June 22, 2023
Did you miss Meltwater summit this year? Don't fret, main-stage sessions from Day 1 will soon be available to see, on-demand, and we're already planning for 2024, so keep an eye on your inbox!