The average social media marketer typically starts their day by scanning their social listening platform of choice, sharing a few interesting articles, thanking new followers, responding to @mentions, wondering where the past two hours went, and then starting the cycle all over again in a few hours.
They also mix in whatever requests land in their email inboxes from the PR and marketing teams. Unfortunately, this recurring set of activities isn't a sustainable or efficient social media workflow. Having a casual approach to social media activities can make it nearly impossible to go on vacation. For these reasons and more, it's important to create—and stick to—a social media content calendar.
5 Reasons Why Your Social Media Marketing Workflow Needs a Calendar
1. Give important corporate initiatives airtime
Have you ever gone home after a busy day only to realize you missed out on publicizing a critical initiative on a key social channel? Rather than leaving social media boosts of crucial promotions to the last minute, it's helpful to plan for their broadcast well in advance. Using a content calendar for your social media content allows you to plan for significant announcements, prepare appropriate images, create landing page URLs, etc. It provides an opportunity to have available materials on hand to complete social content.
2. Share an engaging mix of content types
Once you start documenting social media content, you'll notice posting patterns that lean towards sharing certain content types significantly more often than others. Although it's unlikely that you'll end up with a perfect balance of audio, visual, and written content, a content calendar makes sure you won't accidentally leave out key content types that appeal to highly engaged customers or outspoken influencers.
3. Create consistency across channels
While you don't want to use the same tone and copy across all social channels, keeping with consistent messaging in your content strategy and adopting a distinct voice will keep you on-brand, regardless of channel.
Viewing copy for each channel, side-by-side, will prevent you from sounding like two or three different company personalities. And will help avert misfires, such as sharing three conflicting sets of information for the same event.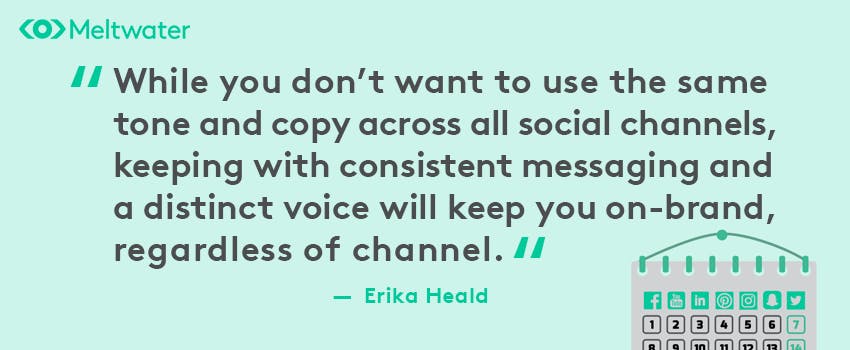 4. Provide a record of past shares
Over time, it becomes challenging to track the content you've previously shared on social media platforms, even with analytics tools. Consider the time wasted collating content on a specific topic, or promoting a particular landing page. Documenting your work on a social media content calendar as you create and broadcast it will make it easy to replicate what's worked before.
5. Enable colleagues to pick up social media activities in your absence
It's not much of a vacation if you're checking your cell every few minutes to monitor workplace social media accounts. But with a social media content calendar, your team has everything they need to keep the social content flowing in your absence. You can provide a detailed overview of the daily to do's, write copy they can schedule, and ensure your team feels secure in knowing the status of social media programs, whether or not you're there.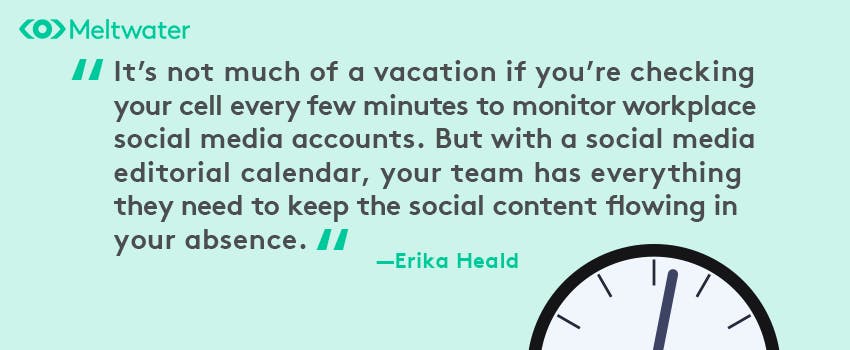 Elements of a Useful Social Media Editorial Calendar
There are calendar, workflow and strategy tools available for managing social media editorial calendars, including CoSchedule, Kapost, and Divvy HQ. However, you can get started without a financial investment by using a spreadsheet - Microsoft Excel or Google Sheets (example above). The tool you use is less important than its ability to assist you in documenting social media activities in an easy-to-navigate manner.
So what to include in a social media content calendar? We have found including the following fields to be immensely helpful:
• Day of the week
◦ This is naturally important to include in any calendar, in case there are any day-specific hashtags or topics (such as #TBT) to consider, or if weekend content differs from weekday content.
• Date and time of the post
◦ Is there a cut-off time for RSVP'ing for an event? Have you been asked to share a particular content item first thing in the morning? It's helpful to spell out what content will be going out at exactly what time.
• Content objective
◦ If your social feeds are always sales calls to action (CTAs), don't be surprised if your audience tunes out. This column helps ensure a mix of thought leadership, third-party articles, and amplification of marketing efforts are scheduled.
• Content topic
◦ Similar to objectives, if your content marketing has too narrow of a focus, it can quickly get boring. This column is a reminder for all key topics to be shared on a regular schedule.
• Copy specific for each channel
◦ It's useful to have related status updates side-by-side in one row of the social media content calendar. Not for ease of copy/pasting the same verbiage into every cell (that's not a best practice!), but to make sure you're hitting the appropriate channels for content in the right way.
For example, you're going to want to be more human, humorous and personable on Instagram, and more professional and formal on LinkedIn. 
• Unshortened URLs for the CTA and any images
◦ One of the best ways to guarantee URL shortener click counts don't come under scrutiny is to make it easy for content reviewers and posters to see what lies behind that shortened URL, so they can visit the site for additional context.
• Placeholders for recurring content activities
◦ Do you share a new blog post every Tuesday? Or post an inspirational image every Friday? Are you promoting a quarterly PR program to amplify social channels? Include those placeholders in your content calendar, so they don't fall through the cracks or become a last-minute fire drill.
And don't forget to include a column that includes key hashtags to use, a link to your content curation source, a tab for evergreen content for regular resharing, plus timing for the industry Twitter chats you frequent.
By documenting social media content in an editorial calendar, you'll be on the road to creating a more structured social media program that will be able to scale with your organization.
To read more about how to amp up your social media program with a social media content calendar, check out our e-book, How to Build a Serious Social Media Program.