Red Havas
---
As a global PR agency built for the modern world, Red Havas and its clients were overwhelmed with fragmented data. To combat this, the agency developed its industry-leading Merged Media model — focused on measuring the convergence of paid, earned, social, and experiential media — to reflect how audiences consume information today. Since 2015, Red Havas has used Meltwater not only to capture this data but also to understand what it really means for its clients.
Meltwater enables Red Havas to:
Access real-time data and insights across channels
Create engaging, data-driven pitches that drive new business
Optimize workflows throughout global operations
Streamlined Workflows and Cost-Savings
Global teams need robust solutions. This is especially true for Red Havas, whose teams operate across a dozen markets worldwide. And with many of its clients present in multiple markets, the agency needed a way to streamline workflows and consolidate tools. 
In particular, the agency wanted to eliminate inefficiencies, both for itself and its clients. Looking to different platforms for data on different channels that then had to be migrated into another standalone tool taxed workflows and budgets alike.
Red Havas used Meltwater's solutions to optimize operational efficiency, getting its far-flung teams on the same page. Instead of jumping from software to software, Red Havas's social listening, media monitoring, and social media marketing efforts are now consolidated into the Meltwater suite. While teams in different markets once used various tools, they now enjoy more seamless collaboration. 
Aligning workflows with Meltwater gave Red Havas even more room to level up its strategies. For example, it used social analytics insights to develop an influencer engagement and marketing strategy. Using our Klear platform's comprehensive audience demographics segmentation, the agency was able to identify three categories of influencers — narrators, distributors, and creators — and customize their influencer outreach and selection strategies to each client. "This is a really key focus for our business, says Tiller, and "bringing it all into one plethora of tools and then being able to present that back is what we value in the partnership."
As an added plus, optimizing operations helped Red Havas optimize budgets. "That's something that we can pass on to our clients and that's something they appreciate," says Tiller. 
New Business Development
"I think one of the most significant outputs from our partnership is just new business conversion," says Tiller. 
As it nurtures new prospects and existing clients, Red Havas often turns to Meltwater early to help identify critical solutions that may meet these businesses' needs. That partnership has led to new, customized product offerings that grow the agency's services and support its mission to redefine PR. 
Meltwater aided Red Havas in developing a bespoke evaluation framework called the Merged Media Score to match its understanding of modern audience and consumer behavior. The Merged Media Score integrates key metrics — including prominence, social echo, volume, and sentiment — social media, digital news, and online community channels into an omnichannel scoring system.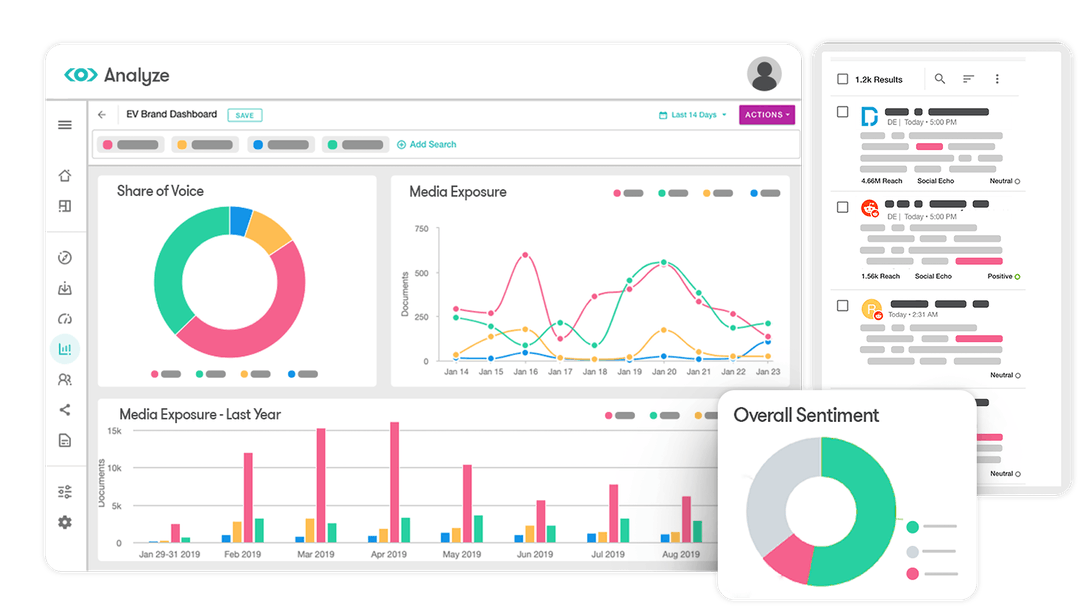 Armed with competitive insights that capture precisely how consumers are engaging with brands across different mediums, the agency provides current and prospective clients with custom Merged Media Score reports that make its data-powered strategies come alive.
"Putting a solution in place for them and showing them how it could really look and work, that's something a client gets excited about when they see that in a new business proposal. It has definitely helped us get new business opportunities across the line," says Tiller.
"We've worked with Meltwater to create custom methodologies, and really have been able to unlock insights that we otherwise wouldn't have been able to offer to our clients by using their tools. Whether it's earned social influencers, whether it's organic or paid, Meltwater is able to mirror our exact agency model and the needs that we have. That's hard to find."
Davitha Tiller, Executive Vice President of Social Media and Integration, Red Havas
Reputation and Crisis Monitoring
Having the power to tap into consumer conversations becomes newly urgent when PR crises arise.
When a Red Havas client in the automotive industry faced a global product recall, the agency needed the ability to monitor company messaging, public reaction, and audience engagement. It turned to Meltwater for comprehensive social listening and media monitoring that could measure sentiment, media exposure, and share of voice.  
The agency used Meltwater's social listening and media monitoring solution, Explore, to set up a crisis management engine for continuous, real-time monitoring across media channels and social media platforms. 
"For marketers, it's important to keep front of mind that, to the audience, their brand is all one experience, regardless of how many channels they're interacting across," says Tiller. "What Meltwater is able to offer us is a clear insight into how the brand is being perceived and engaged with across all those different channels, and then allows us to tell a clearer story and develop strategies with that insight in mind."
With comprehensive consumer and audience engagement insights, Red Havas was able to plot a years-long communications plan for its client, taking it through the recall crisis and beyond.
Our real-time alerting and spike detection, which identifies unusual surges in mentions or keywords, helps the agency identify potential crises early. When one does hit, Red Havas instantly links with Meltwater to identify the solutions it needs to help shape its management and response strategy.
Pushing the bounds
In an industry constantly adapting to changing audiences and consumers, Red Havas uses Meltwater to make sure its clients stay ahead of the curve. From real-time data gathering and analysis to customizable measurement and reporting tools, Meltwater's all-in-one solutions empower Red Havas to keep pushing the bounds of public relations and storytelling.