Social Media Marketing Tips for Everyone
The media and communications industries are notoriously tough to work in. You tend to work over-and-above the expected weekly hours, there's also added pressure of needing to consistently punch above your weight, and keep up with tech developments and changes in consumer behaviour and the way they engage with the platforms on which your work is displayed.
Oprah-esque headline aside, here's what those who thrive in this environment have realised.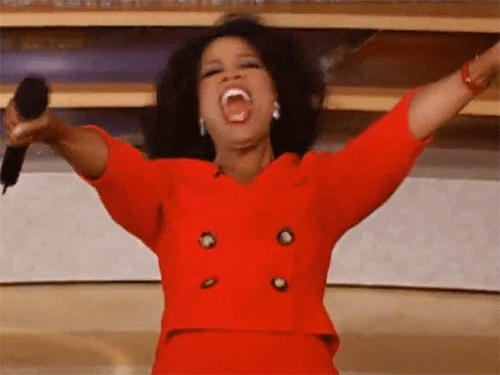 "Look under your chair! There's one for you, and you – Social Media tips for everyone!"
Tracking the Social Media Butterfly
There's no denying that social media is the current marketing butterfly everyone's trying to catch in their net, but as it evolves we need to look at said butterfly in earlier and earlier stages of development in order to stay on track with each change and succeed.
Just think of how the platforms themselves have changed, in their decade or so of existence.
Oktopost explains, "When Facebook (then called The Facebook) first launched, it was a platform for college students to meet each other – nothing more. When Twitter started, it was meant to be a miniature version of a personal blog."
Fast-forward to now, where being offline for a few hours instils a sense of panic and having to "catch up." Twitter was down for a few hours due to an "internal change" at the middle of the month and it's as if the whole world pressed pause. The algorithms themselves are also constantly evolving, with changes to the Facebook Newsfeed algorithm alone worthy of a number of timeline posts.
Read more about the notorious Instagram algorithm changes, and how to keep up with them, here. 
That's why the role of the marketing professional keeps changing. Before, you could stay in your lane and thrive in your silo of selected media, with your KPIs clearly laid out at the start of the year. You simply had to match ROI expectations to line yourself up for the next level of promotion.
Today, the constantly evolving and improving nature of digital platforms means you're constantly upskilling yourself, trying out new ways of work and embracing change as you tackle those KPIs.
Welcome to Your New KPI: Jumping Horses Midstream
Your KPIs may change just a day into the project, as consumers react online – tweaking the messaging as you go along, upping budgets for one platform and brainstorming new ways to play on what they love as you feed off that consumer response. You're effectively "jumping horses" midstream and switching focus if not between different clients than at least between the different platforms on which you're pushing their voice.
That's why embracing that consumer experience is a large factor of the brand's overall success is key to succeeding at social media marketing. Endlessly punting the latest product feature without listening to consumers' input on what would actually make the product more useful to them is one way to run a red line through your social media marketing efforts, fast.
Social media listening done right
Then there's the old bugbear of whether the same rules apply for B2B and B2C marketing.
The former sometimes feels more rigid than the latter as your end-client is a business rather than a person, but there's opportunity to innovate with both – a business is a group of likeminded people working toward the same end goal after all, much like a defined consumer group. And while B2B is usually focused on social media for lead generation, it also does wonders for the B2C standards of awareness, engagement and even conversion.
Because differences aside, Forbes reports that B2B and B2C marketing are actually converging today, with customers of both expecting personalised sales experiences and timely responses to queries, while spending ample time on social media. So social media marketing truly is for everyone.
Here's what you need to keep in mind, whether you're targeting a business or a consumer group.
Tips for Success in Social Media Marketing for B2B and B2C
In the first instalment in Marketing Land's series looking at how paid social marketing is evolving, as "user growth slows and social commerce explodes", they report that we've entered the next era of social media marketing.
That's because social media use now appears to be flattening, with more and more options to choose from meaning consumers and marketers are more spoilt for choice than ever before, spending less time on deep-level engaging and more time scrolling without clicking on anything specific, constantly switching between platforms.
Therein lies the rub – in such a competitive marketing landscape, what do you choose to say, to which consumer set, on which platform, for your messaging to resonate in these ever-distracted times?
Repeat After Me: Facebook is Not All Social Media
"It's a whole new world for social media marketers, and keeping up with the rate of change can be exhausting," states Marketing Land, but don't despair. There are many ways to keep up with – and even ahead of – social media marketing trends and the future of Facebook.
For example, while it will always hold the title as the first ever social network, Facebook itself is no longer the be all and end all.  In fact, as recently as May, eMarketer estimated that the average amount of time people will spend on Facebook this year will remain unchanged compared to 2018, but will likely drop by a full minute in 2020.
But just because Facebook usage is dropping, doesn't mean all of social media is feeling the pain. The latest version of Mary Meeker's annual internet and tech report for Bond Capital shows that Instagram and YouTube are both seeing rises in daily use, with Snapchat now reaching 75% of 13- to 34-year-olds in the US and branded filters an easy way to get started. Ephemeral content isn't just a fleeting fad, and certainly has its place among the youth and youth-minded.
There's also an interesting insight for the B2B-savvy set – Photonics adds that LinkedIn, as the most business-centric social platform of them all, is responsible for over 80% of social-generated social leads, with Twitter and Facebook bringing in just 13 % and 7 % respectively. No longer just a space to update your CV and network with others in the industry, you can also share content organically in discussion groups, and note that the platform is redesigning its Campaign Manager to deliver an objective-based workflow, for advertisers managing high-volume campaigns.
Then there's the fact that consumers are spending more time on messaging platforms and private DMs rather than public statuses. Is your brand following suit and making its mark in this space?
If not, don't panic. Don't forget that the more things change, the more they stay the same. So don't throw your marketing 101 textbook learnings out the window – you just need to take what you've learned and update it slightly, to meet the demands of consumers heading towards 2020.
Webinars and White Papers: A WIIFM (What's In It For Me) Update for 2019
While content itself has shifted form from plain written text to cover various lengths, from high-visibility, hashtagged Twitter updates to research-heavy, gated content like webinars and white papers and added extras like video, visuals and interaction options, the basics of content marketing hold true.
Oktopost says as harsh a pill as it is to swallow, the sooner you realise your customers care less about your bottom line and more about how they benefit from your product, the better. So steer clear of being overly promotional and tap into the current customer experience movement, where you provide value in the form of information, education or entertainment.
The latter is proving the most popular aspect of this trio, as digital measurement proves time and again that distracted consumers are looking for just that – further distraction, which places makes content with entertainment value a more valued commodity than the reams of information they can – and do – look up elsewhere.
For more insights and tips for building connection with your audience on social media, read this blog post on reaching the right audience with top digital content.
The top way to stay top of mind is to position your brand as a thought leader on social media – showcase your expertise, skills and even advice with a broader yet still targeted audience.
So share your own insights that will help the industry, curate other best practice tips and interview experts in the field – short video is a great way to package this as that makes it instantly shareable. Also take care in how you post that content to your own platform, as you need to strike a balance between trying too hard to use the target audience's lingo and sticking to the stuffy, jargon-filled business writing of a few decades ago. Keep it real.
Still confused? Help is at hand! Meltwater offers numerous ways to help you leapfrog the confusing bits and shine your social media marketing tools to an envy-inducing gleam. Click here to download the Social Media Marketing for Everybody eBook and you'll be well on your way.