4 Simple Ways to Find PR Opportunities Using Twitter
Adweek reported that journalists make up 25% of verified accounts on Twitter. The platform is swamped with the exact people PR pros are trying to reach, offering vast potential for PR opportunities. With that being said, not all of us know how to capitalise on Twitter with PR in mind. Here we discuss 4 ways to do exactly that!
Increase PR Opportunities Following These 4 Tips
1. Following relevant hashtags
Due to the real-time nature of Twitter, many journalists use the platform to help build on their stories since their requests are answered by the community quickly. Hashtags such as #PRrequest and  #JournoRequest are awash with potential PR opportunities. Simply pop the hashtags into the Twitter search bar.
If you want to make the search more relevant, you can use Twitter's advanced search console to add more keywords. For example "#PRrequest" and "fashion". This will help you filter out the noise and find PR opportunities that are more applicable to your company.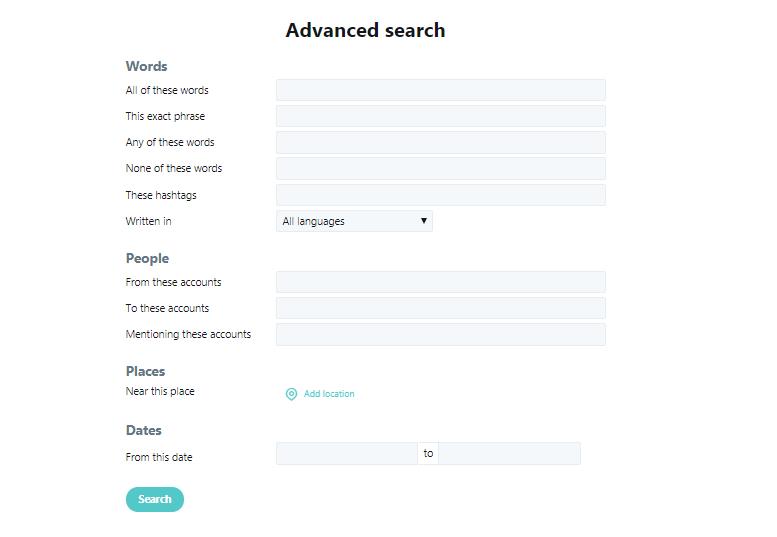 Those using a social media monitoring tool such as Meltwater can do the same, with the added benefit of receiving real-time alerts. Alerts are sent straight to your email to ensure you're the first to know when any applicable PR opportunities come about.
2. Connect with Industry Thought Leaders
The message you're trying to push via PR has more chance of pick up if you include another credible source to help tell the story. Connect with industry thought leaders (not just journalists) on social media and start nurturing the relationship with project collaboration in mind.
Chances are the thought leaders in your field are influencers in their own right. This means competition to get their attention will be high. To overcome this, you need to start acting like the advocate you claim to be. This can be achieved through relationship nurturing. Increase your number of PR opportunities by using the below influencer nurture flow as a guide.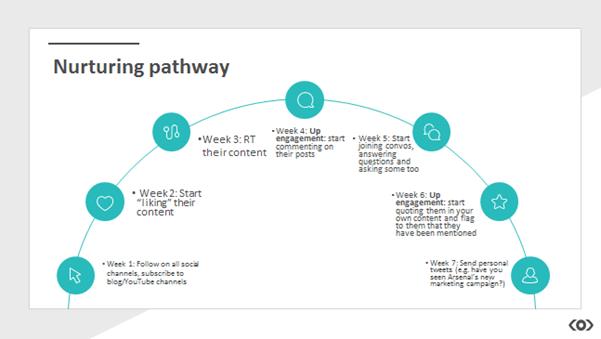 If you engage little and often, gradually building up the engagement, your brand will be top of their mind. Taking the longer route isn't for everyone, but if you're organised and start the nurturing process before you need to work with them, the relationship will be way more organic and authentic. Remember, mutual respect for one another doesn't appear overnight.
Additional thought leader outreach tips:
Ensure the thought leaders you choose are active on social media so you can benefit from their reach
Never make the first contact with them about you and your brand. Instead, comment on their blogs or articles and share their content (ego boosts never hurt anyone).
Download their whitepapers, subscribe to their blog, ask them questions to show your genuine interest in what they cover
Deliver added value by answering their community's questions too
3. Follow Other Twitter User's Twitter Lists
Feeling like you've exhausted your black book of contacts? Don't reinvent the wheel and create more work for yourself by manually searching for new journalists to connect with. Instead, follow other Twitter user's Twitter lists!
The beauty of a Twitter list is that you don't have to create it yourself to benefit from it. By keeping an eye on relevant Twitter lists so you can identify new journalists – and therefore new PR opportunities!
Here's an example of Marketing Week's list of journalists.
You can find useful Twitter lists by looking at your competitor's Twitter profile, as well as looking at the lists the influencers have been added to – not the lists they've created. You can do this by going to their Twitter profile, click 'lists' then 'member of'. Chances are those lists are full of similar people – helping you to widen your search for journalists.
4. Follow Breaking News
We're seeing a shift in how we consume news.
Since the introduction of Twitter, more and more stories break here first, rather than in the papers. Again, this is due to the real-time nature of Twitter and how community members use the platform. The pic below demonstrates this nicely!
Journalists are using Twitter to keep up with what's going on. This is most likely why they make up a quarter of all verified accounts. We can use this Twitter characteristic to our advantage.
Set up a social listening search and monitor conversations occurring in your industry before they hit the news. That way, you can flag the potential story, along with your expert quote, to journalists. Making their lives easier can only benefit your relationship with them, even if they don't always pick the story up. Repetition of your message helps to reinforce what you do and position you as the source of authority – and with brand credibility comes more PR opportunities!
Want to discover more savvy ways to increase PR opportunities? Read our eBook!