B2B Branding: The What, Why, and How
What is B2B branding? Is it just your logos and graphics? Or is it something more?
Branding is "the process of creating a unique name and image in a customer's mind."
B2B buyers are busy. They have to make a lot of decisions throughout the day. And, most of all, they're human. They try to make decisions based on hard evidence. Sometimes, though, the choices are overwhelming, and they're just seeking an easier way to make or justify their decisions. B2B branding makes those decisions easier by communicating what makes your brand different or unique.
What is B2B Branding?
B2B branding communicates important attributes like:
Customer knowledge: One of the most important things your B2B branding can communicate is that your brand understands and responds to customer needs. This is especially important in B2B, where the vendor/customer relationship is often more of a partnership than a simple transactional relationship. Managing customer relationships is critical due to the high monetary value of the relationship over time.
Passion and purpose: It's not just what you do, but why you do what you do. Marketing expert Simon Sinek has written that too many companies communicate what they do and how they do it, but the most successful brands always communicate their "why."
Culture and personality: These are brand attributes commonly associated with the B2C space, but they matter in B2B as well. Your company's culture guides customer relationships. It determines how employees interact with customers and the "personality" your brand conveys. If your culture emphasises customer service and sharing their values, that promotes a commitment to solving their problems and continuously improving your products or services. Customer perceptions create a more personal connection between your brand and its customers. This can pay off in real dollars: research shows that companies with a strong culture and engaged workforce outperform their competition by 147%.
Consistency and quality: Especially in B2B branding where large purchase decisions are on the line, brand consistency in the product itself and in the experience of buying and using it is important to customers. When your brand is consistent, how you communicate about that brand echoes across all your channels, materials, and conversations as well as in the customer's experience of using the product. In the age of social media this means every employee can impact your brand—and so does every customer.
Uniqueness or differentiation: What makes you different than similar brands? What makes you better? Why should a customer choose your product or service versus those of a competitor? Differentiation is the factor that determines the value assigned to your brand. If your product is properly differentiated, you can charge more.
In short, B2B branding answers the simple question, "Why should your customers choose you?"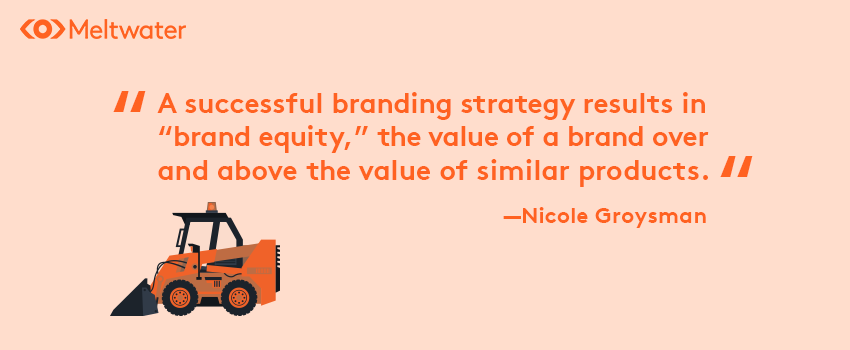 Why B2B Branding Matters
As indicated in the previous section, B2B branding is about so much more than logos. It's really about developing the space that your brand takes up in the mind of the customer and having a "consistent value system" in how you interact with that customer.
In B2B industries, buyers may give a variety of reasons why they choose one brand over another. Sometimes it's tangible reasons like price, reliability of service or delivery, or product quality. But sometimes, it's intangibles like, "they know us" or simply, "we trust that brand." Creating those intangible perceptions is the goal of B2B branding.
A successful branding strategy results in "brand equity," the value of a brand over and above the value of similar products. That's why a solid roadmap to develop and define your brand is so important in the B2B space.
How to Define Your Brand
When companies are first starting out, they're unknown: they're products, not brands. Any branding efforts tend to be ad-hoc and inconsistent. Over time, these efforts tend to be systematised and brought under the control of marketing departments, yet they may still only partially accomplish what could be achieved with a smart B2B branding strategy.
As companies scale into the mid-market and enterprise space, they must find ways to convey their brand attributes and values to ever larger audiences. Employees, including everyone from the newest customer service rep to the CEO, must become brand advocates. Customer knowledge and relationships must also be maintained even as the customer base grows.
Here are three steps you can take to solidify your brand as you grow.
Cultivate culture and purpose. A company culture that is focused on hiring the right people and empowering them to solve customer problems will result in closer connections with customers and a more positive perception of your brand. Making sure employees understand not just the products or services you provide but the "why" or the reason behind them and the importance of their role, also enhances brand perception.
Tell engaging stories. Storytelling is a big buzzword in the B2C marketing world for a good reason: storytelling develops empathy or connection with the brand.his can sway customers to make decisions in favour of your brand. But lest you think that this only applies in the B2C space, remember that B2B buyers are also seeking information that can answer their questions and help them justify their decisions. Storytelling strategies such as the development of media hubs or customer communities, an integrated social media strategy, and even one-on-one conversation are a few ways B2B brands can tell engaging stories.
Focus on consistency. Consistency isn't just about making sure all your marketing materials have the same logo but making sure that everyone in your company knows and understands your brand's values. This is a function of culture as well as a marketing task. Systems and processes should be developed to help employees understand how to communicate consistently with customers and to ensure that customer experiences, correctly convey the attributes you want.
B2B branding can take your company from an unknown brand to one that becomes recognisable, is positioned appropriately, conveys its personality and views, and is reflected in company policies and operations. B2B branding turns undifferentiated products into brands that are known and asked for by name—and for which customers will pay a premium. That's the ultimate value of B2B branding.
This article originally appeared in Handshake Blog, was written by Nicole Groysman from Business2Community, and legally licensed through the NewsCred publisher network.