Social media has become a vital communication channel for brands, whatever their sector. However, many B2B marketing pros are not using social media to its full potential! In this post, find out what the best social media channels you should be using, what and when to publish and more.
1. B2B Marketing Pros Must Choose the right social media platform
How to choose which social media platform to use
If you're not already on social media, the first thing to do is to decide which ones to sign up to. There are loads to choose from.
Top tip: Find the balance between being present on several social media networks, without spreading yourself too thin.
As a starting point, get yourself on LinkedIn and Twitter. LinkedIn is the most popular network among B2B marketing pros and is a great way to generate leads. However, social media platforms like Twitter, Instagram and Facebook are also beneficial because they help build brand awareness and will help direct traffic to your website. Most companies are on 4 or 5 different networks.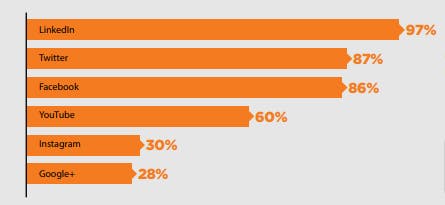 Top 6 social media platforms for B2B content marketing (source)
The graph above shows the most popular social media platforms for B2B marketing pros. 
One way to decide which social networks to use, have a look at your competitors and industry. However, don't assume that because your competitor doesn't use a platform, that it won't work for you. 
Your 4 Step Guide to Staying Ahead of Competition
Create your profiles
Ensure your social media profiles are consistent with your companies brand. This involves using the same profile image (preferably your logo), username if possible, and bio.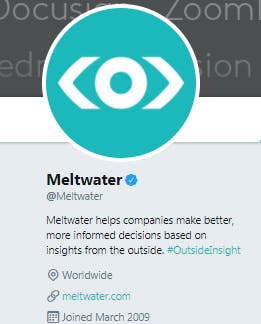 Think about your audience
When you create your profile, keep your target audience in mind. Ensure you've defined your brand's values, mission and the type of customers it wants to attract. If your goal is to communicate with an entrepreneurial audience between the ages of 30 and 40, create your profile so that it can interest those people. Learn more about creating an audience profile in our Persona Mapping blog here!
2. Create and Post Content
Content, the key to a successful strategy
Many B2B marketing pros fail on social media because they think:
"Social networks are an opportunity to generate more leads"
"Our sector is too boring for social networks"
A company that only posts promotional publications with call-to-action, will soon find itself talking in a vacuum. As for being 'too boring' check out our last post, where we dispel this myth.

B2B marketing pros should take inspo from these top B2B Insta profiles.
The first thing to do is to create quality content, which will be interesting for your target audience. Your content should help the viewer with some kind of pain point.
Here are some content ideas to publish on social networks:
Articles from your blog, if you have one
Reports and market studies
Relevant articles
Infographics
Video clips and live quotes from your own or industry events
Case studies
Brand announcements (partnerships, acquisitions, new releases …)
Behind the scenes of your company: photos of your employees, life in the office
Question and answer sessions
Should we use humour?
Many brands are finding social media success by being funny online. This can help to humanise your brand and move away from the idea that B2B brands and the B2B marketing pros behind them must be super corporate.

Be sure, to establish clear guidelines for the use of humour on social media. The line is fine between the humour that will please your audience and that which will offend.
When to publish?
The time you post on social media can affect how successful your posts are. There are numerous studies about when to publish. On average:
From Monday to Friday
Facebook: 9am, 1pm and 3pm
Twitter: 12pm, 3pm and 5-6pm
LinkedIn : 7-8am, 12pm, 5-6pm
Instagram : 2am, 8-9am, 5pm
Don't assume that these times will work for your brand. The key is to test various times of the day and see where you see the most success.
When we spoke to Twitter expert Samantha Kelly, earlier this year, her advice was to go on social media when your audience is there, which is often outside of the working day (9pm-11pm).
How often to publish?
One of the common mistakes on social networks is to post too much content, too often. You've probably experienced this yourself, with a friend on Facebook who publishes photos of his dog five times a day. You have already considered blocking them several times. The same applies to brands.
B2B marketing pros who post too many promotional messages, irrelevant content and too often are the three biggest causes for users to unfollow a brand. But beware! Brands that almost never publish ( Too Quiet ) also tire their audiences.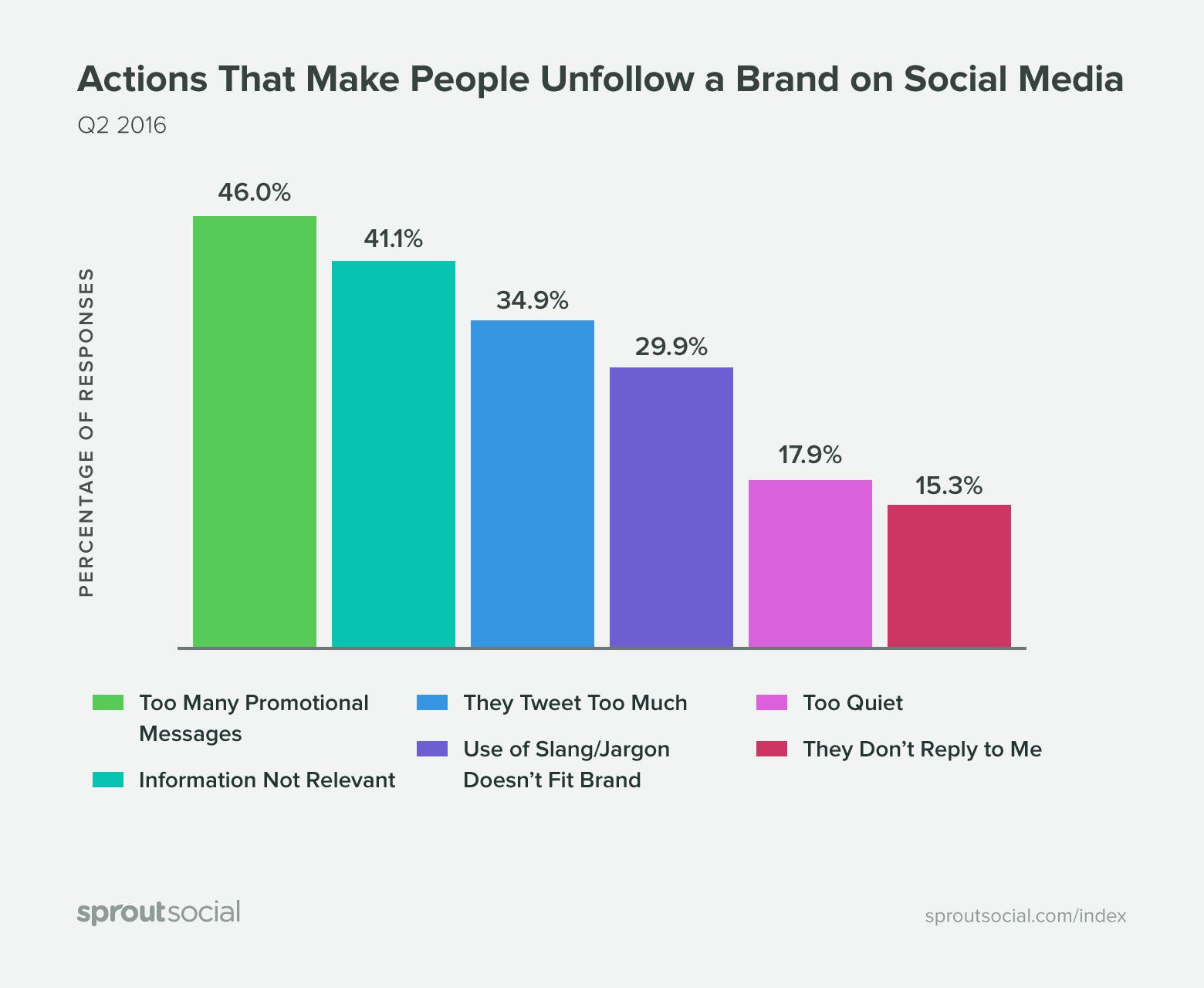 So how often should you post?
Twitter: 10 times a day
Facebook: Once a day
LinkedIn: Twice a week
YouTube: Once a week
Instagram: Once a day
3. Interact with your audience
In order to increase followers, engagement and retain your following, ensure you're part of the conversation around your brand.
Reply to all comments and messages you receive, whether positive or negative
Monitor posts about the products/services you offer to identify opportunities to engage in discussion. Look for people asking for recommendations, or complaining about a competitor.
Often dissatisfied customers will take to social media to complain. Since social media is so public, it can often damage your reputation if not handled correctly. 
There are three things to include in your response. 
Keep your tone polite and professional
Acknowledge their dissatisfaction and find a solution
Try to take the conversation offline
However, do not under any circumstances:
Publicly accuse the client of lying or being wrong
Ignore the comments (unless the user is a troll, )
To go further:  
How to avoid a social media nightmare
How to win back customers after a bad experience 
Grow your audience
Chances are you'll want to grow your audience. Whilst having a high audience reach is important, aim to reach the right people, not lots of people.
One way B2B marketing pros can do this is by identifying influencers in your industry. These are those who have a large, engaged community of followers. You can build relationships with influencers and interact with their community to help grow your audience, and position yourself as an expert in your field. In addition, follow people who follow these influencers, as well as your competitors. Chances are these people will be your target audience.
Be careful not to get yourself into a "follow-unfollow" strategy, ie following people to get a follow and then the next day unfollowing them. This will look like spam and just annoy your audience.
4. Equip yourself with the right tools
To guide your strategy, it is crucial to have the right tools: from content creation to performance monitoring.
Editorial Calendar
To ensure the regularity and quality of the content you publish on social networks, it is important to have a long-term vision of your strategy. For this, b2b marketing pros must create an editorial calendar, where they'll note what content will go when and on which networks.
Example: the editorial calendar we use at Meltwater

Planning tool
To make sure you stick to your editorial calendar, even when you're sick or on vacation, it's essential to equip yourself with a planning tool. On Monday morning, for example, you schedule all your posts for the week! All you have left to do is interact with your community.
Top Tip: Ensure you're up to date with the latest breaking news stories and scandals in your industry. Scheduling posts is a great way to keep your strategy cohesive and save time. However, sometimes poorly timed social media posts can seem insensitive or cause offence.
Content creation
On social media, the visual is important. You don't need to be a Photoshop expert to create beautiful content to share on social networks! A free tool like Canva can help B2B marketing pros to create beautiful visuals in a few clicks, which will allow you to illustrate your posts.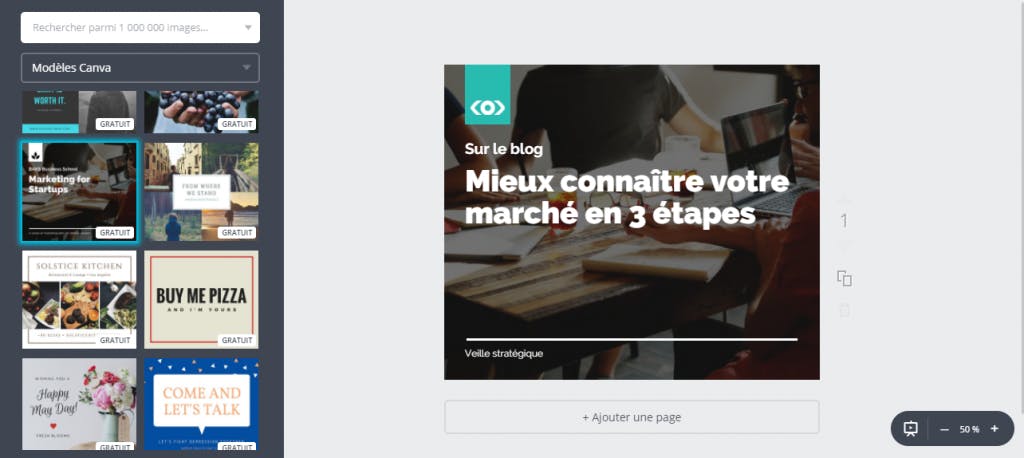 Social media management tool
A community management tool like Meltwater Engage allows you to centralise all your different social media profiles and save time and efficiency in managing your accounts. You can easily analyse the performance of your content, adapt your editorial line and compare yourself with your competitors.
Conclusion
Social networks are a channel to consider with as much attention as your e-mailing or your press campaigns. Well used, the return on investment can reach unexpected heights, whether in terms of business opportunities, notoriety and branding. So, get started!