In the marketing world, everyone's got an opinion. On the one hand, having such a wealth of divergent thought is great. It keeps things fresh, interesting and pushes the need to constantly evolve. 
On the other hand, it gets really confusing. How do you know what to believe, when you hear so many conflicting points of view?
This quandary was the fuel behind Born Social partaking in a rather interesting research project. Earlier this year, they asked 1000 people in the UK about how they really used social media. No assumptions and no marketing speak – just cold, hard, facts. The findings of which have challenged a heap of assumptions the industry had previously agreed upon.
The report spans across all areas of social media, dissecting their findings by platform (Facebook, Twitter, Instagram, Snapchat and Pinterest) and by age group (Screenagers – 11-22, Adopters – 23-34, Adapters – 35-49, and Silver Sharers – 50-75).
So what exactly did they find? In this blog post, we share five social media graphs from the report that illustrate the current state of affairs, as well as 40 essential facts and statistics that you need to know about social media in 2017.
1. Instagram is where people go to share.
Born Social asked everyone who completed the survey which platforms they had an account on, and perhaps more interestingly, how they used them. To do this, they asked them to rank their level of activity out of four different levels of engagement, as follows:
Active – they post content regularly.
Semi-active – they engage with content they see but rarely post themselves.
Passive – they log in but rarely engage with content.
Irregular – they have an account, but rarely log in.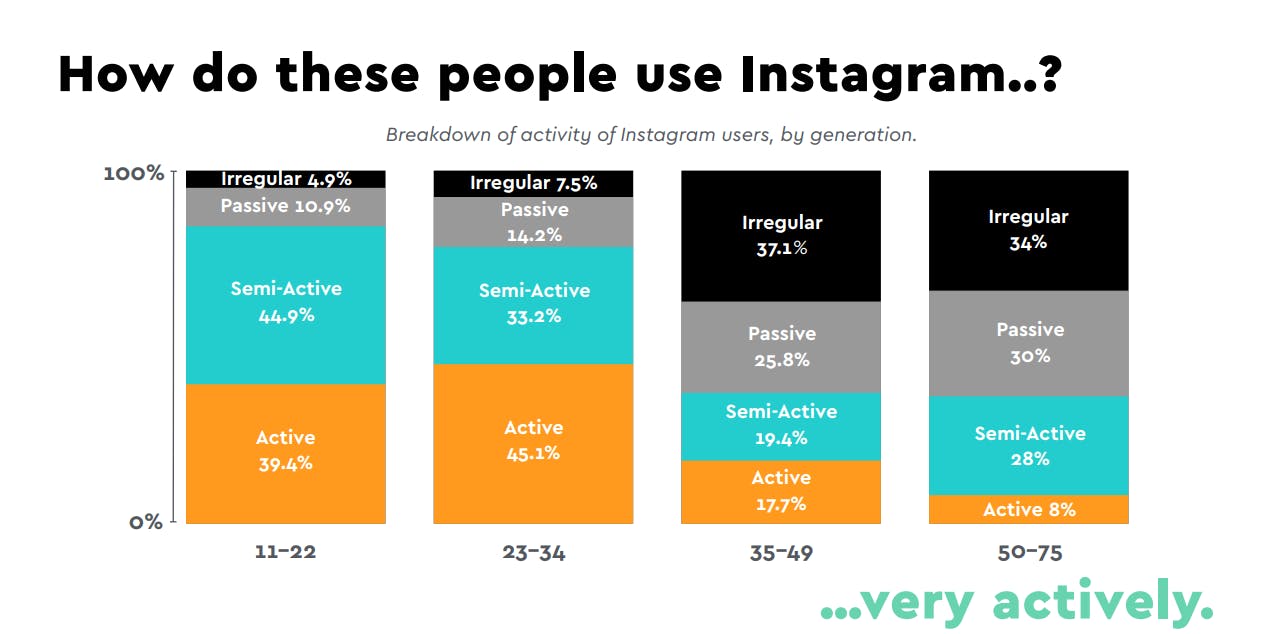 Source: Born Social
Let's look closely at Instagram. The survey found this was by far and away the most 'active' platform in the UK. It's where the majority of people go to share their own content. It's clear from the data that they feel much more comfortable sharing here than on other platforms like Facebook or Twitter.
Why is that? The release of Instagram Stories has definitely helped. Pre-Stories, Instagram had a problem – the bar for content was very high. It became known as the platform for beautiful content, which acted as a double-edged sword. This reputation gave it a USP, but it eventually stifled sharing.
Snapchat plugged this gap with their stories feature and stole every day sharing from Instagram's grip. This was a huge problem for them.
Instagram's challenge was to win back the everyday moment, which they did by copying Snapchat' key feature. It's worked – clearly – that's obvious from the graph above. Instagram is now where people go to share.
2. Facebook is far from dead…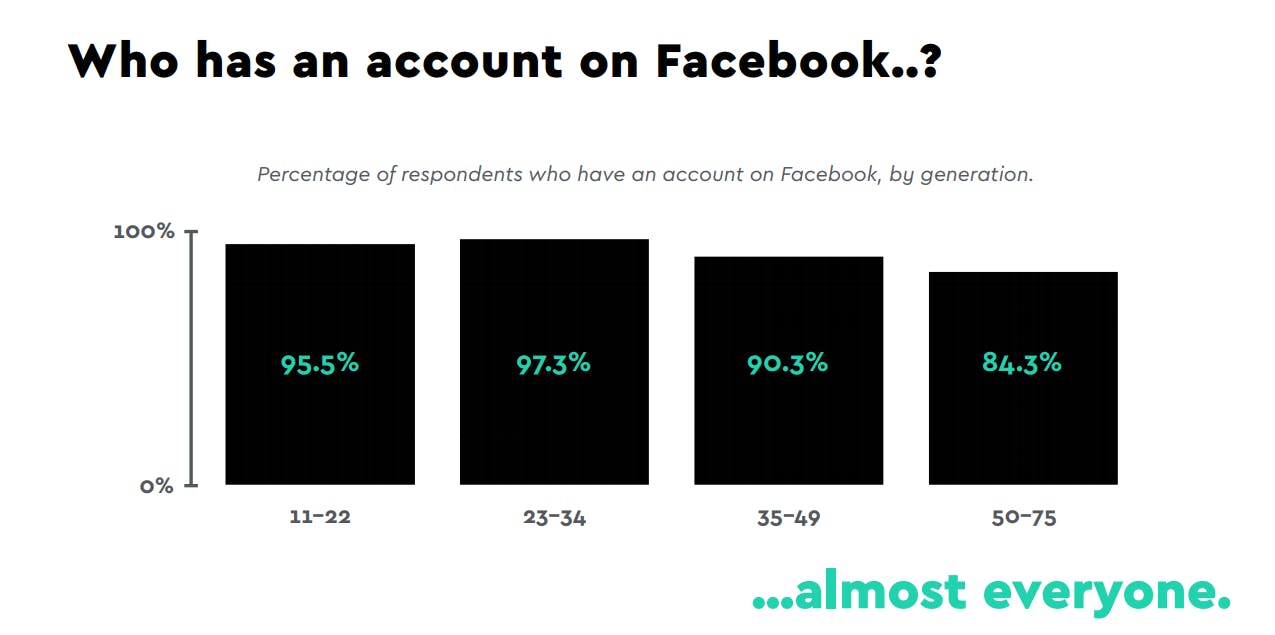 Source: Born Social
You'll have no doubt often heard that Facebook is dead. That the kids are abandoning it. That it's uncool.
This research dispelled these myths. As you can see from the graph above, almost everyone in the UK has an account on Facebook. Out of all the platforms they surveyed, Facebook dominated every other platform in terms of getting users to sign up.
This doesn't tell the whole story, however…
3. Most Facebook users are lurkers.
The Facebook findings get even more interesting when it dug a little deeper and had a look at how these people actually use the platform: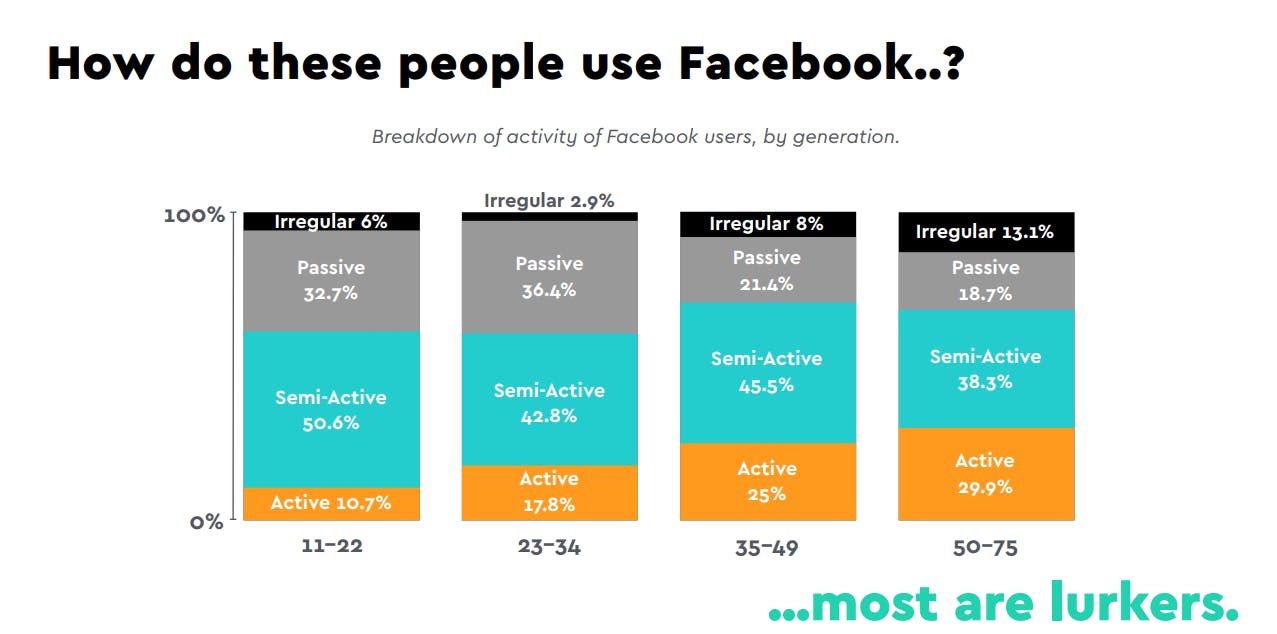 Source: Born Social
As you can see, only a very small amount of users class themselves as 'active' or regularly sharing their own content to the platform. The size of this group increases as you move up the age ranges, as older people are more likely to share to Facebook. No real surprises so far.
The big revelation lies in the size of the irregular group – users who 'rarely login'. You might expect that with such a small amount of people sharing their own content, the irregular group would be sizeable. Surely this would mean there was less reason to log in and use the platform?
In actual fact, the survey found exactly the opposite. Out of the people who are signed up to Facebook, just a fraction don't login.
Although people don't share on Facebook as much as they might have used to, they still use it very frequently. The majority of users are semi-active, meaning that they engage with posts on the feed but rarely post themselves, or passive, meaning that they use the platform but don't engage with posts. The key thing here is that they are still logging in.
Why? It could be suggested the reason for this is that Facebook has developed enough 'sticky' features – like Messenger, Groups, and Events – that keep people logging in, even when they don't see value from sharing themselves. Or maybe everyone just loves a good old stalk.
The key takeaway here? Treat any story about how Facebook is dying with absolute caution. It's very much alive and thriving.
Check out Facebook for Beginners, for some top tips on how to build a strategy on Facebook.
4. Different generations share in very different ways.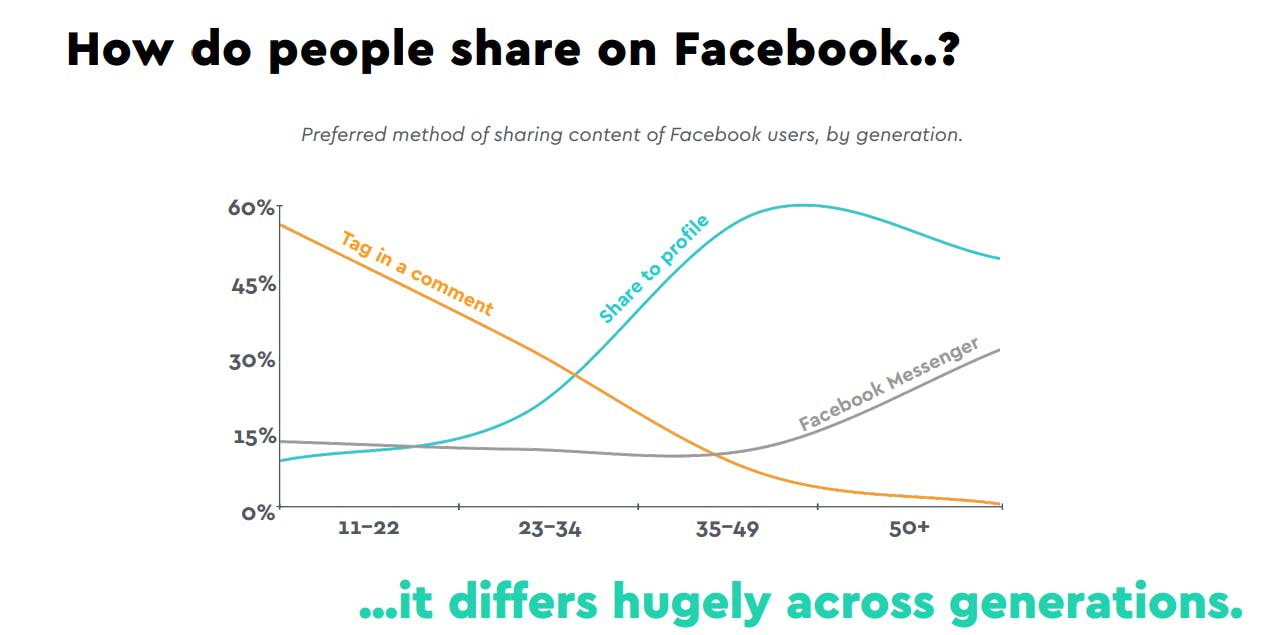 Source: Born Social
Born also looked into how people actually share. If they see a piece of content that they want to share with their friends, how do they then go about it?
This was where you can see the most disparity between age groups.
Whilst young people prefer to share with a tag in the comments, older people favour a share to the profile.
This means that whilst young people are loyal to a relatively new and organic method of sharing – tagging a mate in the comments section of the content you want to share with them – older generations are clinging on to a good old-fashioned share to profile.
This has huge implications for marketers who need to track the success of their content. Don't rely on the native 'share' button, as only older generations really use it in a big way. If your audience is made up of lots of young people, you're not looking at the full picture if you're not tracking the volume of tags in the comments.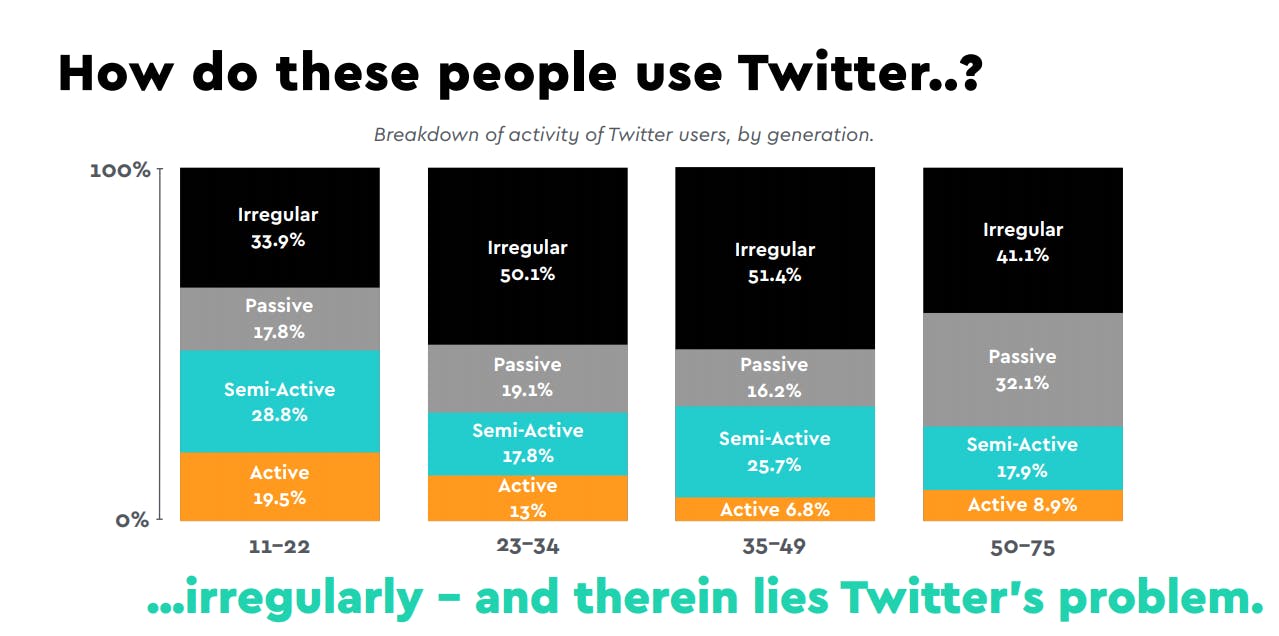 Twitter have had a very public struggle recently. With share prices declining and a slew of high-profile departures, so this is a really interesting one, seeing how it looks from a usage perspective.
The results were pretty stark, especially when you compare to the previously shown and discussed Facebook graph. The key thing to look at is the black area – the amount of irregular users, who don't see enough value in the platform to log in regularly. It's huge.
Contrast this with the orange area, showing 'regular' tweeters. Only 12% of the Twitter users we surveyed tweet regularly. This is a huge problem for Twitter.
Twitter is struggling at the moment as a platform – that much is clear. If you're tight on internal resources, you should seriously think about whether it's wise to invest resources into Twitter as a platform. You might be better placed doubling down on Facebook or Instagram.
21 Social Media Facts You Should Know Right Now
Millennials are still on Facebook. Images get shared more. Digital ad spending is increasing. People will unfollow your Facebook page if you over post.
Yes, these are things you need to know – and there's proof to back it up. Here are 21 marketing and social media facts you need to know right now…
Social Media Facts
Facebook's user base is estimated to reach 1.43 billion monthly users by the end of 2016. Mobile is estimated to account for 82% of Facebook's US digital ad revenue this year. (Source: eMarketer)

95.8% of social media marketers worldwide said Facebook produced the best ROI. (Source: eMarketer)

21% of Facebook users say they unfollow brands that post repetitive or boring content. 19% say they would unfollow a brand on Facebook if the brand posted too often (more than six times a day). (Source: Adweek)

True story – I was a conference this Spring where a social media "expert" told the group of about 300 that they needed to post "as much as possible" on their Facebook pages. I was horrified! I wanted to stand up and yell NO!!! because you are asking to have scores of people unfollow you if you do that. Yes, you can post multiple times per day, but it has to be done strategically and not "as much as possible". And the organizers (who I know) consider her an "expert" and selected her pitch over mine…

7% of U.S. companies with 100 employees or more used Facebook for marketing activities in 2015. That share is projected to rise to 85.3% this year and 85.8% next year. (Source: MediaPost)

91% of millennials (aged 15-34) are on Facebook. (Source: Infinitdatum)

There's an average 45% increase in engagement when a LinkedIn post contains a link, a 50% increase in comments when a post contains a question, and a 98% increase in comments when the post contains an image. (Source: DMR)

 32% of U.S. companies with 100 employees or more used Instagram for marketing activities in 2015. That number is predicted to increase to nearly 49% this year and 70.7% next year. (Source: MediaPost)

81% of B2B decision makers use online communities and blogs to help make purchasing decisions. 74% use LinkedIn and 42% use Twitter. (Source: Marketing Think)

71% of consumers who have had a good social media service experience with a brand are likely to recommend it to others. (Source: Get Ambassador)

Visual content 40 times more likely to get shared on social media than other types of content. (Source: Hubspot)

78% of people who complain to a brand via Twitter expect a response within an hour. (Source: Lithium)

When it comes to communicating with businesses, 33% of Millennials prefer using social media over any other channel. (Source: Marketing Sherpa)

Internet users have an average of 54 social media accounts. (Source: Global Web Index)

When making a purchase, 75% of B2B buyers use social media for their decision-making. (Source: IDC)
Content Marketing Facts
Marketers who blog are 13 times more likely to generate ROI. (Source: Contently)

74% of readers trust educational content from brands as long as it doesn't push a sale. (Source: Contently)

88% of B2B marketers in North America use Twitter for content distribution. (Source: DMR)
Advertising Facts
56% of general internet display ads are never seen by actual humans. (Source: Contently)

Half of B2B buyers are using smartphones for business purchases — with 40% of these purchases directly influenced by such devices. Conversely, the allocation for mobile in digital marketing only amounts to 3%. (Source: PureB2B)

Total spending on Internet advertising is predicted to grow 12.9% next year. Ahead of TV, Internet will become the largest medium for advertising this year. (Source: MediaPost)

One-third of marketers say they don't know which digital marketing channel has the biggest positive impact on revenue. (Source: MarketingProfs) THIS IS WHY YOU NEED TO TRACK YOUR ACTIVITIES!!!
These facts and stats are all in the service of building the case for supporting a robust social media program. To get more information on building a social media program the right way, read our ebook, Social to Scale: How to Build a Serious Social Media Program.
40 Essential Social Media Marketing Statistics for 2017
As we start a new year, here is a look back at the world of social media. Keep these statistics in mind as you create your social media plan for 2017!
Social Media Demographic Statistics
75% of male internet users are on Facebook as well as 83% of female internet users.
32% of teenagers consider Instagram to be the essential social network.
Female internet users are more likely to use Instagram than men, at 38% vs. 26%.
29% of internet users with college degrees use Twitter, compared to 20% with high school degrees or less.
81% of millennials check Twitter at least once per day.
Most Instagram users are between 18-29 years old, about six-in-ten adults online.
22% of the world's total population uses Facebook.
LinkedIn boasts more than 450 million user profiles.
On any given day, Snapchat reaches 41% of 18 to 34-year-olds in the US.
YouTube overall and even YouTube on mobile alone reaches more 18-49 year-olds than any cable network in the U.S.
Social Media Usage Statistics
Facebook continues to be the most widely used social media platform, with 79% of American internet users. Based on total population, (not just internet users) 68% of U.S. adults are on Facebook.

Instagram receives the silver medal with 32% of users, Pinterest coming in a close third with 31%, and LinkedIn is next with 29%, and Twitter brings up the rear with 24%.

76% of Facebook users visited the site daily during 2016, with over 1.6 billion annual visitors, this is a 6% increase from 2015.

The average LinkedIn user spends 17 minutes on the site per month.

51% of Instagram users access the platform daily, and 35% say they look at the platform several times per day.

Almost 80% of time spent on social media platforms happens on mobile.

Katy Perry has the most worldwide Twitter followers, at 94.65 million.

Over 400 million snaps are shared on Snapchat per day, and almost 9,000 photos are shared every second.

Only 10 thousand YouTube videos have generated more than 1 billion views.

More than half of all YouTube views are on mobile devices.
Social Media Business Statistics
Instagram earns $595 million in mobile ad revenue per year, a rapidly increasing number.

Despite news of layoffs and executives leaving the company, Twitter's revenue is up 8% YOY

59% of Americans with social media accounts think that customer service through social media has made it easier to get questions answered and issues resolved.

Over 50 million businesses use Facebook Business Pages.

2 million businesses utilize Facebook advertising.

Facebook's total revenue grew 56% in 2016, and advertising revenue grew 59%.

93% of Pinterest users use the platform to plan or make purchases.

39% of LinkedIn users pay for monthly premium accounts.

Pinterest drives 25% of all retail website referral traffic.

More than 56% of adults online use more than one social media platform.
Social Media Content Statistics
Tweets with images receive 18% more clicks than tweets without images.

100 million food and 146 fashion boards exist on Pinterest.

On LinkedIn, 98% of posts with images receive more comments and posts with links have a 200% higher engagement rate.

There are about 81 million fake Facebook accounts, and about 5% of Twitter accounts are bogus.

100 million hours of video content are watched on Facebook daily.

More than 1 million LinkedIn users have published long-form content, with 160,000 long-form posts published weekly and over 19.7 million SlideShare presentations are on the platform.

88% of businesses with more than 100 employees use Twitter for marketing purposes.

User-submitted YouTube video with the most views is "Charlie bit my finger" with over 845 million views.

Pizza is the most widely instagrammed food, directly ahead of steak and sushi.

Blogging continues to grow, with over 409 million people viewing more than 23.6 billion pages each month on WordPress alone.
Our prediction for 2017? Messaging apps! 29% of smartphone users utilize messaging apps, like Whatsapp, Viber, or Kik. As Facebook continues to test new methods for advertising through Messenger, and customers demand a higher level of customer service, more brands will look to utilize messaging ads and applications in the year to come. Stay tuned.
Building a social media program for your brand? Get the lowdown on how to implement an effective strategy by downloading our ebook, Social to Scale: How to Build a Serious Social Media Program. Next year, the social media marketing statistics that you'll be diving into will be your brand's.