We recently hosted a masterclass on Instagram marketing strategy with Instagram expert Jenn Herman. In this blog post, we explore how to boost your Instagram marketing strategy with Instagram posts, Instagram stories, and keeping your target audience engaged through the social media channel. 
The Goldmine That Is Instagram Marketing
Instagram marketing is becoming increasingly important for many brands, especially those in highly visual industries, such as retailers, restaurants, entertainment, and travel companies. The channel has seen explosive growth since it first appeared on the scene in 2010. New figures published by The Guardian show that Instagram users have more than doubled in size over the past two years, with 500 million people a month worldwide now using Instagram.
Here is a quick look at why Instagram marketing matters, how companies can increase engagement across the platform, and how they can measure their successes.
So, Why Instagram?
Simply put, plain text is on its way out. Your target audience want to experience visual engagement through pictures and videos that take no time to digest. There's no better way to do this, than from your Instagram account. 
Instagram revealed that the app has more than 400 million monthly users, 80 million daily photos, 3.5 billion daily likes, and lots of opportunity to marketers. Forrester named Instagram the "King of Social Media Engagement," citing that top brands' Instagram posts generated a per-follower engagement rate of 4.2 percent—58 times more engagement per follower than Facebook, and 120 times more engagement per follower than Twitter. Instagram marketing is powerful as it allows our target audience to visually consume ideas and make decisions about our brand without us being too pushy.
So how can we generate (and measure) ROI from Instagram marketing engagement?
Step 1: Content First 
First, we need to share interesting content that resonates with our audience.
Bahamas Ministry of Tourism is a Meltwater client with a savvy Instagram content marketing strategy. They used a stunning image of dolphins to demonstrate why they were named the #1 destination to encounter big animals while scuba diving. Rather than taking a picture of their award, they creatively snapped the dolphins "celebrating."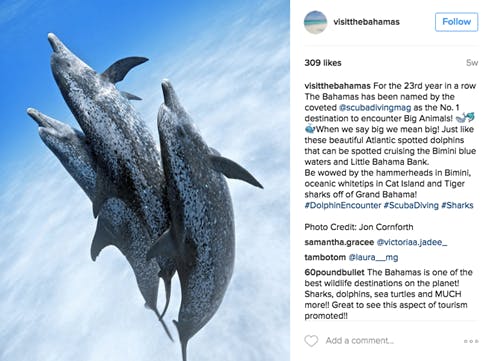 Whilst it's great to showcase company successes, Social Media Today suggests marketers apply the 20/80 rule on social media. 20% of posts should promote our products directly; the remaining 80% should promote our brand lifestyle. Schedule a healthy mix of posts that relate back to your brand with outside content that is relevant to your audience.
While Instagram consists of photo and video context-based images such as memes and quotes are a great way to bring a brand voice to life. Take a look at Fit Tea's Insta account, the herbal tea company has many famous affiliates helping to promote its message on social media, including the Kardashian clan. Even Ryan Gosling is also on hand to lend some encouragement!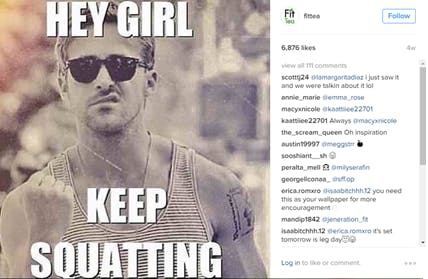 A strong Instagram marketing strategy can strengthen brand identity by offering a behind-the-scenes peek into the culture and lifestyle that surround our brand. User-generated content that showcases employees is an easy way to add a personal edge to Instagram marketing and aid recruiting. Take a look at Meltwater's Instagram account. We love sharing pics from special events along with office snapshots of #MeltwaterLife on social media.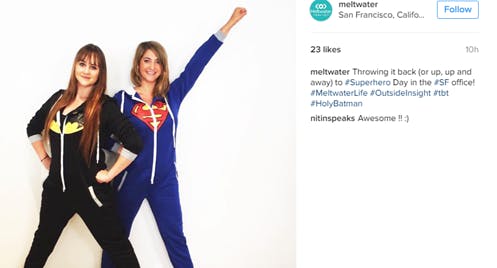 Step 2: Wise Words
Use captions wisely. If the Instagram feed is all about a company's identity, then the caption adds context to the visual. Don't just state the obvious; share the story behind the picture. Remember that people only read the caption once the image has their attention. So, remember to plan your wording, not just your graphics, when you're putting together your Instagram marketing strategy. 
Hashtags are essential as they make your post discoverable, as does location tagging! While Instagram allows for up to 30 tags, common consensus recommends 1-5 tags per post so we don't #spam.
If you must add more, write them in the comments so they are searchable but stay hidden after more people start commenting. Keep in mind that Instagram currently does not allow links in captions, only one link in your personal or business profile . However, this is changing with the arrival of the business account.
Step 3: Be Exclusive
Post exclusive discounts or content on Instagram to give potential fans an incentive for visiting your page. Deals or contests are a tangible way to drive traffic and increase engagement while solidifying your following. A great way to do this is by exploring Instagram Stories and Instagram Live Video - and giving those Instagram users that join in, exclusive discounts, promotions or tips.
You can also increase engagement and promote exclusivity by posting user-generated content. If Instagram users know they may be republished by your business account, they are more likely to engage with your brand and tag you in their Instagram feed. 
Reap the benefit of having a network of people talking about them on their personal pages by encouraging users to share photos with your hashtag.
I've Increased Engagement.. Now What?
There's no way to know if you have increased engagement without monitoring Instagram marketing efforts. Engagement analytics help marketers understand which types of posts your target audience likes most, so we can can better focus our strategy. Not one to be left behind, Meltwater launched Instagram media monitoring this year, allowing customers to monitor mentions and keep track of engagement in real time.
In conclusion, remember that Instagram marketing is all about creating a company's visual identity. Be true to the brand and promote the lifestyle. Engagement will follow.