Understanding Your Industry as a PR Newbie or Intern
We've all been there as a newbie, whether that was as a PR pro, intern, or marketer, we can all relate to the challenges of that first week at a new position. So, to help with this transition, we've excerpted this passage about understanding your industry from
our ebook
about getting your bearings and standing out in your new comms position.
The cornerstone of being a successful PR pro or marketer is understanding your industry. Any good practitioner will tell you that the ability to collect valuable data and turn it into actionable insights is critical to success. Too many buzzwords in one sentence? Let me explain. To effectively market to a consumer, you have to understand:
What Does My Brand Stand For?
Know what your brand stands for before you move forward with any communications plan. You want to understand what is important to your brand, and there are a few questions to ask:
What are your key messages?
What are the keywords or phrases to help you define your brand?
What keywords or phrases are already associated with your brand? This will help you capitalize on low hanging fruit. If your brand is already associated with "flash storage" but your company or campaign is moving you into a different aspect of storage, you know to go to the journalists that are already interested in what you do. They are more likely to follow you along your journey as you simultaneously build a relationship with new journalists.
Who is discussing my product or service on traditional and social channels?
Using a media intelligence platform, you can tap into traditional and social networks to understand your market. Journalists around the world are writing and contributing content to publications that are being crawled by media intelligence platforms. Use that wealth of data to understand who is discussing your product or service, and where. You can do this by identifying keywords or search terms to enter into the system.
What keywords should you search for?
The first set is obviously your company's (or client company's) brand and product names. Then:
Who would pay for my product or service?
Who has already purchased my product or service?
Who is discussing my product or service on traditional and social channels?
Who is discussing my competitor's product or service on traditional and social channels?
All of these people make up your target audience. Your team might already have this work done. They may have a PowerPoint presentation listing the key characteristics of audience segments and the best ways to reach them. But if your team does not have this information, or they're looking to refresh it, a media intelligence platform can help you gather data and turn what you find into insights.
Let's dive into the last two questions a bit more—we'll show you how a media intelligence can provide digestible formats like charts and graphs, which are easier to understand than a raw dataset, to help you understand your market.
But to understand the industry more deeply, and uncover new opportunities, start by writing out a feature list of the product or service. Next to each feature, list the benefits it provides. For example, if your client is a digital security company, a feature of their tool is likely anti-virus protection. What are the benefits of anti-virus protection? To protect a client from malware, scams, etc.
Therefore, your search term list would look like this:

It's also a good idea to research and follow hashtags that pertain to your industry. You can use the same list you identified with your feature set as a jumping off point for social searches.
Who Is Discussing My Competitor's Product or Service on Traditional and Social Channels?
At the same time you are monitoring your brand, you should be researching competitors. Benchmarking competitors can be approached in more than one way. For instance, you can simply monitor competitor names and take note of significant articles that mention them, but not you. You can also uncover new competitors by looking into articles about your industry, and again, take note of the publications where they are featured and who are the journalists covering them. On social, find out who competitors and their industry influencers are following on all relevant channels.
As an intern or PR newbie, this is likely as far as you'll be able to get into these searches. You'll uncover key topics, channels, and influencers that your company could be engaging. But if you're interested, the next step in this process is understanding the demographics and psychographics of your target market. Things like age, location, gender, income level, educational attainment, personality traits, values, and behaviors contribute to the purchasing habits of consumers. Do not do this by making assumptions about the target demographics and psychographics based on your personal experience and knowledge. This type of marketing research requires both quantitative—like what you started doing with Meltwater—and qualitative (focus groups, surveys, etc…)—research to truly understand your target demographics and psychographics.
This excerpt with information about understanding your industry comes from our free downloadable ebook, How to Be a Top PR or Marketing Intern. Grab a copy to get more information about how to kill it as a new PR pro or intern.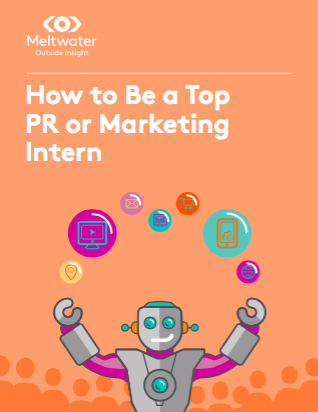 This was originally published on this site on October 7, 2016.