Enduring 2016 Team Building Activities
Employees can be the
untapped brand ambassadors
and
content creators
of any organization. That's why team building is essential in the modern workplace. If you're looking for ways to implement team building in 2017, here are some suggestions.
Creating an inspiring, and productive work culture requires more incentives than a generous salary. This year has brought its own challenges in doubling-down on creating meaningful connections with a diverse group of employees. When things feel discordant in the world-at-large, creating a rewarding work environment can be of great help. Encouraging employees to participate and engage can benefit both employees and the company as a whole.
1. Speed Networking
Almost no one goes speed dating in 2016, but that doesn't mean the general premise is a bust! Speed networking is a low-cost way to encourage employees to get acquainted and can be hosted at your office. Have employees ask each other questions that inspire conversation for 2-3 minutes, then move on to the next person. The enforced time limit and simple set-up will provide an opportunity for colleagues who may not interact on a daily basis to create a connection.
Tip: Print a list of questions for employees to use as inspiration, and leave a copy on each table. Here is a list you could use.
2. Scavenger Hunt
Today, scavenger hunts have been completely re-imagined to accommodate for the use of technology. Companies such as The Go Game create tailored corporate scavenger hunts and games that can be played around your city using mobile phones. Choose the neighborhood, and The Go Game will do the rest for you. Teams collaborate on answering questions and can even battle each other during the game! At the end of the hunt, everyone meets at a predetermined location to review the hilarious entries and determine the final winner.
Tip: Send The Go Game questions and answers based on your company's history or values and they will incorporate them.
3. Hump Day, Jump Day
Why not inspire your employees to jump over the mid-week hump? Book a time on a Wednesday evening at a place like House of Air for some quality trampoline air time. An hour of jumping and playing trampoline dodgeball is enough to get everyone pumped up for the rest of the week! This activity adds to a culture that promotes fitness, something that is increasingly important for today's workforce.
Tip: If you provide pizza for your crew, make sure it arrives halfway through the event; this way, employees can jump before eating, and no one will throw up. You're welcome.
4. Trivia Night
Trivia Night is an oldie, but goodie. The budget-friendly way to host a trivia night is to create questions based on your company's history, tradition, and values. However, there are services like Brainstormer.com, that can put together quiz packs based on your specifications. You can even hire one of their Quiz Masters to host the event.
Tip: Mix and match questions from different time periods so that no generation is left behind, and for an international crowd of employees, add in some global trivia.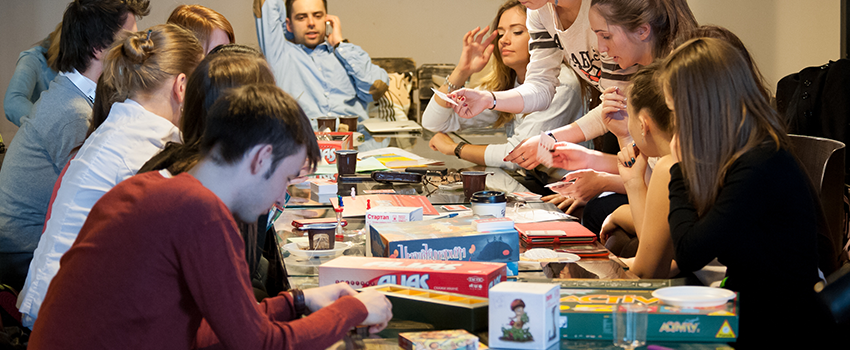 5. Board Game Night
Monopoly, The Game of Life, Chutes and Ladders, Operation, Jenga, and Scrabble are not only for nostalgics! Purchase a bunch of these classics and host a Board Game Night at your office. What's nice is that any employee can spearhead this initiative, and if you order pizza for the whole group, it'll turn into an even better bonding experience.
Tip: For long games like Monopoly, consider setting a time limit for the players so that everyone can get a chance.
Bonus:
At Meltwater, we use a service called Enplug to power the display screens in our offices globally. We encourage employees to take pictures and videos while participating in team building activities and upload them to their personal Instagram accounts with our team building branded hashtag. This way, the photo/video will show up on all screens using Enplug around the world. It's a great way for colleagues to feel connected via company culture, and it has greatly increased engagement! To learn more about how we use Enplug, read our client testimonial here.