Sponsoring All the Feels: Olympic Sponsors and the Impact They've Made
The Olympic Games represent the pinnacle of human achievement, bringing cultures and nations together to celebrate the mind-boggling limits of our physiology. But there's always another competition in parallel, one that can't be measured by timekeepers and score cards. It's a race among the official sponsors of the games to make the greatest emotional impact on an estimated 3.6 billion viewers. As viewers are there to cheer their country's heroes and watch records be broken, the sponsors themselves can't get in the way of this inherently emotional experience—they have to enhance it.
What does it cost to be an official sponsor and what comes with that privilege?
While reports differ on the exact cost, a common figure thrown around is $100 million for a four-year deal covering each cycle of the games. That's $100 million to reach an estimated 3.6 billion viewers.
Believe it or not, in terms of exposure, that's money well spent.
If we consider the cost of advertising during another major event—the Super Bowl, known for debuting new ad campaigns and clever marketing tactics—paying to be an Olympic sponsor seems like a bargain. And the Games guarantee viewership from at least the competing countries (about 200 this year). How many other marketing strategies can promise that?
Some Paper-Napkin Math
Super Bowl
$5 million per 30-second ad spot, est 114 million viewers in 2015
114 million viewers/$5 million = 22.8 million viewers per $1 million (source: USA Today)
Olympics
$100 million to reach an estimated 3,600 million viewers, 4-year "ad spot"
3,600 million viewers/$100 million = 36 million viewers per $1 million
What can sponsors do with 58% greater audience reach for their money?
The Sponsors and Their Campaigns
We have 11 official sponsors for the games, each reminding us of their thought leadership and innovation. More importantly, they remind us that their technologies, products, and services are part of our core experiences, from the mundane to the memorable. Most sponsors have hashtags to track conversations across social:
Atos SE: (N/A)
Bridgestone: #BuiltToPerform, #TeamBridgestone
Coca-Cola: #ThatsGold
Dow Chemical: (N/A)
General Electric: #DroneWeek
McDonald's: #FriendsWin
Omega Watches: #OmegaVivaRio
Panasonic: #SuperFans, #YallaRio
Procter & Gamble: #ThankYouMom
Samsung: #DoWhatYouCant
Visa: #TeamVisa
Which Hashtags Blew Up on Social?
Share of voice (SOV) is a quick way to identify the top performers in a group of entities. In a recent post, Olympic Surprises: Who Is in the Know and How We Can Be Too, we used SOV to track the popularity of Team USA swimmers and gymnasts. Here, we're using it to track the performance of each sponsor's hashtag across social.
Coke is the undisputed winner of the hashtag game, representing over 80% of the hashtag mentions across social.
Timeline of Brand Highlights
Coke caused a solar-flare around August 8th. What happened? 
We compared the exposure each sponsor has received during the Olympics across all social media channels. Selecting the peak of each graph gives us a content stream we can browse to quickly see the most discussed news. While Coke peaked the highest, each brand had its own high point. We investigated each brand's peak, then hid the brand's data set to rescale the graph and magnify peaks of other brands.
The following dates show each brand's peak to date and related news on social. Recall that the Opening Ceremony was on August 5th; we chose a window that went back four weeks to also capture how official sponsors were ramping up.
Broadcast: Old Faithful
Those dinosaur cousins of print media, the TV and radio ad spots, are still going strong. Through a unique partnership, we're able to crawl every TV and radio broadcast in America to find brand mentions. We started our broadcast media monitoring four weeks before the Opening Ceremony, to keep consistent with the timeframe used in the previous analysis.
The three brands receiving the most mentions across radio and television in America came up with some creative commercials. Samsung had The Anthem (29 million views on YouTube), showing footage of different people singing the anthems of other countries, each anthem's line edited to flow into the next, sung into the front-facing camera of a Galaxy S7 Edge phone. This is part of Samsung's strategy to focus on people and remove barriers to the human experience.
With its #FriendsWin hashtag not performing well, you'd expect McDonald's to at least pick up the slack on the airwaves. But you'd be disappointed this year, as the official Olympic sponsor chose to sit this one out and not focus on major ad campaigns. A cursory glance at the broadcast content reveals an intuitive point: the brand is so pervasive in media that it doesn't need to spend ad dollars, it gets plenty of organic mentions around its stores and other sponsorships. So what's the buzz about? Apparently, there's a McDonald's inside the Olympic Village, offering free food to the athletes. The spot is so popular that the store had to limit each athlete to 20 free items per visit.
Visa aired a Carpool to Rio commercial (2.5 million views on YouTube) making fun of our Olympians heading to the games. Visa used Morgan Freeman to narrate the final moments of the ad; as the most requested navigation voice in the popular Waze navigation app, Visa went top shelf. In a nod to the pervasiveness of Samsung, the Carpool to Rio commercial demonstrates Samsung Pay using a Visa card.
Coke and P&G School Us on Touch Points
By printing its #ThatsGold hashtag on its packaging, Coke effectively makes each purchase a campaign touch point. Drinking Coke right now? Look at the can. Procter & Gamble reminded the families of its sponsored athletes that it has their home needs covered. The company built a P&G Family Home to host athletes and their mothers and families, providing them with free services powered by its portfolio of goods such as Tide detergent and Gillette razors. While commercials get many views and mentions on social media, lasting (and even bigger) impressions can be formed from physical experiences.
Show a Commitment to Enhancing the Experience
How did the official sponsors enhance our experience?
Infrastructure
General Electric provides lighting and wiring for the different venues of the games. Visa handles payments processing with innovations like Visa Checkout and even Samsung Pay. Atos enables thousands of hours of content to be streamed to viewers worldwide. And Dow Chemical pledges to use low-carbon technologies and sustainable practices to reduce emissions in Brazil.
Electronics
Panasonic brings HD projectors for the Opening Ceremony. Samsung crowd-sources the documentation of the games by assigning phones to creative Instagrammers.
Consumer-Facing Goods
Omega Watches installed wave lap counters to help swimmers keep track of their progress. Coke enables us to show our support for athletes every time we reach for a can of soda. McDonald's offers athletes free meals. And Procter & Gamble provides lodging for families of athletes and a salon for athletes to get their grooming on. Bridgestone created a Performance Institute portal that narrates clips of athletes moving with sports science and performance stats. There's also mobile app called Bridgestone Performance Trials (for iOS and Android); interestingly, the simulated mobile phone is a Samsung (way to go, Sammy).
Which Brands Topped Their Categories?
While benchmarking hashtags gives us insight into their success on social media, it's important to remember that people still talk about these brands in relations to their contributions to the Olympic experience without using hashtags. We created boolean searches (see our recent post on boolean techniques) to track brand chatter in relation to the Olympics across the social channels most valuable to advertisers: Twitter, Instagram, Facebook, and YouTube.
Coke is an iconic brand that transcends cultural boundaries.
Winning Strategies
Sponsored athletes. Most brands sponsored several athletes of various sports. This gives brands the opportunity to use a hashtag—#TeamVisa, #TeamBridgestone—to cheer on the Olympians. Sponsorship is also an automatic association with performance.
Is it better to sponsor more athletes or just the ones you're sure will get medals? Visa reportedly sponsored 25 athletes for both the Olympic and Paralympic games.
Localization and Olympics-specific portals. Panasonic's #YallaRio campaign promoted a free trip to the games, an offer only available to lucky fans in UAE, Oman, and Jordan. The company's microsite featured mega famous soccer player Neymar Jr. In an example of diversified marketing efforts, Panasonic UK created a #SuperFans portal for #TeamGB fans to post their experiences at the games. And #TeamBridgeston athletes were featured on the company's Performance Institute portal with cinematic shots of its sponsored athletes, who narrated their journey to the Olympics (the Kelley O'Hara segment "Behind the Performance" is especially well-done).
Smart hashtags. Coke had the best performing hashtag of them all: #ThatsGold. It's generic enough to be used in many conversations, yet specific enough to let you know it references the Games. And their touch-point game—printing the hashtag and sponsored athlete names on every can—is flawless.
Crowd-sourced creativity. Samsung fired up a John Madden quote bot and slapped catchy, eleventh-hour quotes on action shots of Olympians, then decided to tag entire countries to gain exposure. And the next time you see an athlete take a dive in the sand and lay there a while, you might be intruding on a product placement shoot.
Unique access. General Electric used a fleet of drones to bring us behind-the-scenes footage of its involvement in the Rio games.
Best Overall Marketing: Samsung Goes All Out
The electronics behemoth launched a Galaxy Studio in Rio to show off content for its new Samsung VR experience. Just prior to the games, it released an Olympic Games Edition of its flagship phone, the Galaxy S7 Edge, with Olympics-themed colors. The company offered 30 collectable physical pins at its studios and brand shops, each pin representing an Olympic sport or a famous symbol of Brazil. They incentivized offline activity (visiting stores) by offering collector's items to show your friends you were at the games. And did you think they'd forget an app? Samsung's Rio 2016 app displays important information about the games: venue directions, event times, news, and medal counts. Did we mention the cross-promotional assists courtesy of Visa (Samsung Pay) and Bridgestone (Samsung phone simulator)?
Finally, to cover the Tear-Jerker category, the company released a documentary at the 2016 Tribeca film festival, which was directed by Academy Award winner Morgan Neville. The short follows four Olympians and their journey to the games.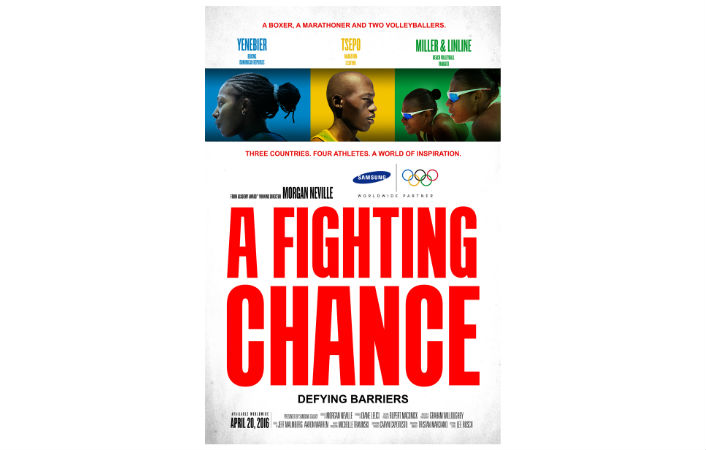 Samsung wants it all, including your tears.
An Unparalleled Advertising Opportunity
Is it worth becoming an Olympic sponsor? Absolutely, if you can afford it and back it up with a well-rounded media strategy. The broadcast audience reach is unrivaled. The best moments of the games are forever recorded and replayed. The athletes who win medals are undeniably associated with peak performance. And no other event except maybe the World Cup gives your brand touch-point opportunities across so many demographics.
Consumer-facing brands connected their customers with Olympic heroes by telling powerful back stories or showing us that Olympians use the same products in their daily routines as us ("Perfect Isn't Pretty"), or reminding us to be thankful for the people who raised us to be strong and chase our dreams (Thank you, Mom – Strong). Infrastructure brands like Atos and Dow Chemical focused their campaigns on awareness, or educating people on the day-to-day impact of major projects and innovations.
Our pick for the most well-rounded media strategy goes to Samsung. In an interview with Adweek, EVP Young-Hee Lee gave us insights into why the company took home 27 Lions as Marketer of the Year. Said Lee: "Through our technology, we want people to achieve impossible things, and we strive to give people freedom." Samsung played the strongest pathos card of all the sponsors with its emotional ads and, by sticking to its human-centric script, it's challenging consumers to change their perception of the brand. And that's an anthem other brands might envy.