Social Media Recap: December 2016
Changes to social media platforms occur at dizzying rates, making it a challenge to keep up. But as in-the-know PR and marketing folks, we're expected to keep on top of new functionality and features; that's why we've created this monthly recap to keep you in the know. So, kick back as you read, write, and update.
Kicking things off for December, a Five by Five report via Business Insider shows that social media remains the best outlet for a US product launch through the end of 2016. For brands that are on the fence, this news should help you plan your budgets for the new year.
Social media is a great topic on which to seek advice and metrics from your PR firm as well. It's tempting to double down on Facebook and forget every other platform, especially for smaller businesses, but getting a great audience analysis from your media intelligence platform or PR agency and understanding the social echo of the messages you are putting out will help determine the right social platforms for your launch. Getting an assessment will help you focus on the top 3 to 5 platforms for your products and services, instead of spreading yourself too thin trying to be everywhere.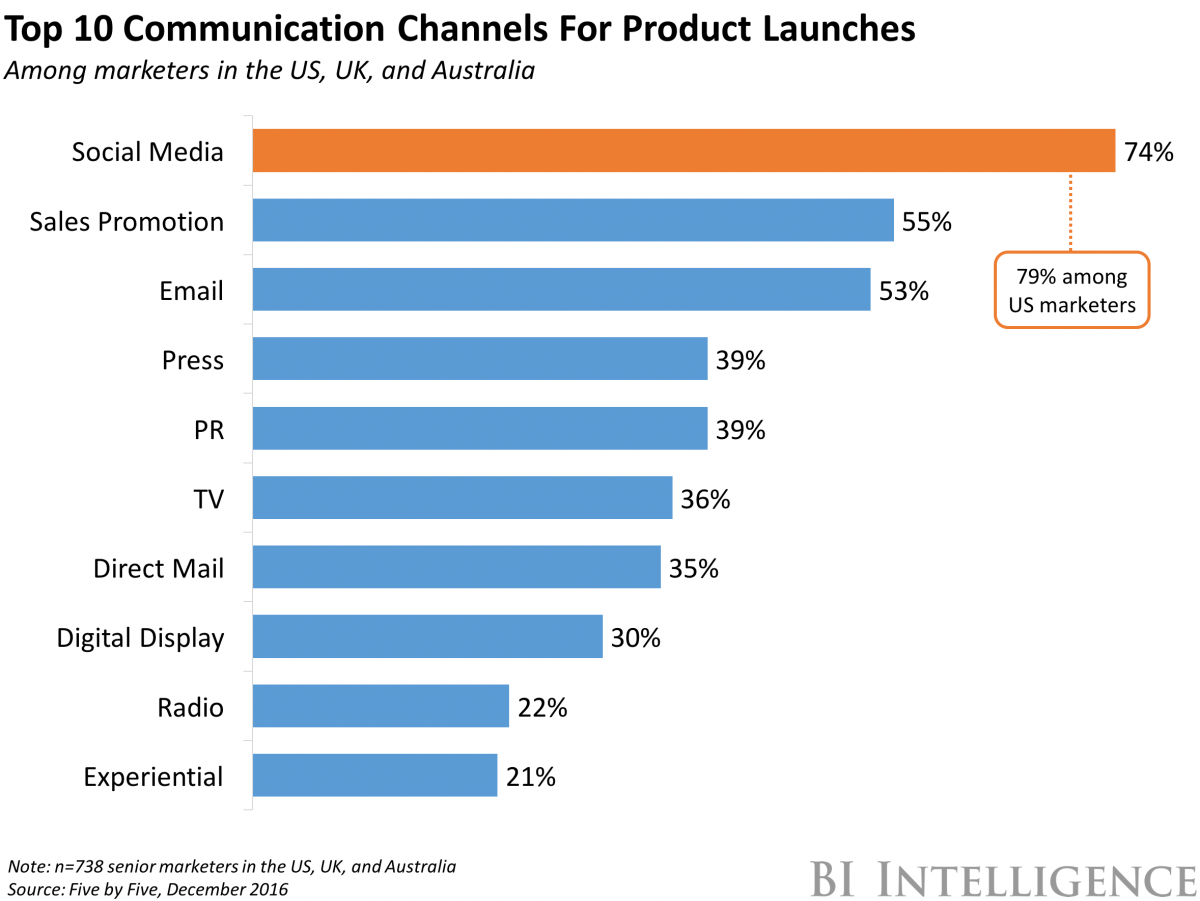 Video, Video, Video
People can't stop talking about video this month. Whether it's Facebook Live, Instagram Live, Twitter Livestreaming, or Snapchat's (now Snap, Inc.) new killer Spectacles. The conversation is especially lively since Instagram now has Snapchat-like features, Periscope embeds in websites and tweets, and Vine may or may not have been shut down. That's a lot of noise to filter to find the best video strategy for a brand's service or product.
Some tips if you're diving into the new video trends:
If you're posting a video directly to sites like Facebook and YouTube, include a transcript. You'd be surprised how many people are watching your video at work and have to keep your video on mute! Transcripts increase your video completion rates significantly. If you can, put them on screen.
Want to start Snapping? First take a look at what other brands are doing. Several big names like Bravo have created channels you can follow to get an idea of what content is working for their audiences. Even if a channel isn't in your budget, learning from the mistakes and successes of others will save you time and money. Remember: Imitation is the sincerest form of flattery.
No one cares about your (poorly produced) Live video. It sounds harsh, but there is a vast array of grainy, low quality, hard to follow Live video out there right now. It's new, so everyone is learning together. That's great if you are Joe Schmo, not so great if you are a brand or small business. Remember that your content should always create value for your audience and not waste their time. Give yourself a content plan for live video, and have a loose mental script in your head before you start. Preliminary planning lets you know where you want to take your audience, so your video feels like it has a point. Pay attention to lighting as well! If viewers can't see you because of glare, they won't keep watching. If you are comfortable enough on camera to dialogue with your viewers, do so! It increases watch time. If you do, have a friend help you monitor comments off camera–the interaction becomes fast-moving on a live feed.
Generational Marketing is Fading
As people tire of buzzword marketing and overuse of "millennials" and other generational terms, they are turning to companies and platforms that understand the concept of a perennial audience that crosses generations, sharing traits, and preferences rather than a loose age connection.
If you want to know who is doing this well, turn to Snap, Inc. for inspiration. They understand how much every generation longs for their internet "public record" to have an expiration date, and are creating new features accordingly. Take a look at some of their numbers that prove this point: 10 billion video views per day (yes, billion with a b), users spend 25–30 minutes on the app each day, and a significant influx of new users over 25 (50%). In fact, they launched their newest product, Spectacles with a very opaque marketing approach—mysterious vending machines that created demand, with bright, non-verbal signage—to great success.
Original Creative is Becoming the Norm
Facebook recently announced plans to compete with Netflix, Hulu, and Amazon Prime in the original content arena. Self-producing content can be costly, but this is an area to pay attention to for brands. Think sponsored video, product placement, subtle ads, and other PR opportunities where you can tie into this new frontier.
Experience is King
Another emerging trend to watch is the power of experiences. One thing to take away from the rise of video, the rise of private communication and connection apps like Snapchat is the availability of excellent photography and videography in our phones and other mobile devices. Having access to technology like drones for the masses, means more people are desperate to experience new things, even if that means they're doing it vicariously.
If PR pros can nail virtual shared experiences to bring people together from anywhere, their 2017 will be bright indeed.