Service, Sweat, and Shame: Highlights from the SXSWi Keynotes
We're still recovering from South by Southwest Interactive. It was a busy week of meetings and parties where Meltwater mingled with clients and colleagues from around the globe. Being at SXSWi gave us an opportunity to show off our media intelligence tool on the floor of the Austin Convention Center, while also hosting a party where drinks flowed and a DJ spun vinyl.
Given all the whirl of activity that surrounds SXSWi, we found it difficult to keep on top of everything that was happening while keeping to our busy schedule on the showroom floor. What to do? To keep in the know, we turned on our media monitoring and metrics tool and listened in to the keynote buzz. Unsurprisingly, POTUS' talk on service blew away all others in terms of social conversation, it dominated with a 53% share of voice in comparison to the other keynote speakers. In the session, President Obama sat down with Evan Smith, Editor-in-Chief/CEO of The Texas Tribune, for a conversation about civic engagement in the 21st Century. He included a plea for the technology community to use their skills to tackle problems in a new way to serve our government and fellow citizens.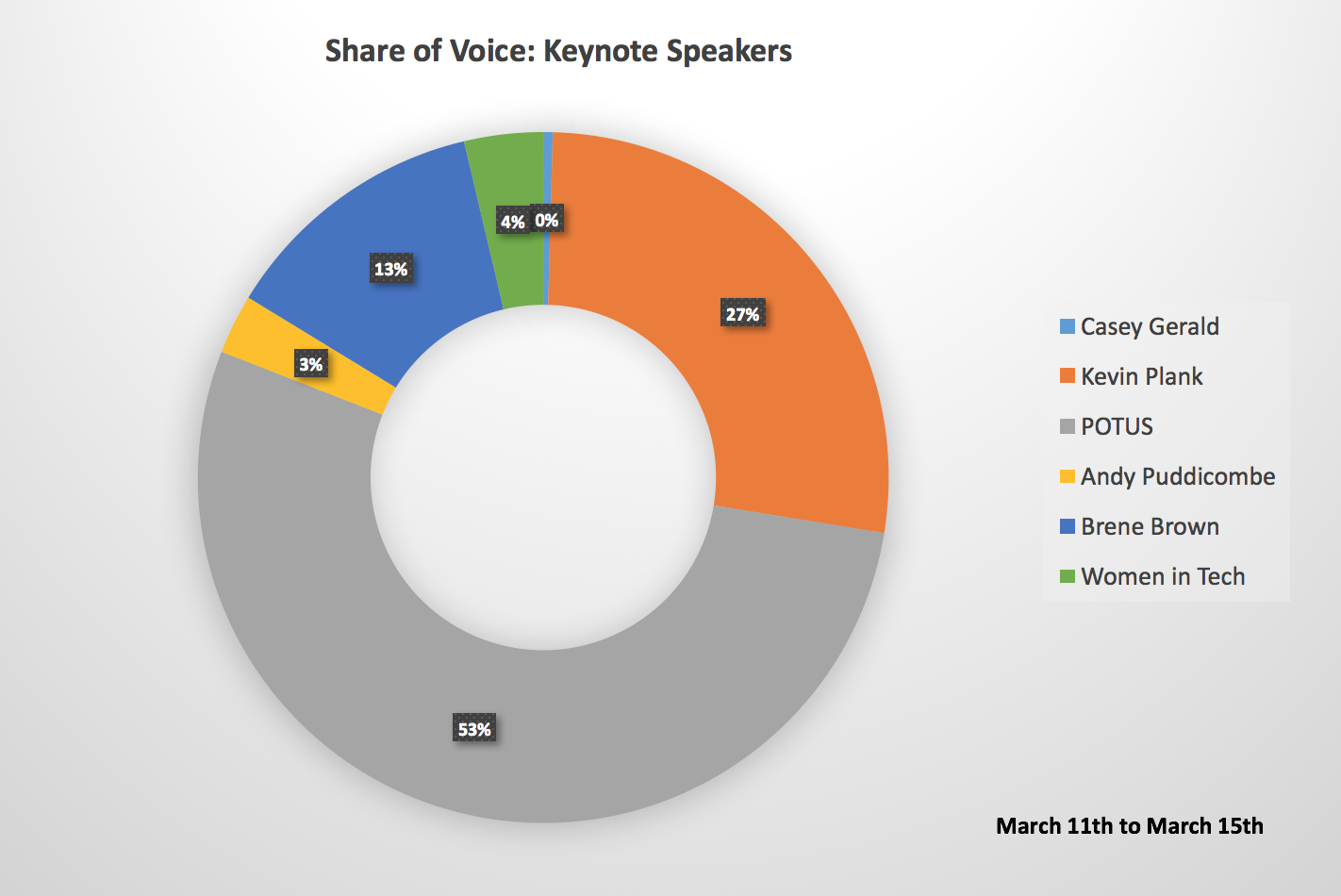 Once we take Obama's keynote out of the equation and move onto the keynote with the second most share of voice at 27%, we see that Kevin Plank, CEO of Under Armour, whose sweat-wicking undershirt revolutionized the workout clothes industry, was the most discussed keynote. Under Amour recently released the $400 HealthBox, a product that combines a scale, fitness tracker, and heart-rate monitor — his talk spoke about using data for innovation. He said, "Companies that will win are the ones using the best information possible to make their decisions." Given that his mid-2015 acquisition of Gritness Inc., an Austin, Texas-based fitness scheduling software maker went unmentioned, the 3000-strong audience was intrigued. Quote from his talk that gained the most retweets? "Culture eats strategy for breakfast; culture is the brand."

The fourth, fifth, and sixth place speakers didn't come close to social media share of voice to the top three.
Brene Brown's talk on Daring Greatly grabbed the third place for share of voice at 13%. In discussing her research on vulnerability, shame, disappointment, and failure, she had the crowd abuzz with truisms, such as "If you have no tolerance for failure, you will not create anything new." Her audience had #daringgreatly trending on Twitter.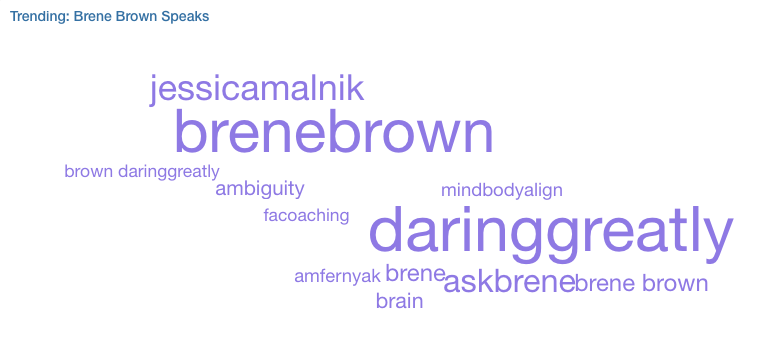 SXSWi is a whirl of innovative ideas with opportunities to attend talks and meet people. Since it is impossible to attend all keynotes, we're glad Meltwater's platform enables deep listening, revealing actionable data on what is important to those who were there.