PR Strategy from Visit Frisco: Turning a Small Town into a Big Attraction
The folks at Visit Frisco—Ryan Callison, Director of Marketing & Communications and Wesley Lucas, Communications Manager—joined us earlier this week in preparation for their webinar on May 19th. They gave us a preview of the tips and tricks they plan to share as well as insights on what it's like to run PR and marketing programs for the fastest growing small town in Texas.
Growth in Frisco, Texas, is tough to ignore. Construction is everywhere. Sporting events, museum openings, and music festivals take place every weekend in the town just north of Dallas. The Dr Pepper Arena, Dr Pepper Ballpark, and Toyota Stadium plus 8-million square feet of retail make the town a destination for shopping and entertainment. After August, The Ford Center at The Star will house Dallas Cowboys HQ with a 12,000-seat indoor stadium, two outdoor practice fields, and multiple parking garages. More crowds are sure to follow.
And yet, Frisco struggles with differentiating itself from its behemoth neighbor. Wesley acknowledges that their proximity is obviously a benefit: "It's funny because we refer to distance in time, not really in miles. When we say we're twenty minutes from Downtown Dallas that is a quick drive, at least in Texas terms. We're also a quick drive from the airport, and not only DFW, but Dallas Love Field, which is the main hub for Southwest Airlines. So we've got two major airports, two major airline hubs. And, we're really easy to access."
But they aren't Dallas, and they don't want to be. To retain their small town feel, Visit Frisco continues to lead with a philosophy of "Frisco first, nothing else." This philosophy is evident in campaigns that emphasize family, community, and Texas hospitality. As Ryan says, "We'll pay homage to being a small town, never forgetting our roots, but at the same time, creating these new world-class venues."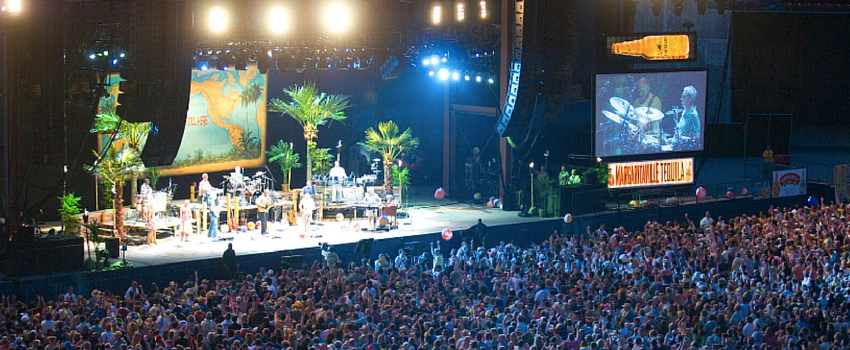 Jimmy Buffett performs in front of a packed stadium in Frisco, Texas
Visit Frisco's focus on family can be narrowed even further to being all about family fun. In fact, they seem to be at the epicenter of all-age urban entertainment. How else can you explain why they're the host of the Texas Pinball Festival the same year they hosted the NCAA Elite 8 or how they are now home to the National Videogame Museum?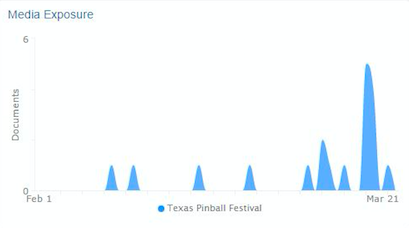 Visit Frisco tracks media coverage of their 2016 Texas Pinball Festival.
Regardless of why great things are happening in the city of Frisco, the important thing for Visit Frisco is that fun seekers should all know THEY ARE IN FRISCO.
As Ryan elaborates, "There's a whole bunch of towns between Dallas and Fort Worth, north, south, east and west. We all kind of fight to stand out from the rest, and from Dallas. Although there's no way for us to avoid saying we're"twenty minutes north of Downtown Dallas," it's important for us to associate our key initiatives with the name Frisco. We track for that, and we've seen Frisco start floating to the surface more and more. It's an ongoing priority in all of our marketing and PR efforts."
The NCAA's branding of the Final Four included the message, "The road to Houston." That's why when deciding on messaging for the Elite 8's stop in Frisco this past March, Visit Frisco chose: "The road ends in Frisco" as the perfect complimentary tagline. Held at the Dr Pepper Arena, Frisco's courtside banner, visible on national media broadcasts, reinforced the message. Used as a theme, this message let attendees of the tournament, as well as those watching across the United States know exactly who was hosting the event. Press-wise, the Elite 8's coverage was mostly limited to regional media, but coverage increased Frisco's branding. Using Meltwater's news database to track and report on coverage allowed Wesley and Ryan to see the success of their campaign in local and regional media in publications such as the Dallas Morning News, Star-Telegram, Texas Monthly, and AAA Louisiana.
Wesley and Ryan are not only capitalizing on the opportunities presented to them as a busy and growing city. They research and reach out (often in creative ways) to influencers from around the world, both from traditional news outlets as well as social media. This was their strategy for increasing earned media for this year's opening of the National Videogame Museum, the first of its kind.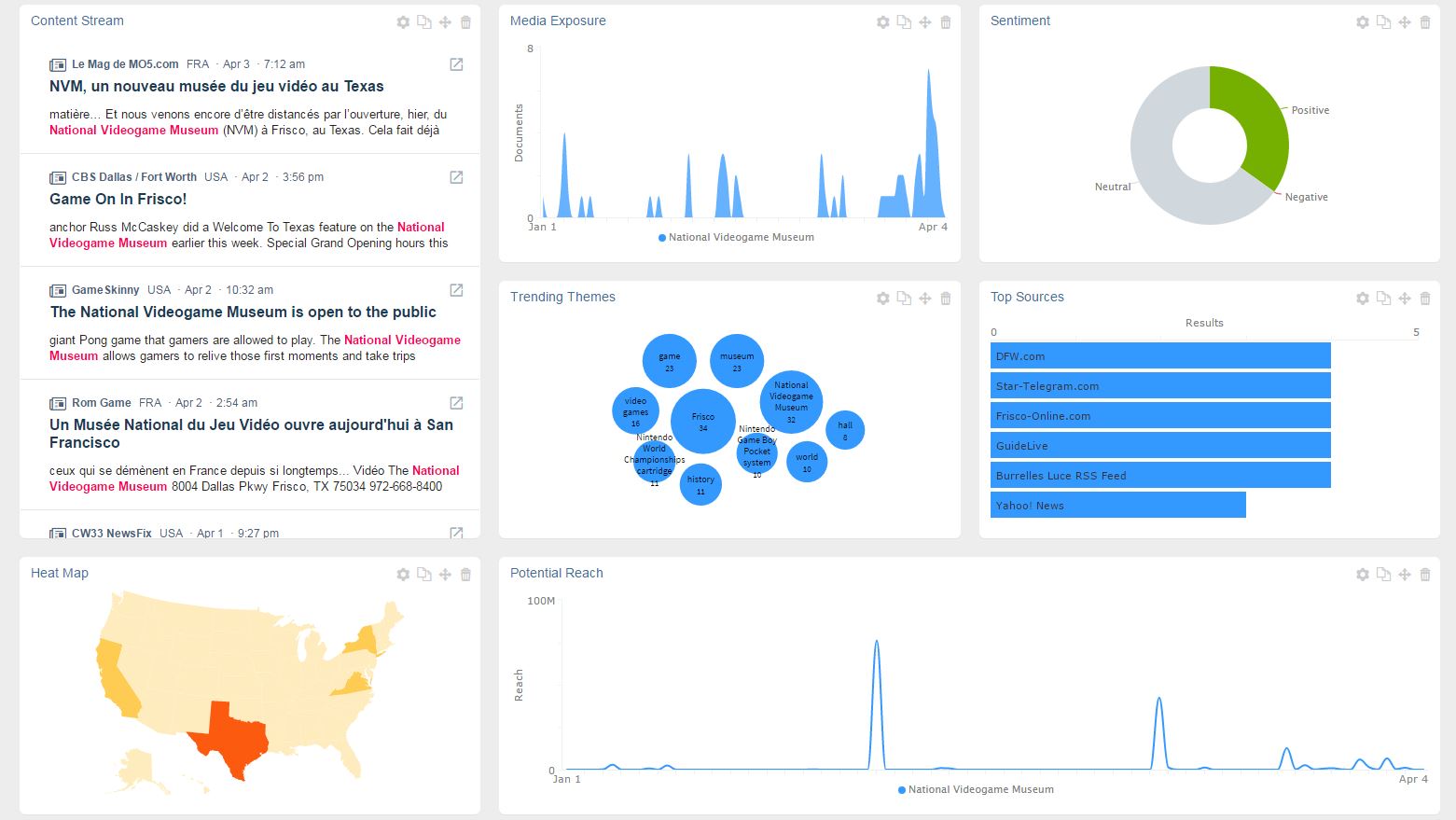 Visit Frisco's tracks their earned media coverage of the National Videogame Museum, taking note of when they're explicitly called out in connection to one of its newest draws.
Join us for a webinar Thursday, May 19 to hear how this small Texas town is stretching its legs and turning itself into a big attraction. Visit Frisco will report from the frontlines of one the busiest Convention and Visitors Bureaus in America sharing how they've kept up with growth, leveraging both local and national coverage to build buzz and attract new visitors.