PR Pros Use Video to Pump up Campaigns
The use of video in the PR world is exploding. Of course, visuals have always played an important role in public relations campaigns, but with the rise of video in marketing, we now see its use increasing like never before in PR.
Why? Some experts predict that by 2019, video will make up 80% of all web traffic. Also, marketers say that video brings the highest ROI. Companies that incorporate video marketing increase revenue by 49% when compared to those that don't.
As more brands try to capitalize on the success of incorporating video, some PR agencies are using their storytelling skills to create campaign videos that drive consumers to buy. While this flies in the face of traditional earned media coverage, it's an approach gaining popularity. As PR models evolve, some expect to see more of this from agencies.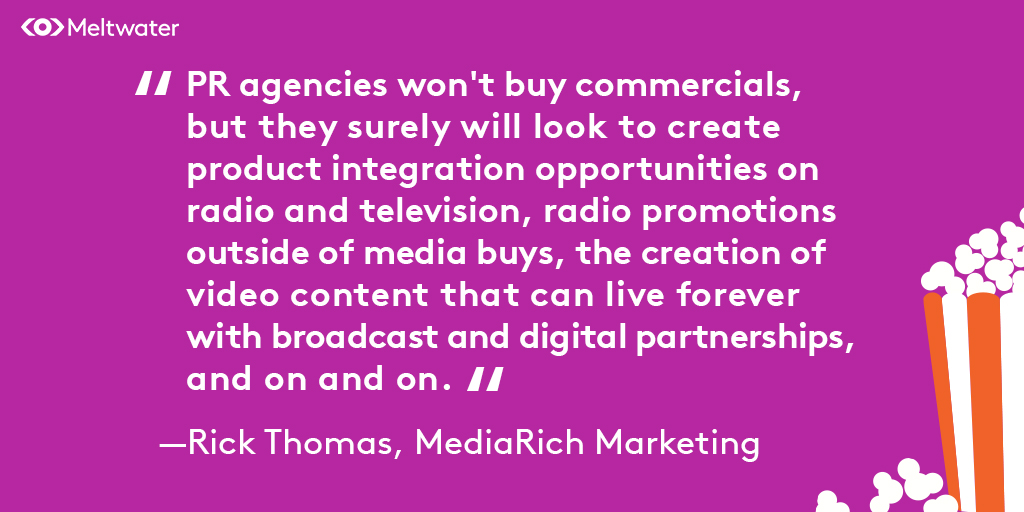 "Brands are looking for new ways to reach out to consumers beyond buying commercials," says Rick Thomas, president of MediaRich Marketing. "PR agencies won't buy commercials, but they surely will look to create product integration opportunities on radio and television, radio promotions outside of media buys, the creation of video content that can live forever with broadcast and digital partnerships, and on and on."
Another reason why PR pros are adding more video to the mix is that it can convey emotion more powerfully than print. And, social media makes it easy to share videos, further amplifying the brand's reach.
Take for example Land-o-Lakes who decided to capitalize on consumers' desire to know what's in their food. The brand co-hosted a live broadcast focused on the future of farming called "Fields of the Future," with then U.S. Secretary of Agriculture Tom Vilsack. More than 100,000 consumers viewed the video in the first three hours.
Live Streaming
Another trend PR pros are taking advantage of is live streaming, which is broadcasting real-time, live video footage to an audience to access over the Internet. Viewers may interact with the host, guests or other viewers.
Facebook Live, Periscope, Snapchat Live Stories and YouTube are a few of the platforms providing live streaming capabilities. Millennials are the biggest consumers and creators of live video, with 63% having watched live content while 42% have created it, according to e-marketer.
Diane Terman, the founder of Diane Terman Public Relations, suggests brands can stream product introductions, such as General Motors who used Facebook Live streaming to introduce its Chevy Volt EV at the Consumer Electronics Show or Nissan who streamed the debut of its 2016 Maxima at the New York auto show.
Another way to incorporate live streaming is by using it to bring events to a larger audience, suggests Brian Fanzo, the founder, and CEO of isocialfanz and live video strategist. He says perfection and control shouldn't be the focus of live streaming.
"I refer to social video as 'participatory content' as it's the connective pipeline that allows as close to an offline experience as possible while amplifying the event in an authentic, interactive way, which can help to build trust and advocacy among attendees, speakers, and influencers," Fanzo says. He cautions that live streaming shouldn't replace content meant for paid attendees but instead be used to complement it.
Other PR applications of live streaming Include presentations, press conferences, tours, and demos. For example, GE used drones equipped with Periscope to give guided tours through remote facilities as a part of its Drone Week campaign.
User-Generated Video
User-generated video is also increasing in popularity as a simple, cost-effective way to tell a brand's story through its most passionate fans.
"Online video is one of the most persuasive forms of CGM (consumer generated media), and is critical for businesses to pay attention to," says Pete Blackshaw, global head of digital and social media at Nestle. "It's those videos that get a lot of traction. They connect with consumers in more impactful ways than regular text can."

Look for brands to funnel more of their PR budgets into video in the coming months, as this hot medium continues to bring about change in the industry.