Olympic Surprises: Who Is in the Know and How We Can Be Too
Will Simone Biles will be the first woman to win 5 gold medals at the same Olympics? Given that many of us who only follow gymnastics as part of the Games haven't heard of her until now, we're also asking, who is she?
As an Olympics fan, going into the Summer Games, it wasn't difficult to see that Team USA, a.k.a the "Final Five", was poised to win gold. But let's be real, the amount of points the Final Five qualified by, 10 points over second place qualifiers, China, put them on a straight track to the top spot on the podium. The thing that was surprising, to the mainstream Olympic viewing public, was that we thought we knew the players. We assumed that Gabby Douglas and her other returning teammate from 2012, Aly Raisman, were the athletes we were pinning our hopes on. The thing is, athletes are always training and it's often when mainstream America isn't looking.
If there was no media discussion about Simone Biles before the qualifying U.S. Championships in St. Louis in June, it'd be easier for us to believe the narrative that she "came out of the woodwork." The thing is, athletes are not Cinderellas, they don't come out of nowhere and win gold. To compete on the international level takes a level of dedication and competition that would make it impossible for fellow athletes and those involved in the sport, to ignore. For years, many of these people have been calling Simone Biles the most dominant female athlete alive and possibly the best gymnast of all time. This isn't hyperbole, her championship wins back up this praise. Simone is the all-around winner of the last three World Gymnastics Championships, this is in addition to seven other gold medals she's won in gymnastics. So, predicting Simone comes home with gold—even with all the gold—isn't much of a stretch.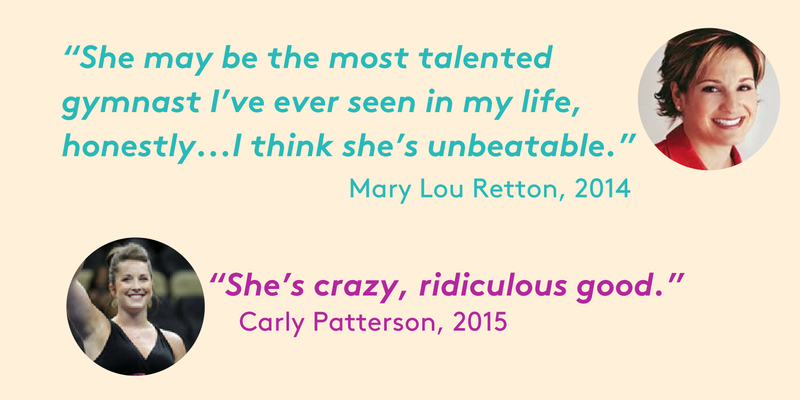 Gymnastics insiders have known who Simone Biles is and what she's capable of long before the 2016 Olympics.
In contrast, mainstream America has heard of Gabby Douglas. Gabby is a returning gold medalist from the 2012 London Games. Winning both the all-around and team medal, she was a shining star in 2012. Going into the St. Louis U.S. Championships in June, the fact that Gabby would make the 2016 team was a foregone conclusion, as was the narrative that she'd repeat gold in the all-around. A star on the balance beam and an essential member of both the gold-winning "Fierce Five" of the London Games and the "Final Five" of the Rio Games, Gabby lost out to the "only two per country" rule and won't be able to defend her 2012 gold in the individual all-around.
Tracking social media chatter from January 1st to June 23rd of this year, we saw that conversations about Gabby Douglas and Simone Biles, favored Gabby by 18 percentage points going into the qualifying US Championships in St. Louis. After the gymnasts qualified on June 24th, media coverage increased for the Olympics and conversations spiked for Simone, bringing her share of voice lead to 67% over Gabby's 33%. This was a phenomenal take-notice moment, as her SOV increased 26 percentage points. For those who only follow gymnastics as an Olympic sport, Simone seemingly shot out of nowhere. It is as if the non-gymnastic world was asleep and suddenly woke to the reality of a champion. In our eyes, Simone came out of nowhere because we weren't looking for her. We're looking now. In Rio, Simone's SOV mentions at 78% have surpassed those of Gabby at 22%. Despite us not seeing Simone until she hit the Olympics, we must remind ourselves that athletes train to become champions and compete to win championships even when we aren't paying attention.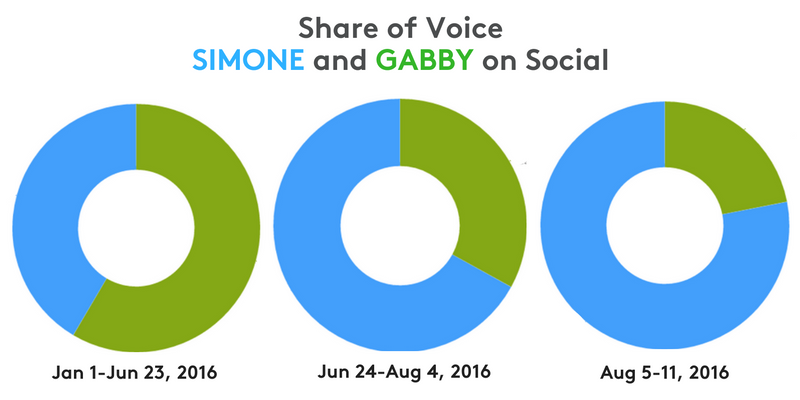 Prior to qualifying Olympics competition, Gabby leads Simone 59% to 41% in social media. After the U.S. Championships in St. Louis, Simone takes the lead 67% to 33%. And throughout the Olympics thus far Simone commands the lead 78% to 22%.
In contrast, the news media has been paying attention to the three World Championship wins, and have been consistently favoring Simone Biles over Gabby Douglas. As we see below, Simone was receiving 52% of media exposure from the start of the year, until prior to St. Louis. Her performance in St. Louis proved that she'd be able to deliver at the Olympics, and coverage increased and she inched up to 58%, over Gabby's 42%. Since we're halfway through the Women's Gymnastics and Simone Biles fever is gripping social chatter, media exposure has predictably increased to 66%.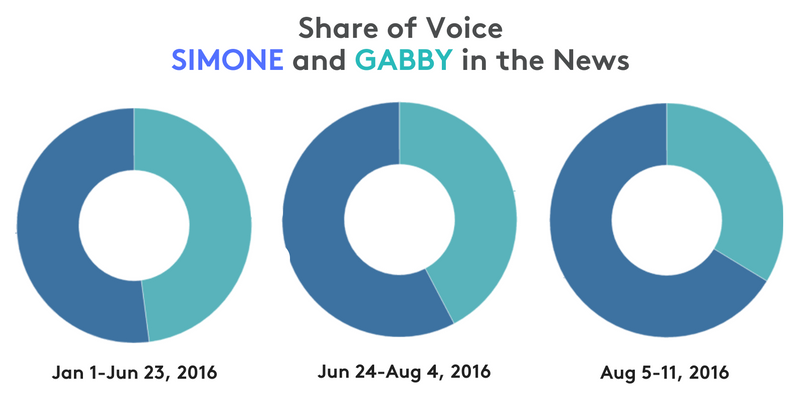 Now that the Final Five have won team gold and Simone Biles and Aly Raisman move onto competing in the individual events, all of us every-fourth-year fans are glued to our TVs watching the Olympics and quickly catching up on the back stories that those in the gymnastics world have already heard before. This world stage we call the Summer Olympics now knows that Simone is possibly one of the best athletes of this generation. A champion before the Rio Games, the 2016 Summer Olympics have made her a household name. The truth is mainstream America might have known Simone Biles' name before the Olympics, if only we were listening. Remember that next time you hear another Cinderella story about an athlete that comes out of nowhere to win gold.
As of this writing, Biles is coming in at bronze in social mentions for American gold medalists. At 16% she trails Phelps (63%) and Ledecky (20%) on social.