Met Gala's Cinderella Story: Measuring the Fairy Tale's PR Impact
Every star wants a Cinderella moment, a moment on the red carpet that signifies that they've made it (or their star is on the rise). A dress won't necessarily make a star, but as with the yellow dress in 2015, a dress can make the designer (or the brand). After all, it took less than a year for designer Guo Pei to go from being virtually unknown outside of China to being one of Time magazine's 100 Most Influential People. Her now iconic yellow dress, worn by Rihanna at last year's gala, clearly triggered the designer's newfound success. Looking at sentiment around Guo Pei's coverage for the past year, we see that, at first, she was subject to fluctuations in Rihanna's sentiment scores. It wasn't until last fall, when Guo Pei released her collab with MAC, that she broke free and enjoyed near universal acclaim, earning both mainstream buzz and fashion industry cred.


With the exception of a couple early dips in sentiment (related to gossipy coverage of Rihanna) Guo Pei quickly distinguished herself from the yellow dress and went from high point to high point earning both mainstream buzz (MAC Cosmetics) and insider cred (her participation in museum exhibits and fashion week in Paris).
This year, the fashion fairy tale seems to be playing out quite a bit differently. Many of the celebrity princesses in attendance were wearing the same designers (as opposed to a single standout). We saw numerous gowns from Givenchy, Louis Vuitton, Prada, Marchesa, Dolce&Gabbana, Valentino, Chanel, Gucci, Versace, Michael Kors, and the evening's brand mention "winner", Balmain.
Balmain's name was trending early in the evening, probably because the brand dressed most of the Kardashian-West clan, most notably Kris, Kim, Kanye, Tyga, and Kylie (attending her first Costume Institute Gala). Balmain Creative Director, Olivier Rousteig, accompanied Cindy Crawford who was wearing one of his designs on the red carpet, but early in the evening, Balmain was trending for Jourdan Dunn's gown as she Instagrammed getting ready for the gala. Fellow models Joan Smalls and Doutzen Kroes were decked out in Balmain as well, leading the posse to produce one of the most popular Instagram videos of the evening, "Balmain Army."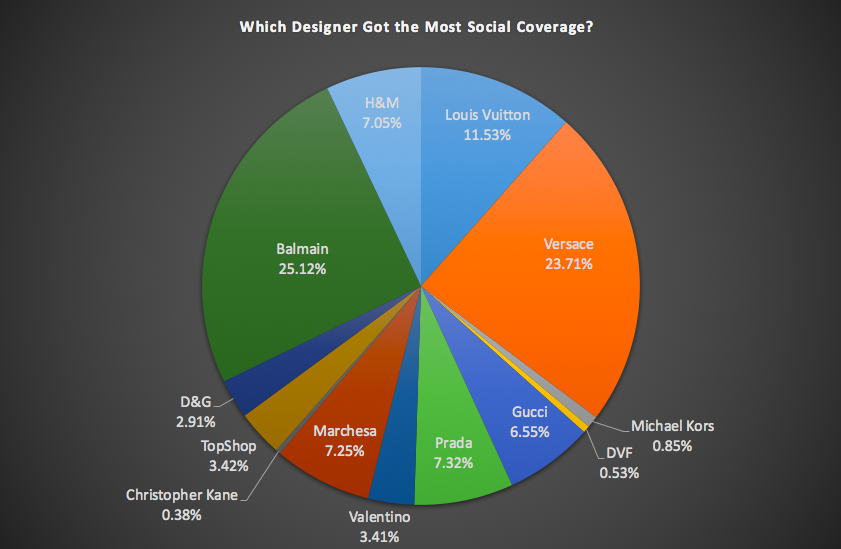 We measure share of voice for each designer at the Met Gala.
The bigger surprise came from "fast fashion" companies TopShop and H&M who attempted to grab a sliver of the red carpet mentions from the upscale designers. In this realm they succeeded. Michael Kors dressed Zendaya, Emily Blunt, Olivia Wilde, and Lily Aldridge, but received fewer social mentions (% of the graph) than TopShop, who dressed Kate Upton, Nick Jonas, and three models.
This was the second time H&M was on the Met Gala red carpet, and they chose to put one-of-a-kind gowns on the singer Ciara and the actresses Jennifer Hudson, Amber Valetta, and Hailee Steinfeld. Below we compare the impact of H&M's strategy with Givenchy's. We see that both have a standout star (in H&M's case Ciara, and in Givenchy's Beyoncé). Both stars garnered more than a third of the brand's social mentions. And both brands had additional stars in attendance with the potential to steal the scene, but who ended up playing supporting roles.

40% of Givenchy's mentions come from Beyoncé.

35% of H&M's mentions come from Ciara.
When we measure each brand's Cinderella, we see that in the scheme of things one is clearly a bigger star than the other, yet both yield similar ROI to their designer host. Almost 15% of Beyoncé's total mentions at the gala include mentions of Givenchy, while 16% of Ciara's total mentions at the gala include mentions of H&M.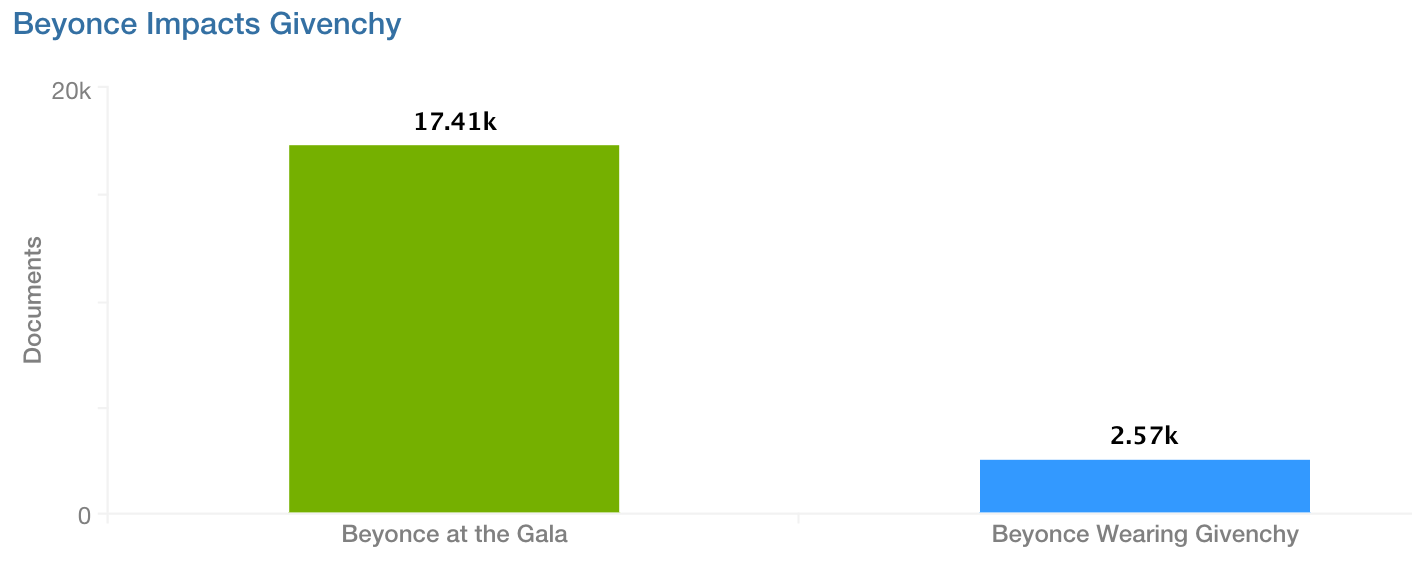 Almost 15% of Beyoncé's total mentions at the gala include mentions of Givenchy.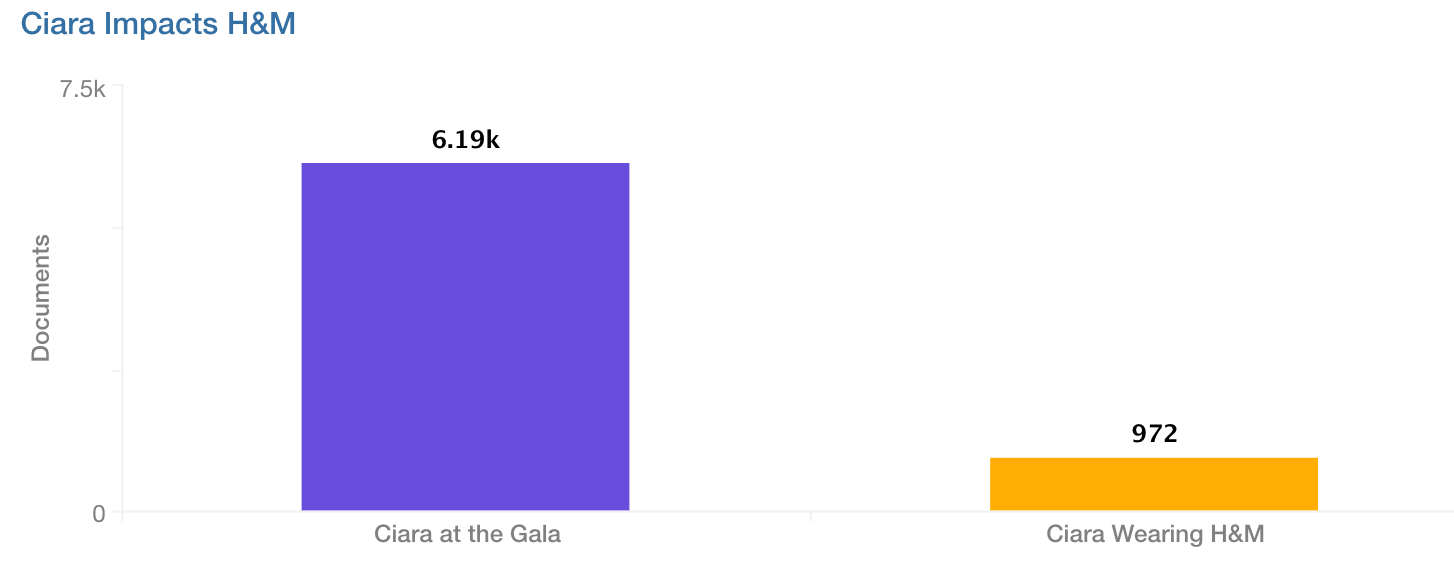 Almost 16% of Ciara's total mentions at the gala include mentions of H&M.
Unlike 2015's Cinderella moment, this year's designer strategy seemed to include hedging their bets with the hope of starting conversations with either daring dresses, like Madonna's Givenchy number or with the celebrities that wore their clothes, like the Kardashian-Wests in Balmain.
Ultimately, "fast fashion" brands may have come closest to the Cinderella designation, showing that no one could distinguish their gowns from the rest (and maybe that no one cared). Read our 2017 Met Gala data story.