Is the See-Now, Buy-Now Model Bypassing the Fashion Editor as Influencer?
Over the last 8 years, NYFW has become its own brand. As celebrities, models, and bloggers beam up images straight from the runway, more and more eyes have been trained on fashion's biggest spectacle. It's inevitable that those same eyes would want the items they saw on the runway just as instantly. As a result, designers are now enabling a see-now, buy-now sales model. It might not be too long that we'll forget that's not how fashion shows used to work. But for now the question is: How is this paradigm shift
impacting PR
and what does this mean for
influencer marketing
?
Whether you're on Twitter, Instagram, Facebook, or Snapchat, when New York Fashion Week comes around, it's hard to miss the photos and videos surrounding actors, models, musicians, and designers as they attend fashion shows for Tommy Hilfiger, Marc Jacobs, Diane von Furstenberg, Alexander Wang, and others.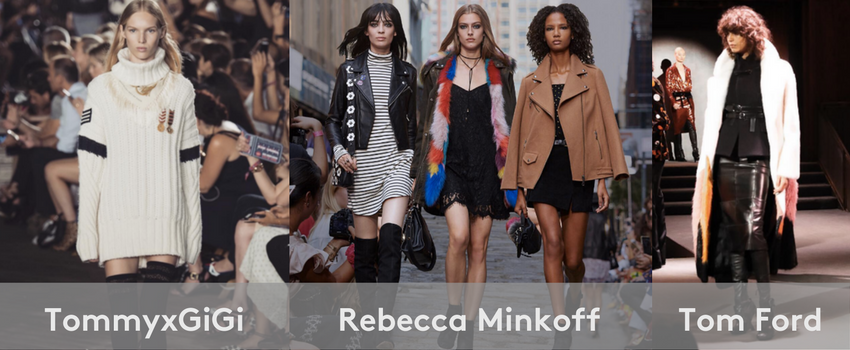 If you've been keeping tabs on NYFW 2016, you might've noticed a pivot taking place in the $250 billion dollar US fashion industry. For the first time, the see-now, buy-now model is hitting runways.
Market forces, coupled with the copy and production acumen of fast fashion, the universal adoption of social media and live streaming, and the presence of bloggers and influencers at runway fashion shows, are pushing designers to rethink the timing of their fashion week collections. This new retail model in which clothes are instantly available to consumers for purchase is aiming to disrupt the accepted 41-year-old fashion cycle.
In the traditional cycle, fashion shows takes place at the end of the design process but before production. The clothes that editors and buyers see on runway models in September are meant to debut in stores in spring; a show in February is out in fall. Based on what they see at a show, buyers place orders, and long-lead editors plan media coverage. So, in the time between that fashion show and the time when the clothes hit the department stores, there's a full six months for fashion PR to coordinate runway coverage and then send PR pitches to media.
This system turned on its ear when bloggers started making images from these collections immediately available to the public, along with the rise of Instagram and Twitter, which opened the door to everyone. In the CFDA's January-February 2016 report on the state of the traditional fashion show calendar, the trade association broaches the idea of consumer-facing fashion shows.
Interviewing 50 stakeholders, including brands, PR, fashion editors, and buyers, the CFDA suggests possible ways to solve current issues facing the fashion calendar. Discussion includes implementing an in-season fashion week cycle that won't impact the fashion production and delivery cycle, with the goal of decreasing fatigue consumers face from the high volume of messages generated by the fashion industry.
As the current fashion cycle stands, people all over the world can see a ready-to-wear runway collection within seconds of the editors and buyers attending the show. This social media quick turnaround has had wide-reaching ramifications. It has contributed source material for the rapid copy-production cycle of the fast fashion industry as copies of runway designs are created and placed in retail stores before the originals go to production.
Fast fashion brands such as Forever21, H&M, and Zara have long satisfied consumers desire for immediacy. Since they have virtually no design-cycle (copying ready-to-wear collections from their runway images) and a well-oiled means of inexpensive production and distribution, these retailers are unlikely to discontinue their strategy.
Twitter, Instagram, Snapchat, as well as designer-dressed celebrities contribute to a fresh-off-the-runway cycle of exposure. Unfortunately for brands, those who rabidly follow fashion crave novelty and exclusivity when making purchases. The current fashion cycle and our always-on digital world translate to runway designs we've already seen on actresses, in print magazines, on blogs, in the New York times, on Instagram, and as knockoffs—all this—well before they arrive in stores. It is an unfortunate reality that collections look dated before their season begins.
The see-now, buy-now model, works how you think it does. The staged runway fashion show takes place at the end of the production process, so the fashion collection is in-season, eliminating the six-month period between design and retail. For fall 2016, over 152 designers presented collections at the current fashion week with almost 10% implementing this revolutionary new model.
With the in-season see-now, buy-now model, brands might be able to chip away at fast fashion's production lead time. And with public exposure of runway collections coinciding with instant availability at stores, design fatigue won't impact consumers buying decisions. For brand PR, it allows lead time for campaign planning as each fashion activation event will be accompanied by product. This paradigm shift in press relationships means traditional media is less likely to make (or break) a collection. PR campaigns will focus on aspirational consumers in this new model, as they are the most likely to respond to authenticity and brand stories, relying heavily on social media.
New PR and marketing challenges go hand-in-hand with this new see-now, buy-now model. This consumer-facing landscape is ripe with experiments as designers discover what works for their audience. So far, designers have held shows in their stores, erected wall kiosks outside of shows for ordering items as soon as the event ends, rolled up pop-up trucks selling merchandise, bolstered their social media presence, enlisted influencers, and partnered with evermore sportswear, make-up, and large retail to help with distribution and advertising.
American designers leading the charge for the see-now, buy-now runway include:
Tommy Hilfiger with Gigi Hadid designed the TommyxGiGi fall 2016 collection. Although the strategy for this collection included private buyer events and appointments with editors, including Hadid's May 2016 press tour; paramount to the collection's strategy is Hadid's role as an influencer. Looking at the TommyXGiGi hashtag's share of voice (below), it looks like this strategy is paying off.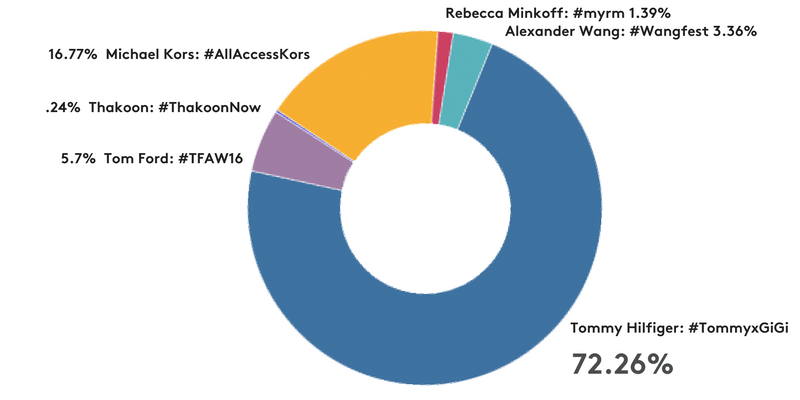 Share of voice for branded hashtag and brand name on Twitter and Instagram, September 1-16, 2016
Tom Ford has been tweaking his strategy for the last few seasons, bucking tradition by presenting a previous season in Los Angeles, a place not known for its fashion week. This fall Ford decided that an intimate dinner was more appropriate to launch his #TFAW16 see-now, buy-now collection, His clothes, unlike Tommy Hilfiger's, retained the opulence of sequins and velvet of years past. In a Vogue interview about TFAW16, Ford mentions that with this strategy, he's presenting this collection without the buy-in from fashion editors, "I'll have to see how it works; see how our customers respond to it. The weird thing is, there's no long-lead press because I'm not showing it to anyone. So, I don't know how that's going to work going forward, having no clothes to send magazines." Ford's third place showing in share of voice was a modest 5.7%, but without a designated influencer relationship and no long-lead editorials planned, his approach to see-now, buy-now worked in his favor.
Thakoon who skipped showing in February 2016, has released his in-season see-now, buy-now collection for fall 2016, showcasing multi-layered clothes with a distinctly 90s vibe, meant for consumer consumption. In an interview he signals future collections based on an all-season ethos: "If I wanted to I could dream and show feathers all the time, but that's not what the customer wants. What the customer wants is comfortable, cool clothes that they can wear, they can layer, they can add on to it." With a nod to increasing consumer engagement and telling his brand story, Thakoon included runway-only brand booklets that had scannable codes to enable custom content with behind the scenes footage and detailed product information.
After 5 years away from Youtube,Thakoon returns to the platform. His PR strategy relies on special content to promote his first see-now, buy-now collection, including this teaser video released three weeks before his NYFW runway show.
Alexander Wang went with a hybrid of selling in-season and showing his ss17 collection on the runway at the same time. His runway finale served as an announcement of his latest collaboration with Adidas. The collab had attendees leaving with Adidas-Wang swag and a cheeky #Wangfest hashtag. It was made immediately available at a pop-up truck through the week, which will also be making an appearance at London and Tokyo fashion weeks.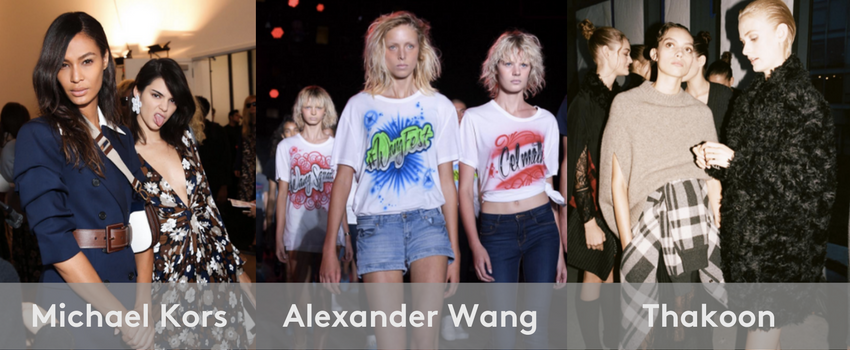 Moving a little farther down the funnel, Michael Kors staged a ss17 runway show and released a small capsule collection of see-now, buy-now items. His hybrid strategy, along with a seasonless (and sedate) collection, might protect Kors against negative market forces, if he, like Ford, eschewed long-lead editorial. With his #AllAccessKors hashtag, he was able to capture the second place slot for share of voice. Given the Michael Kors customer skews a tad older (than the #TommyxGiGi and #Wangfest customer), this hybrid strategy might perfectly appeal to his key base.
Rebecca Minkoff's fw2016 see-now, buy-now strategy includes relationships with Maybelline and Amazon. Showing in-season and on the cobblestones in front of her NYC store, Minkoff literally invited the attendees to peruse the already tagged clothing after the show.
Other designers experimenting with a see-now, buy-now strategy this New York fashion week, include Ralph Lauren, Opening Ceremony (whose retail stores and built-in distribution process might've made for an easy jump), Serena Williams for HSN, Diane von Furstenberg, and Proenza Schouler.
Even as change seems necessary to battle consumer fatigue, combat the quicker copy-production model of fast fashion, and increase sales of runway fashion, there is an opportunity to forge new paths to profitability and engagement.
As designers shift to in-season runway shows and "see-now, buy-now" strategies, their PR strategists should pay attention to:
Consumer engagement through brand storytelling. Producing compelling event activations in the form of a runway show/digital film/social experience that is made for the consumer becomes necessary. As is integrated store environments, pop-ups, and a strong brand story throughout marketing and ad campaigns.
Social media engagement. It will be impossible for a brand to rely on their relationships to move their product, so consistent and rich engagement between the brand and its consumer will increase. Being responsible for their brand story and a straight pipeline between the brand and the consumer is the only way to shift this business model. The brand that creates and interacts with their community will win in this consumer facing climate.
Strategic influencer marketing campaigns that include NDAs. Relationships with magazines and fashion editors will have even more importance as long-lead editorials are planned well in advance of public activations (runway shows, digital content, ad campaigns).
All season designs and wardrobe staples. Fashion collections will be increasingly positioned as a mix of all-season and trend-driven products to be able to appeal to a wider swath of consumers. These all-season collections might include products and accessories that cater to a global clientele.
As an in-season consumer-paced model becomes the norm, brands may begin to eschew the demands of producing and wooing magazine editorial pages and will instead create deeper relationships with their customers as they engage to capitalize on the consumer's desire for immediacy and newness. In this new model, PR strategy will include cultivating relationships with long-lead editors and PR campaigns with creative brand stories to target aspirational customers. Beyond reclaiming profits flattened by the fast fashion industry, this new model will likely yield profits by giving consumers what they want, when they want it.