Inspirational Nonprofit #GivingTuesday Fundraising Campaigns
3 Inspirational #GivingTuesday Campaigns
We're approaching one of the busiest (and most exciting) times of the year where nonprofit organizations gear up to end their fundraising efforts on a high note.
While there are many opportunities for nonprofits to raise money throughout the year, one of the most philanthropic days is Giving Tuesday. Experts predict that $331 million will be raised on Giving Tuesday in 2018 – a 21%increase ($57 million) over 2017's record-breaking day $274 million.
Although public relations and marketing efforts should start as early as the beginning of November, nonprofits and their partners can do a lot before Giving Tuesday to get people's attention and activate donors. Here are 3 of our favorite Giving Tuesday fundraising campaigns to get ideas flowing this year.

Dress for Success Worldwide (#GivingShoesDay)
Why it works: #GivingShoesDay demonstrates the importance of getting creative with your nonprofit giving campaigns and creating a story around your cause that people care about.
In this campaign, Dress for Success encouraged supporters around the world to "shoe their best" as the nonprofit redubbed #GivingTuesday as #GivingShoesDay on social media.
Though not quite at the level of other post-Thanksgiving marketing campaigns such as Black Friday, Small Business Saturday, or Cyber Monday, #GivingShoesDay has made a major impact on Dress for Success.
Since the campaign's launch in 2012, more than 8,400 pairs of shoes have been donated through the organization's affiliates. They continue to see a roughly 400% increase in shoe donations year-over-year as well as an increase in monetary donations from their supporters.
DoSomething.org and Tinder (#ImAvailable)
Why it works: #ImAvailable is a great reminder of why social media can be such a powerful tool for inspiring action, particularly when organizations join forces. It doesn't take much to get people involved, it only takes a compelling call to action and an audience primed for your cause.
In 2017, Tinder launched its famous #ImAvailable campaign – partnering with DoSomething.org to donate $100 to the global website for each social media post that includes #ImAvailable across all networks. Tinder pledged to donate up to $200,000 and needless to say, it was a huge success for the nonprofit.
"We've created a message people can easily share to any of their social networks, letting their community know they are available – whether that be to help a friend move, donate time to a soup kitchen, buy Christmas gifts for those who can't afford them this year, or just be a listening ear to someone who needs it," wrote the Tinder team.
In total, Tinder raised more than $202,000 (at the time of writing) for DoSomething.org– surpassing the full amount Tinder originally committed to donating.
Special Olympics International and Finish Line Youth Foundation
Why it works: Two is often better than one, especially when it comes to giving. Special Olympics International and Finish Line show what a difference creating a matching-gift campaign can make to donations on Giving Tuesday.
During the holiday season, cumulating on Giving Tuesday, the Finish Line Youth Foundation runs an at-register fundraising campaign in all of Finish Line's stores across the country to support Special Olympics.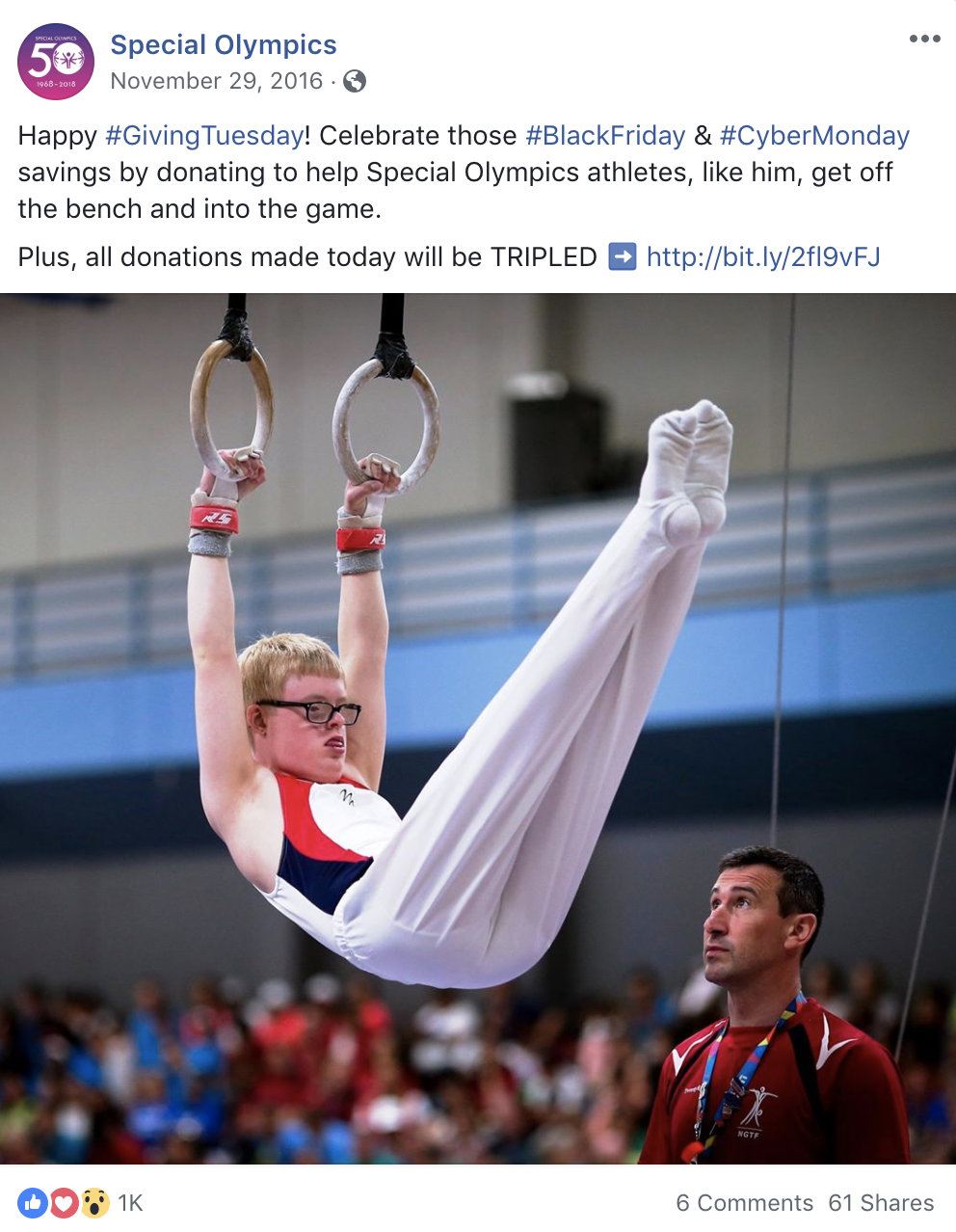 The results?
Finish Line raised more than $875,000 in stores around the U.S. during the holiday period. This money supports more than 15,040 Special Olympics athletes who receive one month's coaching and training.
Special Olympics International matches Finish Line donations up to $50,000 to make an even bigger impact in the lives of athletes. Today, SOI has helped more than 4,600,000 athletes.
By identifying the right brand partner nonprofit's can level-up their Giving Tuesday campaigns by exposing their mission to new audiences.
Giving Tuesday as a Fundraising Opportunity
According to data from our social media monitoring platform, Giving Tuesday was mentioned more than 7,500 times on social media alone between October and November of 2017 – a 34% increase year-over-year.
2018 is poised to be the biggest year for Giving Tuesday yet, making it a perfect opportunity for nonprofit organizations to create fundraising strategies to mobilize donors. And whether you're a corporate brand or a nonprofit, partnering can increase the impact you make this holiday season.
Get creative with your campaign, partner with other organizations that make sense for your brand, and make this your most successful year yet!
If you're interested in seeing how the data of both your organization and those that you partner with can make an impact, we can help.