Hashtags and PR: Steer (and Stir) the Conversation
This discussion of hashtags is excerpted from our recent study of the fast food industry. For more insights on how social media, and in particular, the pickup of viral messages can impact a brand—
read the full report.
Trending Is a Verb
The ability to steer conversations is part of the branding that consumers experience. If social media is now an index of trends, hashtags tell us what's hot and what's not.
From their very beginning, hashtags have been about grouping conversations to easily digest the firehose that is Twitter (and now hashtags are de rigeur on other social platforms, such as Instagram). It was not long after Twitter's adoption of the hashtag that PR began using branded hashtags to group campaign conversations and activities. Now everyone craving Taco Bell wants to #LiveOutsideTheBun when they post a photo of their late-night craving.
Our recent fast food industry report took a look at hashtags as part of our research for tracking and making the most of trending topics and viral moments. One key observation we found by scanning social channels for fast food restaurants was that branded hashtags, or ones that brands tried to promote as part of a campaign, were not used nearly as often as organic hashtags, or ones that consumers came up with that eventually stuck. People don't seem to like echoing corporate slogans in their personal social media, but if they love a brand, they will at least use #brandname.
For our fast food report, top hashtags were collected by manually scanning hundreds of tweets per brand. We found organic hashtags to be unpredictable and not spelled consistently, but selected the most recurring ones and benchmarked each brand's cluster of popular hashtags.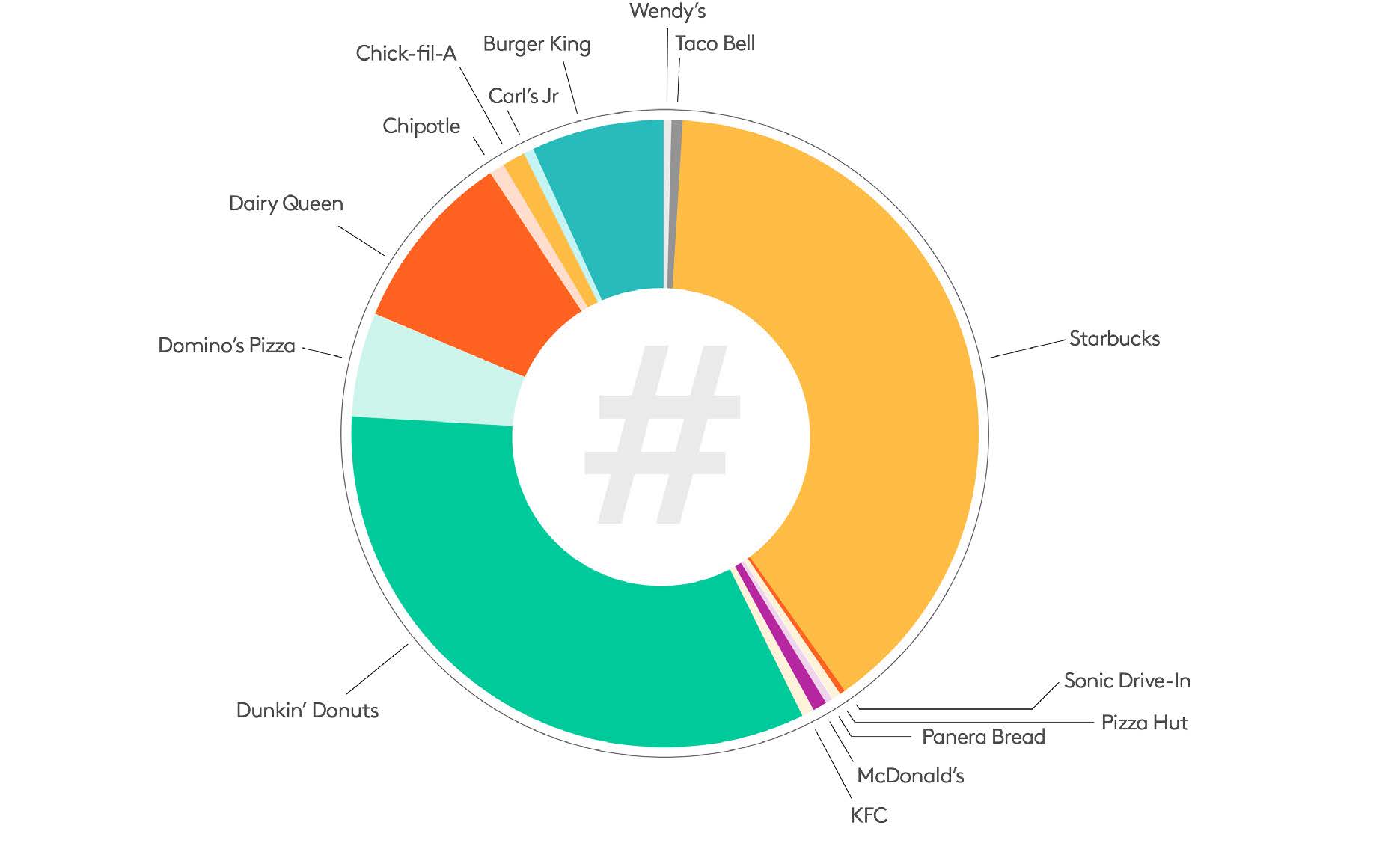 Top hashtags (branded and organic). Drawn from Twitter and Instagram from May 2015 to May 2016
Starbuck's Most Used Hashtags
Of all brands on our list, Starbucks ruled the hashtag landscape: there are more organic hashtags—non branded, seemingly coined by consumers—used to reference the brand than for any other on our list. It's possible that the chain's geographic coverage and integration into the morning routine of millions of Americans has made the brand synonymous with a daily ritual (not unlike posting on social media), and thus spawns adoration from consumers in the form of catchy hashtags like #starbucksaddict and #starbucksgurl.

From Starbuck's constellation of fan fave hashtags.
To get more takeaways and read more in-depth findings on analyzing social media for an entire industry, download our Industry Report: Fast Food and Quick Service.