Data Driven Marketing Tools: How to Build Your Marketing Technology Stack
There are thousands of software companies (yes, thousands!) creating tools designed to make a marketer's life easier. The combination of tools a marketing department assembles is known as the "marketing technology stack." But building it just right involves making big decisions. Some marketing tools are built to play nicely with technology you may already have, whereas other tools can be a problem to integrate. There are far too many companies to mention them all here, but I've called out a few—and grouped them by key marketing functions.
A Marketing Technology Stack Is Built on CRM
We'll start with the most important decision, the CRM. This cross-departmental, team-agnostic platform is the heartbeat of your company. All customer data, from demographics to transactions, live in the CRM. All companies have one in some form or another. Some use a simple spreadsheet to keep track of their data, whereas others use sophisticated, enterprise-level software. Regardless of what system you use, your CRM is the place to go if you have a question about your prospects or customers. Whether you choose a system like Salesforce, Microsoft Dynamics, Zoho, or a homegrown CRM, it's imperative that you make the choice and stick with it, as migrating to another system can be a logistical nightmare.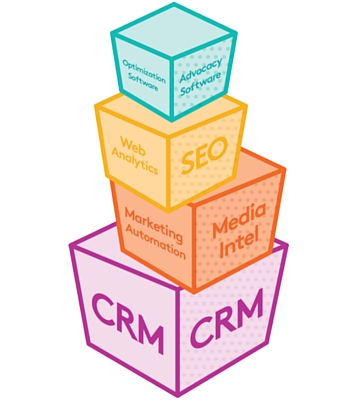 Comms, Digital, and Customer Marketing Tools
Here's how your CRM can be combined with various tools to help marketers understand and reach their goals:
Comms Marketing Tools

It should come as no surprise that communications software is a crowded space. On the content side, there are three comparable companies: Contently, Kapost, and Newscred. Tools like these can help with content curation, workflow, guest posting, and measuring exactly what kind of content your readers prefer and how they like to consume it.

As you may have heard, PR and social media are rapidly converging, and the tools are converging right alongside. Google Alerts can be a great way for small, fledgling companies to track media hits. It's a free product, so although the extensibility is limited and analytics would still require a spreadsheet, the price is certainly right. Once a small marketing department is ready to move on to something more sophisticated, it can try a full media intelligence platform, like Meltwater's. You can use it to say you can track all things PR and social in pretty graphs and charts that executives love.
Digital Marketing Tools
Automation

When it comes to digital marketing, it's all about automation and optimization. Marketing automation is one of the sexiest marketing solutions on the market these days. Built to work seamlessly with the major CRM tools, companies like Marketo, Eloqua (now part of Oracle), Pardot (now part of Salesforce), Act-On, and HubSpot make it easy to implement personalized programs, targeted to customers and prospects. You can nurture your leads and create drip campaigns to help nudge them further down the funnel. Many of them have features like lead scoring, which determines the engagement threshold at which warm prospects are sent to sales, and landing page creation to convince clicks to become conversions. These tools won't exactly "automate" your marketing efforts, but they will help you scale them.
Optimization

The other half of the digital equation is optimization software. A/B testing tools, like Optimizely, Unbounce, and Visual Website Optimizer are extremely important to the digital marketing mix because they give the Acquisition Manager the ability to focus on conversion rate optimization. You can test different headlines, body copy, and images, as well as your call-to-action (CTA). Here's an example of how testing works: visitors to your website will be randomly shown one of two (or more) variations of a page, and conversion stats are recorded for each variant. Once the sample size is big enough and the results are statistically significant, the software chooses a winner based on conversion numbers. You can now optimize the rest of your website based on the statistically-proven choice and move on to the next test. Over time, you'll turn your website into a lead-generating machine.
SEO

SEO software is a bit more consolidated, with a few majors players in the market: Moz, SEMrush, and Raven Tools. All three tools either have a free trial or a free version to prove the concept before you spend your company's hard-earned money. They allow you to track your inbound links, PageRank, domain authority, and other important SEO metrics.
Customer Marketing Tools

One of the main goals of a customer marketer is to find and nurture brand advocates, and there are a number of tools that focus on just that. Crowdly, Influitive, and Zuberance are top choices for marketers seeking reviews, customer quotes and referrals. Since there's a large overlap between customer marketing and social media, all of these tools integrate with your favorite social channels to streamline the process. Advocacy software helps track people historically and across platforms and measures the effect of your interactions with them. The reports you pull will help you learn the profile of your ideal "superfan" so you can repeat the nurturing process again and again.
For a detailed run-down of how to use these tools to measure key marketing KPIs and prove ROI, read my new e-book, Keys to the Kingdom: Making Marketing More Data-Centric.