Competing for PR Victory: Fashion at the Summer Olympics
On August 5th more than 10,000 athletes, representing more than 200 member nations, will compete in 42 sports in 306 events over the course of 19 days. All with the hope of winning one of 2102 gold, silver, or bronze Olympic medals. It's the jobs of designers and clothing brands from around the world to make sure these athletes look good while doing it.
Interest in Olympic fashion might have to do with the rise of athleisure wear in the years since the 2012 Summer Games. With the track pant making a fashion statement both at gym and the nightclub, brands have taken notice and are seeking to dress consumers for both the runway and the race track. At the forefront of this fashion meets technical trend is Stella McCartney and her Adidas collaboration. Unsurprisingly, she's returned to design the technical kits for Team GB (having done the same in 2012). Another veteran on the Olympic circuit is Ralph Lauren Polo, whose prep school aesthetic will be on the backs of Team USA for the opening and closing ceremonies. Giorgio Armani's Emporio Armani is (predictably) taking care of both formal and technical uniforms for the Italian team. And in a surprise move, French footwear designer Christian Louboutin (who doesn't typically design clothing), in partnership with Henri Tai, is outfitting Team Cuba for the closing ceremonies.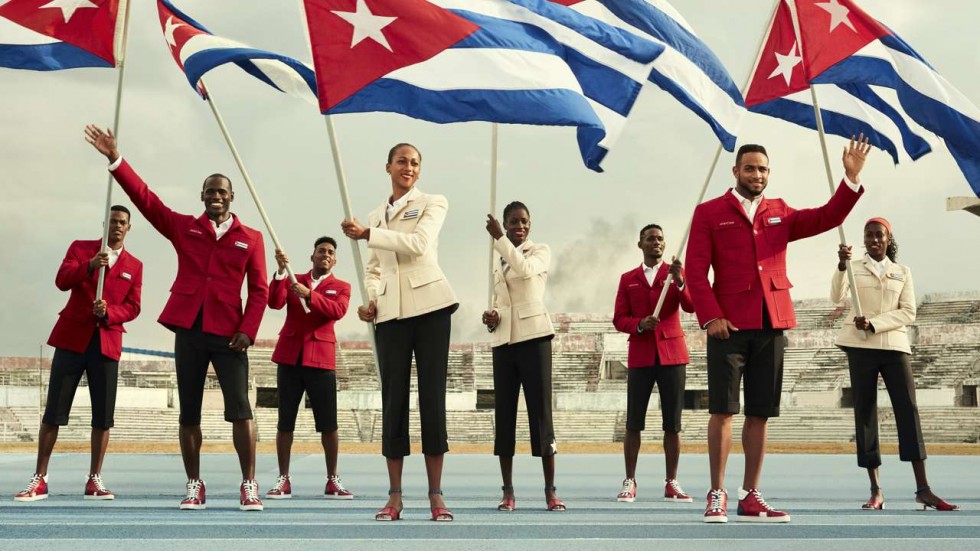 Team Cuba in their Closing Ceremony kit designed by Christian Louboutin and Henri Tai for SportyHenri.com
Along with big runway names, we've got established companies specializing in athletic wear (think Nike and the aforementioned Adidas), trendy fast fashion brands (H&M keeps showing it can do it all), and most interestingly, upstarts from all these categories hoping to win a PR victory on the world's biggest stage. In fact, the fashion playing field is more complicated than any of the Olympic sports themselves. You might think that each country gets one designer or brand to design its outfits, at least for formal wear. But, no, there are many permutations, overlaps, and multinational partnerships. For example, Speedo is dressing swimmers from 29 different countries and Team USA is being dressed by the aforementioned Ralph Lauren Polo, as well as Boathouse Sports, Nike, Speedo, Adidas, Under Armour, TURBO Waterpolo, and Rancourt & Co, and this is only what we could document in our research. Here are some standout fashion stories that caught our attention.
Bean Pole, a South Korean brand, designed and released formal uniforms to protect South Korean Olympians from Zika. We'll know if it is a stunt or not in the next 19 days, but for now, the sentiment for the stories continues skewing positive. This move to design and release the look in April was a bold PR move. By trendjacking the Zika virus, releasing their uniform images at the same time as the US and the UK released theirs, and facilitating access to the designers—Bean Pole and the South Korean IOC—made an impact on how the West, and in particular, North America, got their first ever exposure to the brand. The question remains, will this PR coup of Bean Pole's innovation carry them past their country of origin's borders after the 19 days of the Summer Olympics?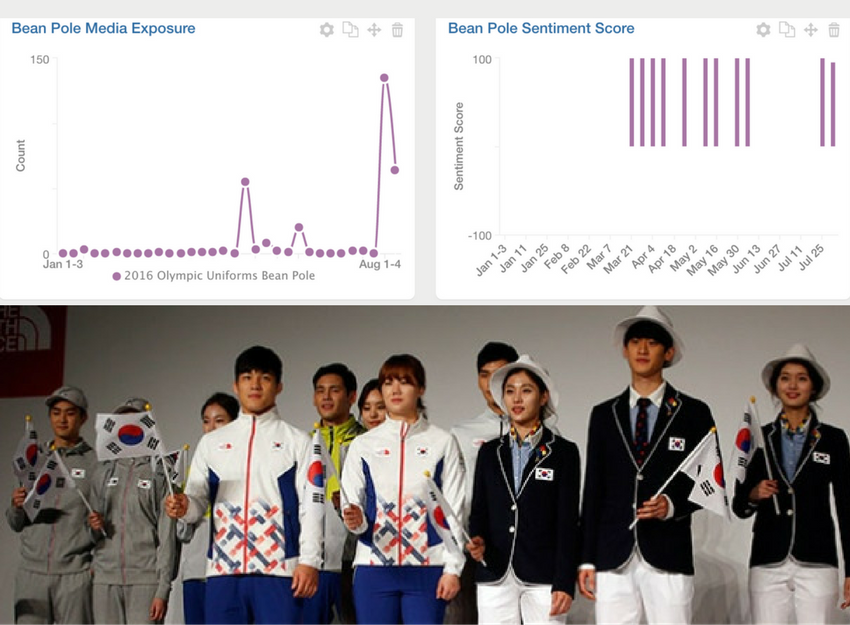 News media exposure metrics show that Team South Korea's Bean Pole uniforms have been making a splash since April and have enjoyed universal positive sentiment
H&M has previously designed the formal uniforms for Team Sweden, but this year they've doubled down and crafted technical kits (with input from Swedish athletes) as well. Using the PR this Olympic synergy provides, H&M Sport has also tapped former Olympian Caitlyn Jenner to be the face of the new line. For now, news and social media have noticed the well-positioned efforts and given them the props they deserve. Only time (and revenue reports) will tell if this social chatter will translate into retail sales for H&M Sport.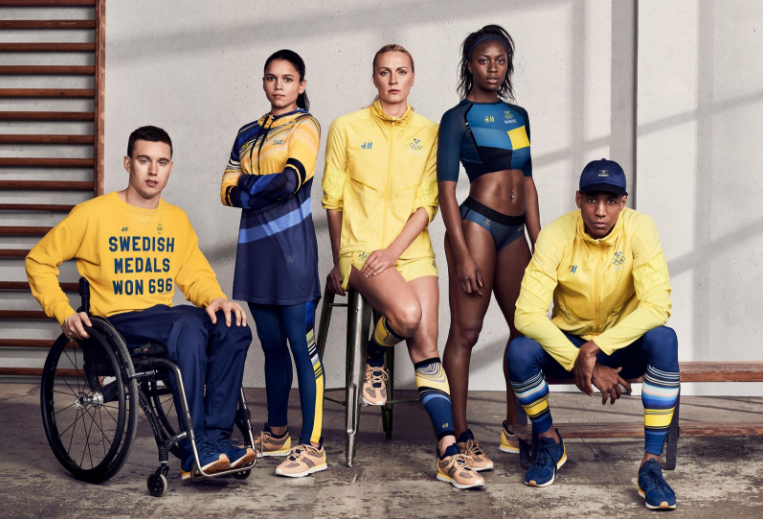 Using our own scoring system, based on successful representation of national pride, design cohesion, interesting silhouettes, and wearability, Team Canada easily scores top honors for best formal and technical athleisure kits of this Olympic Games (though that's our subjective opinion; we'll get back to you with an update on what social media had to say about the uniforms after the ceremonies). Granted, not all of the 200+ teams have pre-released their designs yet, but of those revealed, we're predicting fashion gold for Canada. Playing on proportion, the androgynous opening ceremony outfit is well designed by DSquared2 for Hudson's Bay, and the rest of the matching technical kit, also by Hudson's Bay, keeps everything on theme with Canadian flag's maple leaf, accented with red, white, and black.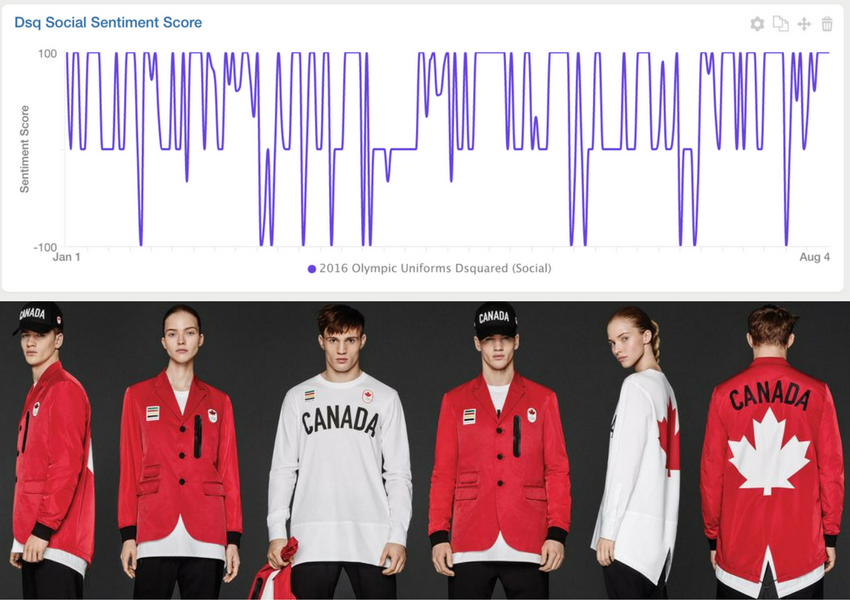 Unlike Bean Pole, Dsquared2 makes its PR splash by polarizing the public (on social media), which in the fashion world means they are doing something right. We're sticking with them.
Another brand that has been around since 1994, but that's making a big splash this Olympic season is Anta Sports. Beyond their technical kits for Team China, they've grabbed Klay Thompson of the Golden State Warriors to wear their shoes as he plays basketball for Team USA. When Team USA wins a medal (because let's be real, they will), he'll be wearing Anta sneaks on the podium. Given the impressive season the Warriors recently had, it's fair to say that eyes will be on Thompson when he's on the court.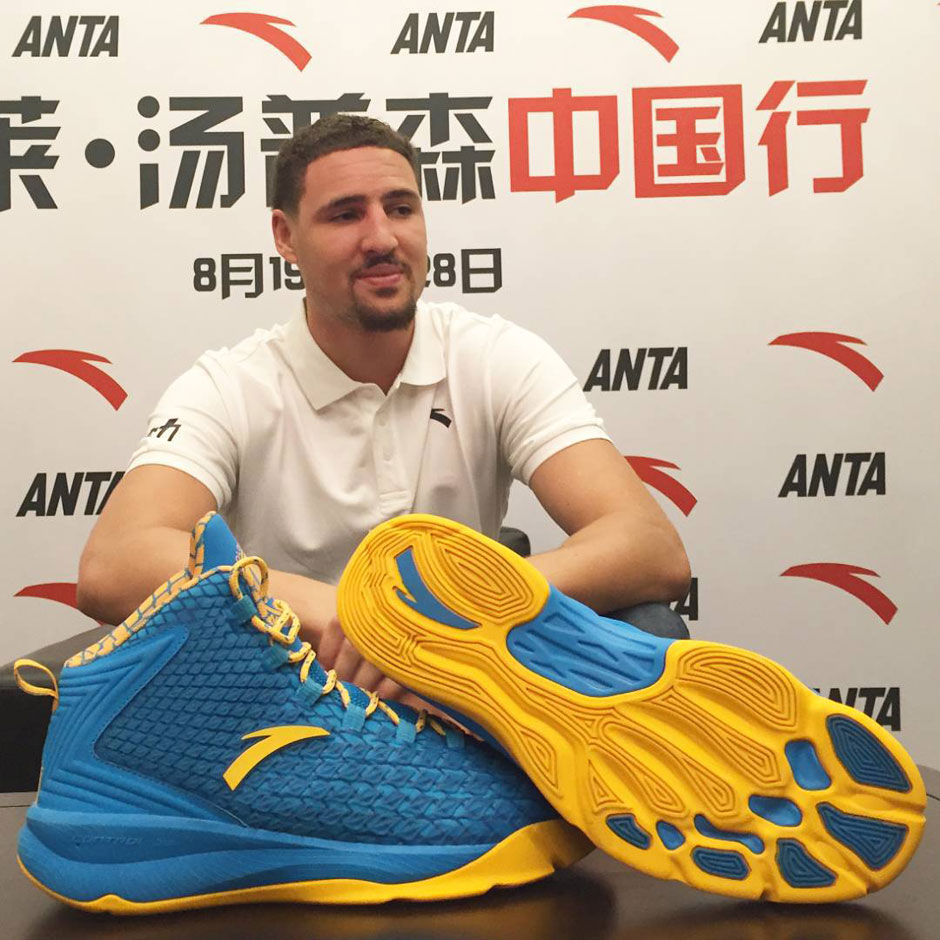 While Anta is outfitting Team China, they have also found their way to big sport stars, like Klay Thompson.
Whether you call it cross-promotion, partnership, or trendjacking, history has shown that an association with the Olympics carries weight. Its impact on the social and cultural psyche endures for years after the Games are over. To wit, there are certain brand-related media events that will take place after the Olympics, only if because they always have. One of these events includes Team USA athletes on boxes of Wheaties.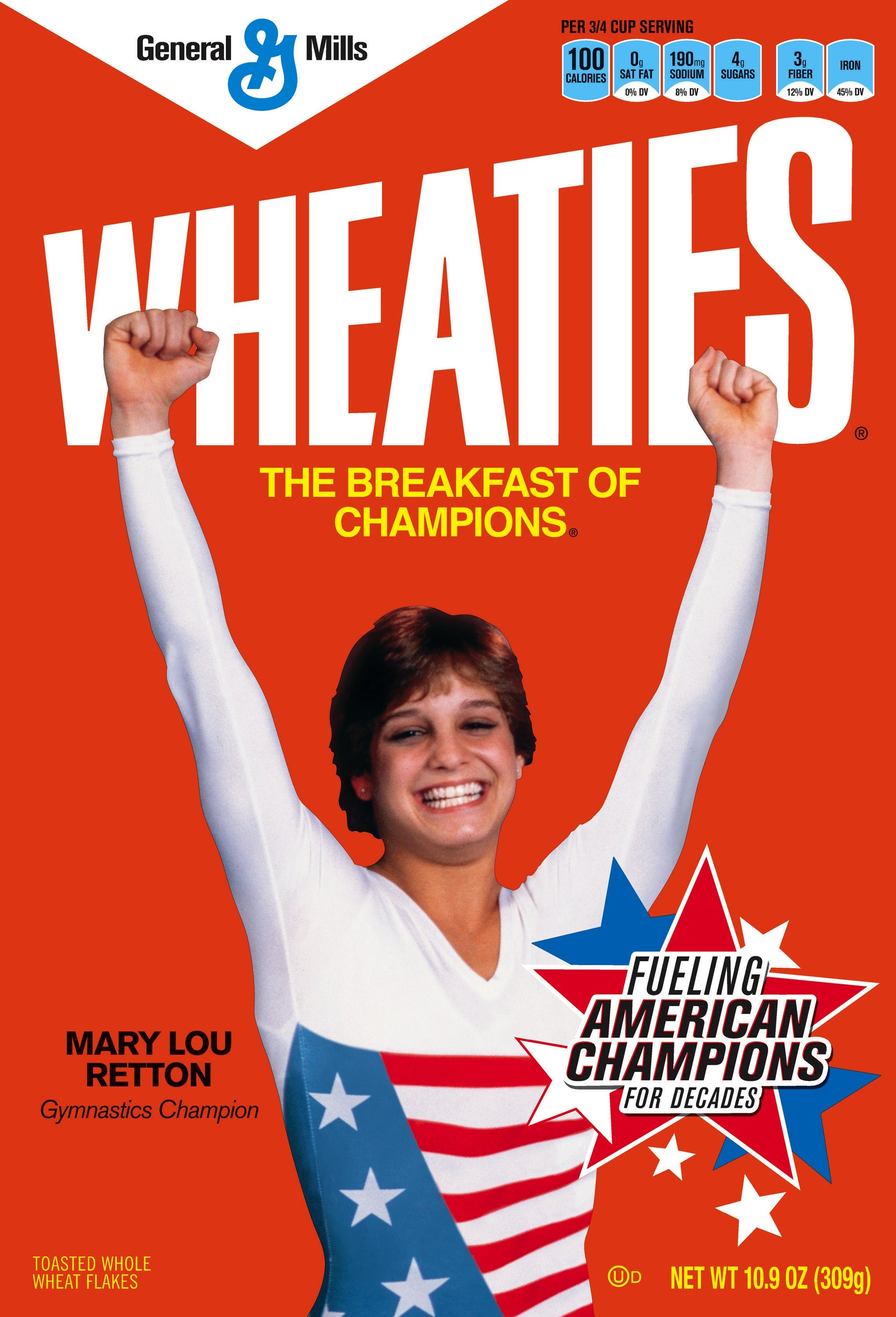 Also, invariably, a few athletes will play themselves on a sitcom or on Saturday Night Live, some of them might even wear their medals in said appearances. Since the 1896 Olympic Games in Athens, sponsorship of the Olympics and Olympians has steadily increased. The athletic prowess of Olympians has been shown to sell products as varied as Coca-Cola (since 1928) and Bridgestone tires (since 2014). If you're a brand, whether or not you're a household name like Nike, getting a piece of the limelight may entail ingenuity like Zika-proofing designs or subverting expectations by launching a new sportswear line. The aforementioned fashion brands, through research, PR planning, and maybe a little luck were able to stand out from the rest in this very crowded space.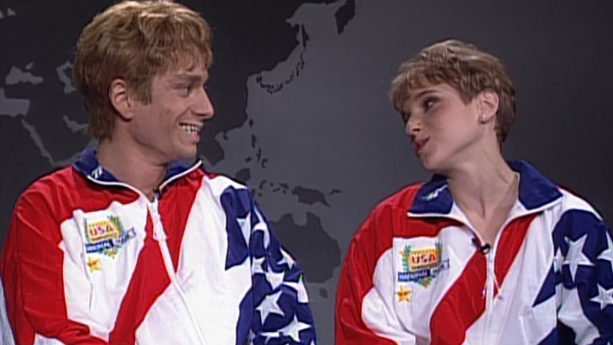 Kerri Strug with "Kippi" Strug (Chris Kattan) on Saturday Night Live post-1996 Summer Olympics