6 Ways PR and Content Marketing Can Swap Tactics for Success
PR and content marketing have more reason to work together than ever before. Working cross-functionally
to achieve goals makes good business sense
. We went to Content Marketing World and asked marketers we met to share their ideas on collaborating with PR.
As a PR professional, you are spending your days tracking industry editorial trends, talking to journalists and editors about the content that their audiences want, and honing pitches to obtain coverage or place contributed articles for your business partners. PR is full of moments that create the exact kind of insight that would help your content team prioritize material that's going to drive engagement and brand awareness. The benefits of integrating PR and content marketing aren't only one-sided in PR's favor. Content teams should have easy access to that knowledge to inform their content decisions and ensure message alignment across your organization.
Joy works with multiple decision-makers when crafting a comms calendar strategy that utilizes PR and content marketing teams.
3 Key Ways Content Marketing Can Benefit PR
1. Promote contributed content and earned media In addition to encouraging your brand ambassadors to share contributed content and earned media on their social channels, you can use a number of paid methods to further extend that content's reach. For instance, you can use a content recommendation service such as Outbrain or Taboola to promote the article's headline and URL on websites such as Fast Company, Mashable, USA Today, the Huffington Post, CNN, and NBC News that host their advertising modules. You can also use paid social advertising on Twitter, LinkedIn, Instagram, and Facebook to drive additional traffic to those hard won placements.
Shafqat encourages Newscred's content team to work with the PR team to look for third parties to publish their content. They also collaborate on content creation for key brand announcements.
2. Write and place contributed articles Frustrated that great story idea you're pitching just isn't getting traction? Consider turning it into a contributed article under one of your executive's byline and pitching it to a target publication that accepts them. Many popular online properties including Mashable, HBR, and Forbes have thriving guest contributor programs. And the opportunity isn't limited to one-off placements either. If your piece is well received, you may find your exec will be offered the opportunity for a recurring column. These pieces are a great way to build your executive team's thought leadership platform, with the added bonus of increased control compared to regular media interviews.
3. Draft SEO-optimized press releases That's right, SEO optimization isn't just for your static website content. With press releases being widely distributed on the Internet and Google having reversed their previous stance that devalued press release links, crafting a SEO-optimized press release has the potential to drive significant relevant traffic to your website. Not to mention position your well-crafted press release as the ultimate source for your story. For this reason, it's important for PR to have a seat at the table when the digital team is defining SEO keywords, to ensure alignment between them and your messaging platform.
Shawna's digital marketing team is creating more and more collaborations with the PR team.
3 Key Ways PR Can Benefit Content Marketing
1. Share your editorial insights The PR team understands what content is compelling from an editorial standpoint due to ongoing conversations with editors and journalists whose jobs depends on them getting it right. Put this information in the hands of your content Editor-in-Chief so they can create more informed editorial plans that will align with your messaging platform.
2. Connect your content team with customers Thanks to sourcing customers for interviews, you can foster relationships with a wide range of customers who have hands-on experience with your product and a range of unique use cases. By connecting your content team with relevant customers, you can significantly add to their understanding of your brand's audience and provide them with a resource for authentic customer stories that will relate to that audience.
3. Amplify key content assets The content team invests significant resources in creating the many white papers, webinars, and other assets that fill your website's content hub. A brief press release combined with some influencer outreach can significantly help key pieces of content extend their reach and increase their ROI.
This excerpt is from our free ebook, Unlocking PR's Potential with Content Marketing. Download and read it for more ways PR and content marketing can partner cross-functionally within their company's marketing organization and show the value they both bring to the organization.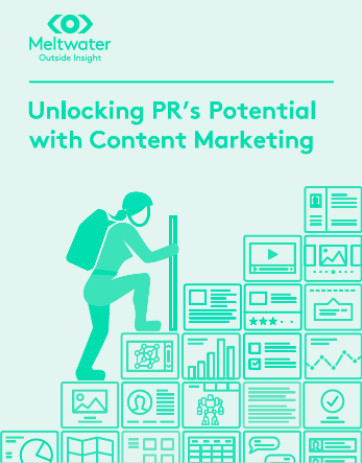 This post was originally published on our site on November 9, 2016. It was updated and republished for its timeliness.