2017's Best 10 Infographics + 2 Bonus
Since 2018 is in sight, we're revisiting the content we've produced in 2017 and considering what we can learn from our colleagues across the web. So, in the spirit of continuing to be a
resource for PR and marketing pros
, we're continuing our tradition of highlighting the best-produced infographics of 2017. Check out these fine examples below and stay tuned for other best-of examples and predictions for the new year.
Infographics can distill down a great amount of information into digestible bits. Over the past few years, infographics have evolved from long static images that require users to scroll down a page. Previously meant to be seen and perhaps later printed, the function of the past infographics wasn't too different from an IRL poster. Now that those conceits related to printing infographics have been cast aside, creativity in the medium's design has exploded. As more and more content creators utilize animation and interactivity to showcase their work, we're seeing innovative ways to simply display data. Here are 2017's best infographics.
Beautiful Imagery and Color Design
This dashboard infographic details the various digital crypto coins. At a glance, it displays all the currencies being traded across the planet and a valuable conversion, how they trade against each other. Using only 7 colors, you can see various types of crypto coins along with descriptions, metrics, peak prices, and adoption rates.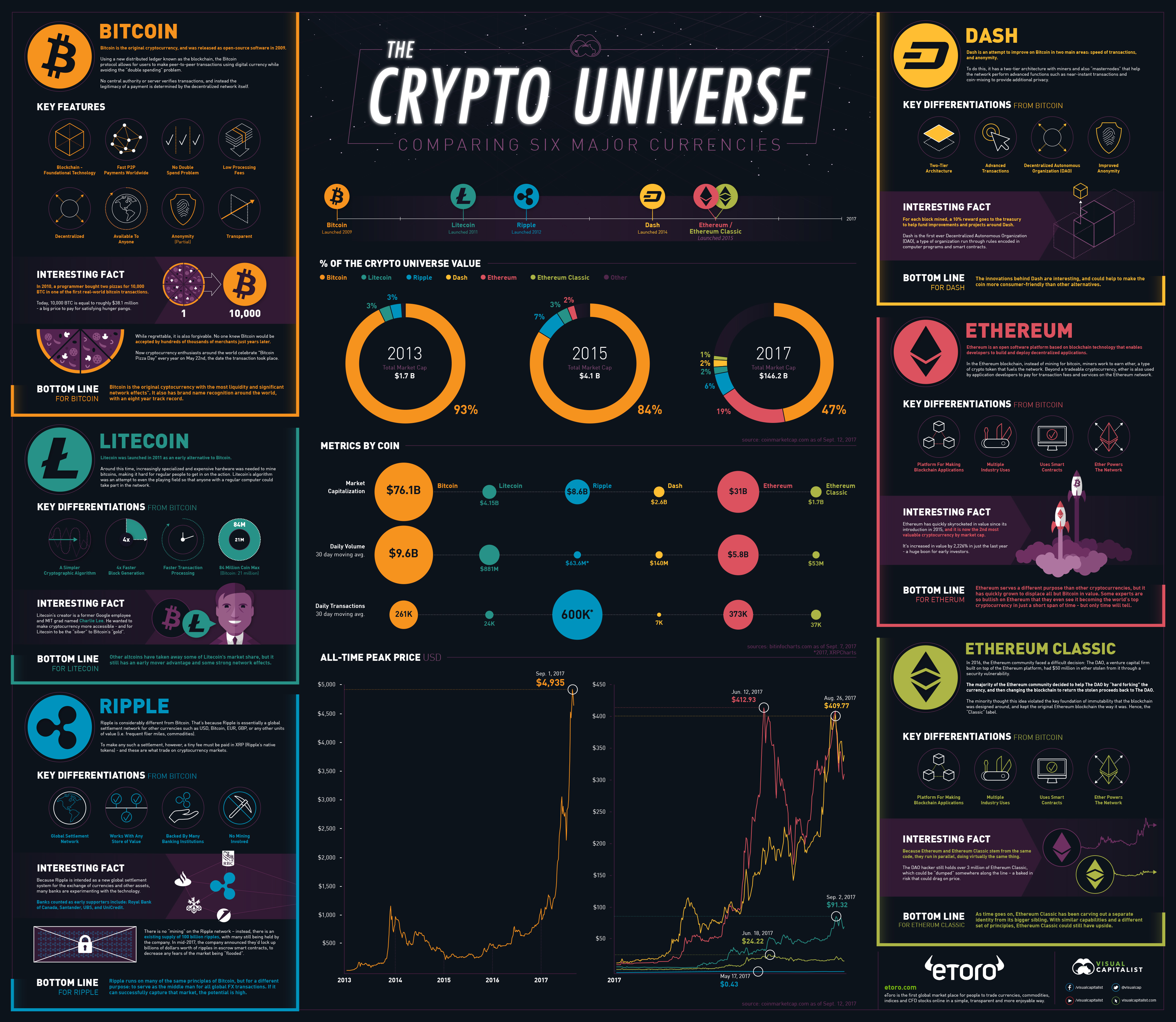 Even fictional history can be complicated to understand. That's why this infographic by the team at Venngage is essential for Game of Thrones fans. By displaying every character and associating them with those they've betrayed, it works as a type of visual family tree with a morality bent. With an easy to follow design, color coding, and a key to decipher the enormity of the betrayal, this infographic is a valuable GoT betrayal compendium.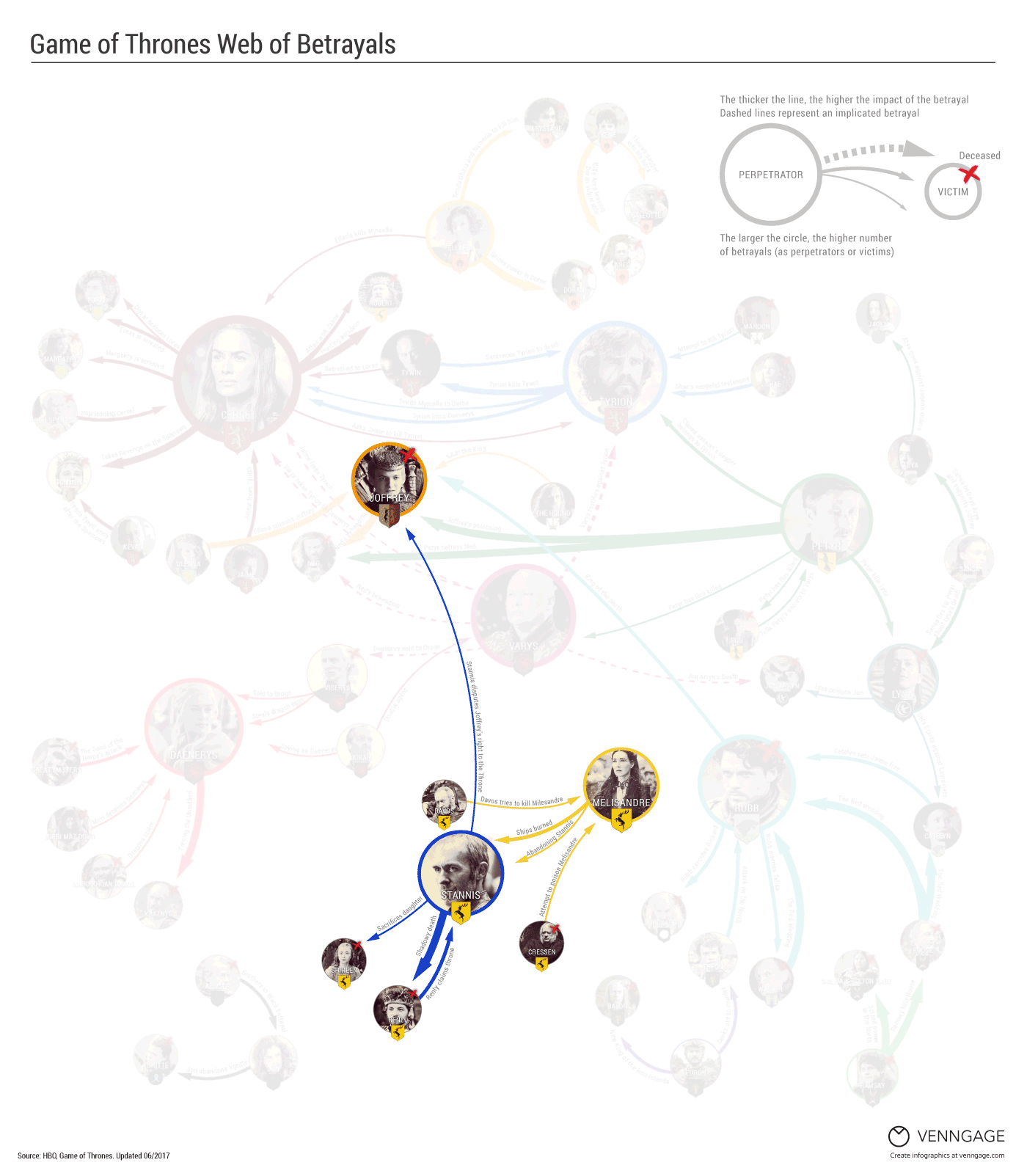 Some of the best infographics illustrate how data can affect you personally. This tax reform infographic was published in a September issue of USA TODAY. Readers can use it to identify their income bracket and how the new tax code may affect them. By primarily using a color story that mimics the traffic stoplight colors of green, yellow, and red the designer is equating the colors to how it will affect individuals in each bracket. As you can see, those in the green benefit from the new tax code, while those in yellow experience a minimal impact, and those in the red, a negative impact.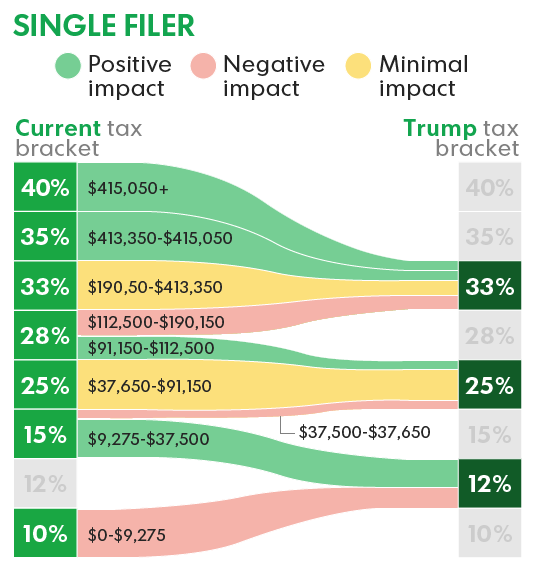 Popular Science created this infographic for their January 2017 issue. They kept the design simple to share an important message about impending climate disaster across the United States. By using a series of low-res icons that could be mistaken for an Atari game, the creators map how climate change may determine where people will live in the next century. They convey the immediacy of these climate changes with descriptive iconography and hover-over captions.
Effective infographics can completely break your preconceptions on how to display data. Originally from an article in Popular Science, this infographic pinpoints which narcotics affect which parts of your brain. This Serge Seidlitz illustration looks more like a blacklight poster than a classic infographic, but it gets the job done through bright and descriptive imagery.
Infographics as Animated Movies
In the past year, we've seen content creators take infographic data from a static image to an animated movie. Aside from the obvious "wow factor" of doing this, this type of design allows creators to link together different data points to help tell a story. These animated infographics now feel more like micro-documentaries.
This video produced for the science journal, "Nature," shows the interconnection of species on Earth. By turning this information into an animation, they present more information in an easily consumable piece of content than would be possible in one long static image. Instead of one infographic, it feels like you are watching over a dozen.
An animated infographic by Youtuber, RealLifeLore, takes the premise that instead of billions of people on Earth there is only a hundred. By using this premise, viewers can easily absorb facts and figures. How many of these 100 people speak Chinese, how many are Muslim, how many are starving right now? Taking out the magnitude and distilling data in this way can make it easier for us to comprehend the makeup of our earth population. Check out RealLifeLore's channel for more informative examples using this same type of storytelling convention.
Interactive Infographics
The LA Times took 911 response rate data and put it into an interactive infographic to see how long it would take for the Fire Department to reach different areas of Los Angeles in an emergency. By equipping readers with an interactive component, the data allows them to see estimated response time for their neighborhood based on past response time. Interestingly, my home town of San Pedro (California) has one of the city's worst response times. To quote Public Enemy, "911 is a joke in my town!"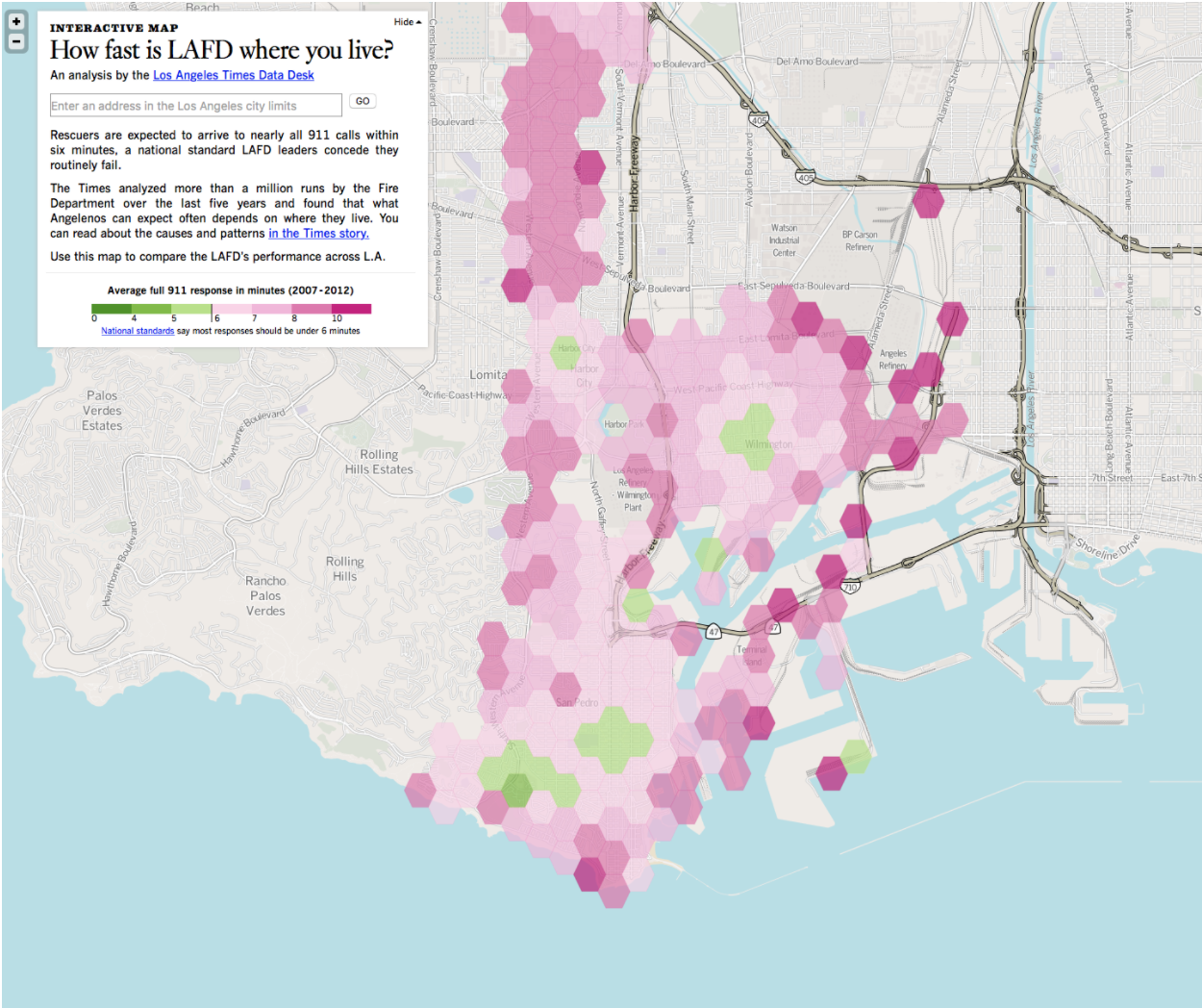 This interactive infographic by General Electric (GE) lets the reader see the different products, projects, and services the company is working on throughout the world. As a marketing tool, it highlights the global nature of GE's projects and as a research tool, the reader can adjust settings to view only relevant industries and geographic regions. So, for instance, if you wanted to see what GE is doing in the Healthcare industry in Africa, it's only a click away.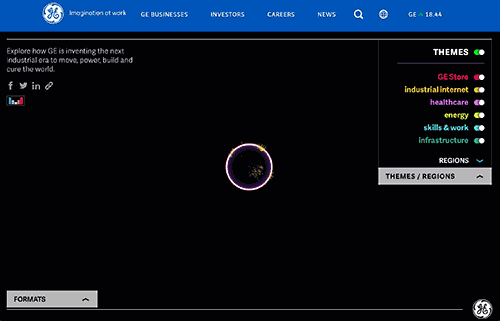 Told from the point of view of the original spacecraft designers this infographic allows the user navigate through the decades' long journey of the ISEE-3 satellite. The reader is presented with an interactive science app and the documentary story of a little-known space mission to explain topics as highly complicated as orbital mechanics.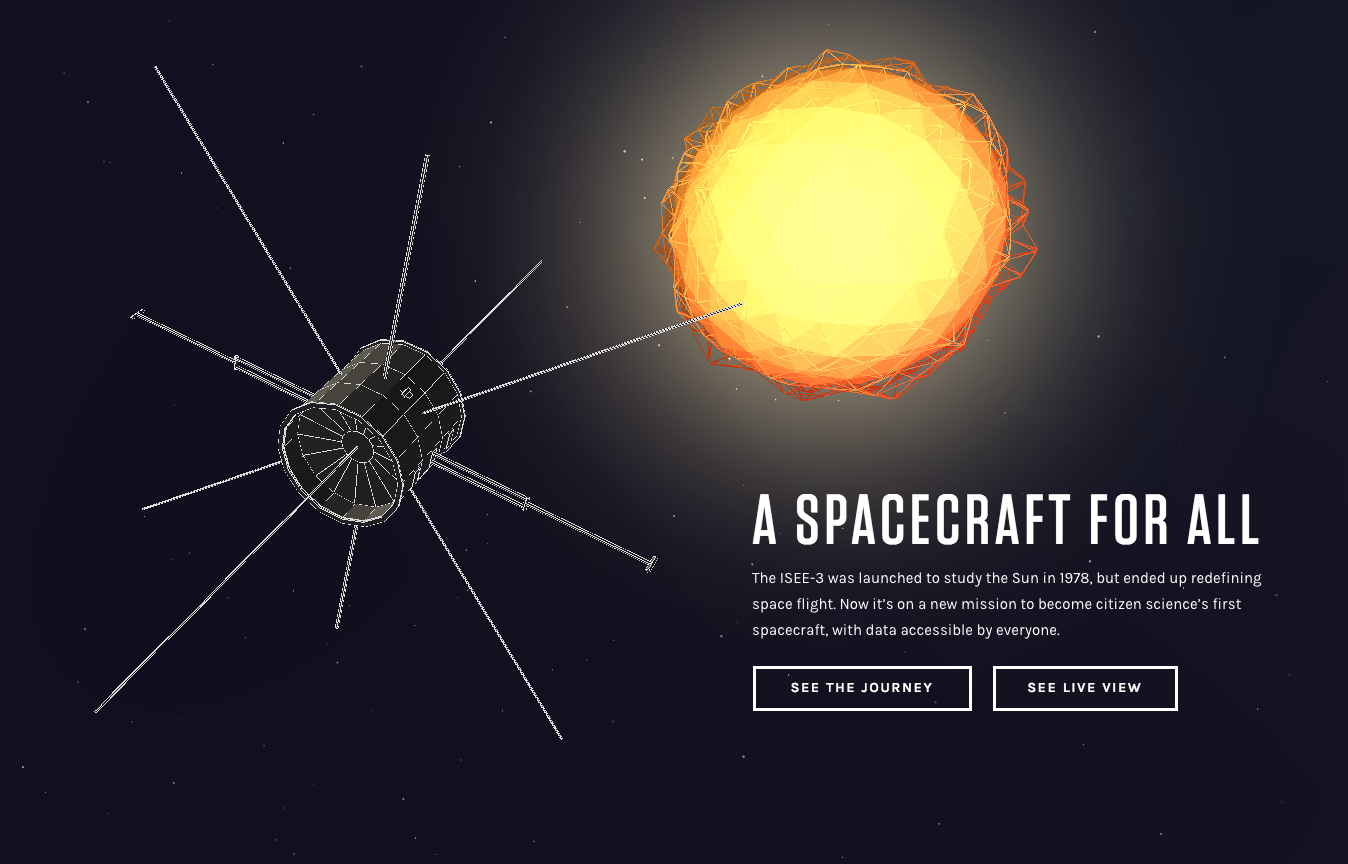 It's no surprise with their huge data resources and stable of incredibly talented designers that Google has made what I consider the Infographic of the Year. Centered on a seemingly simple subject of "How To Fix a Toilet," Google uses their own data, stylish animation, and interactivity to put together an engaging and useful piece of content.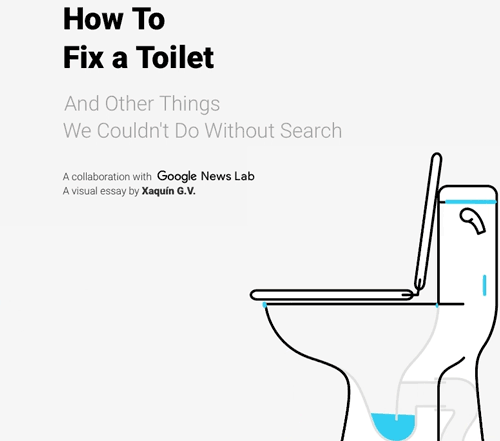 Our own entry, this is my favorite infographic Meltwater created this year. It highlights all the tasks that a Social Media Manager is responsible for (and how the position has evolved) in modern businesses. By placing the same character in different scenarios, we detailed how much organizations have come to rely on a position that didn't exist a decade ago.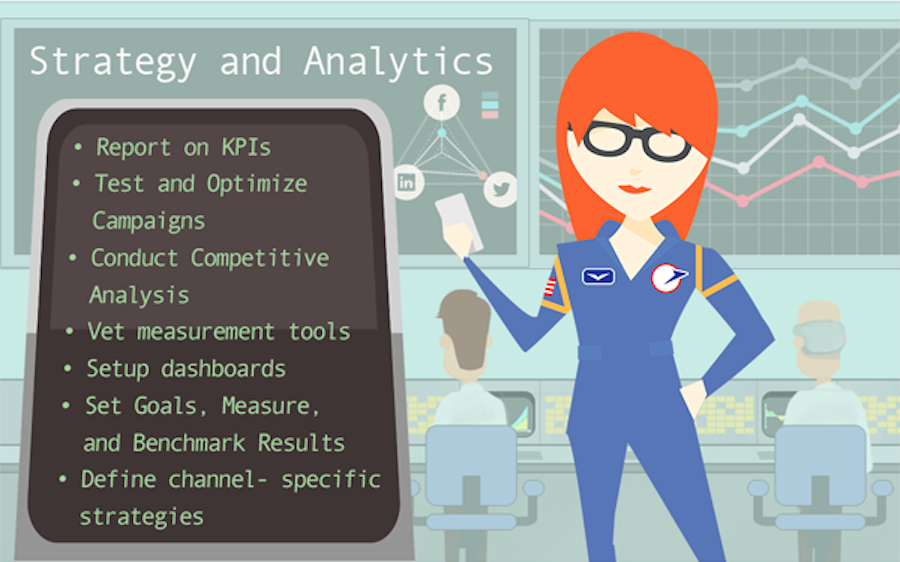 If you're interested in last year's list of best infographics, they can be found here.