How To Protect Your Social Brand In 2017
Social media is increasingly how we receive news and communicate with each other. In this new environment, it's possible that President Trump might mention your brand on Twitter. Or your firm could get caught up in national events. Be prepared for anything and clarify your existing social media policies now for your corporate brand as well as your employees.
Why are social media policies important for large brands?
Firms face a number of risks when using social media. First, firms need to protect their intellectual property from leaking out of the organization, either inadvertently or maliciously. They also need to protect their firm from malware and from social engineering attacks of their employees. Firms also need to comply with various rules and regulations that govern electronic communications in their industry. And finally, in this new communications landscape, firms need to protect the reputation of their brand and their employees and avoid unintended controversy.
Are there compliance regulations about social media? Do they vary from country to country?
We've seen guidance from regulators around the world on social media. Details may vary, but the theme is the same. Regulators seek to protect investors, patients and the public at large. Communications must be truthful. Risks and conflicts of interests must be disclosed. Business records, wherever they appear, must be captured and retained. And finally, key person's communications need to be supervised to prove that they are adhering to the rules and regulations in their industry.
How can firms build a trusted social brand?
Firms have the opportunity to engage with their customers interactively. They can use social media to demonstrate expertise and convey authority. They can share helpful, useful information to become part of a community. They can also demonstrate commitment and gain loyalty by responding quickly to solve problems. At the end of the day, if brands want to build trust, brands need to personalize efforts, forming relationships with individual consumers. Social media is a perfect medium for that.
Will there be a "Bonfire of Regulations" with the Trump administration? Is compliance less important now?
There's no way of knowing what will happen in the upcoming months. However, firms with established brands that were built up over time, typically are very careful about protecting that brand and staying on message, regardless of any external communications rules and regulations or lack thereof. Trust built over years can be destroyed in a single tweet.
Can Marketing and Compliance departments work together?
Some marketing and communications professionals are reluctant to work with their compliance department because they are afraid they will be told "no", or will be slowed down. A better approach is to work with compliance right at the beginning of your campaigns.  Compliance wants to help support the business and together you will figure out a way to use social media while protecting the brand.
What are some of the major fails in this space?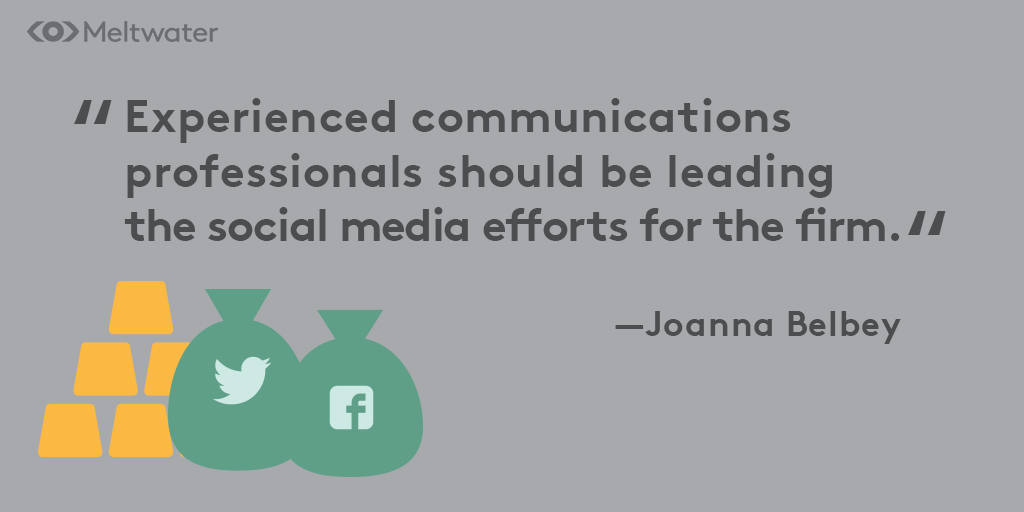 We have all seen mistakes, human error, and lapses in judgment that make us cringe. However, the biggest risk is not doing anything at all. Not learning how to use the tool to educate, build awareness and share information. Social media has moved from the basement to the Executive Suite. Experienced communications professionals should be leading the social media efforts for the firm. We also see cases where social media is operating in a silo within organizations. It's important to remember that social media is just another channel to reach your customers. It should be woven into every communication, including your emails and website, customer service. Everywhere your customer interacts with your brand. Also, use the form of communication that your customer prefers. More firms should take advantage of the power of their employees to advocate for the brand. Make it easy for your employees to share positive things about your firm. We've seen that it makes employees happier and it's very powerful for the brand.
What's working well with social media?
The best brands are responsive to their customers. They use social media to install trust, provide information, and to be helpful. And when things get specific, such as adverse drugs effects, or investing questions, or customer service issues, they move the conversation privately and apply the proper resources quickly.
We also know that in financial services, according to a recent survey, 85% of financial advisors use social media for business. 80% of these "social advisors" gained new clients resulting in nearly $5 million in average asset gain directly attributable to social media use. 85% also said that social media shortened the selling cycle. For these advisors, social media is no longer an option, but a proven tool used to gain new business and to build closer relationships with clients.
Create crisis communications plans.
Social media in 2017 is increasingly mainstream, faced-paced and in some cases, contentious. Your firm could inadvertently be drawn into a controversy. Therefore social media needs to be included as part of your general corporate communications strategy. As we've seen, it's possible that President Trump might tweet about your brand in 2017. Therefore, firms need to create crisis communications plans so they are prepared for anything. Involve your senior executives to clarify their positions. Prepare by gathering together a PR, marketing, and legal team ahead of time to document how to escalate issues so you may be responsive and act quickly. Document contacts' emails and cell phone numbers in advance. Some firms even play "war games" to test their processes. You don't want to be figuring out your approval processes for public messaging during the middle of a communications crisis over a holiday weekend.
What can you do today to protect your brand?
Firms should gather together key stakeholders from across the organization to review and possibly, clarify, their existing corporate and employee social media policies. Evaluate what's working and what's not. Be specific on what is allowed and what is not. Stakeholders could include senior management, marketing, corporate communications, HR, Legal, Compliance, risk, IT, and Data and Security. Together, this working group should refine social media policies for both the corporate accounts and employees. Communicate your updated policies broadly based on the new communications landscape. Then consider reinforcing those policies with technology to protect your social brand.
The best way to protect your social brand is to be prepared for possible crises before they hit.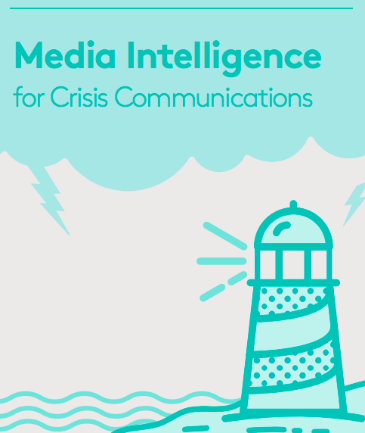 This article was written by Joanna Belbey from Forbes and legally licensed through the NewsCred publisher network.