Björk's PR Secrets and What You Can Learn from Her
Evaluating how others do the work that we're tasked with can help us with doing that same work when we're on the inside. That's why seeing how
influencers
manage their brand can help us as PR pros. Here we look at Björk's skills at PR and
brand management
.
A primary aim of brands is to insert themselves into the lives of consumers, whether that is at home or work, the goal is to connect. Even if companies and their products/services aren't people, much fewer friends, the ability to connect consumers to brands (and brand stories) is essential for business. Artists, on the other hand,—and maybe singers specifically—are different, the emotions broadcast through their music acts as surrogates for our own. Songs can affect us on a visceral level; we can be moved to sing along, to tap our feet, to clap, and to dance. Through music, we feel we know the musicians that craft the songs we love because they sing the songs we'd write if we could. But there is more to being a successful performer than  producing songs. By dissecting stand-out performers, PR and brand marketers can learn the art of connecting with audiences, observe how public personas are constructed, or gain insight into ways to build brand relationships.
Only a select few artists have a certain level of fame that allows them to be known by the first name. These artists have embedded themselves into our cultural psyche, so as to not need additional context beyond their mononym. One such artist is the Icelandic Queen B, Björk, with her whimsical music and personal style. (You wear a swan dress once to the Academy Awards in 2001 and from henceforth it is a shorthand for who you are.)
Whether her brand is by happenstance or careful planning, PR pros can learn a lot about standing out from the crowd from Björk.
1. She Stays True to Herself
Despite international fame and numerous albums, Björk has stuck with the record label that supported her 1980s-era band, the Sugarcubes. One Little Indian is a small record label based in the UK and her relationship with them has allowed her to stay true to her musical vision. Whatever the benefits of being on a larger label, it is obviously not as much as a concern as sticking with a label that has stuck with her over the last three decades. And maybe for the same reason Björk has remained on the same label, she still lives in the small city she was born in. Depending on her dating life, Björk has lived in San Francisco, New York, and London, but no matter how long she resides in these cities, she only truly lives in Reykjavik, Iceland. In Reykjavik, she leaves her home without a need for security. Locals have stories of seeing her at the gym and during music festivals, she is often seen at shows, supporting local musicians.
2. She Tries New Things Through Collaboration
As  authentic and true as Björk is, she is equally known for her experimentation into different digital experiences, music, and fashion. We saw this when she was in the Sugarcubes, and she's continued collaborating with avant-garde artists, directors, and producers such as Michel Gondry, Antony Hegarty (now Anonhi), Matthew Barney, Lars von Trier, Matmos, James Merry, and Andrew Huang. The people she's chosen to partner with weren't chosen for their mainstream popularity, but for their artistic merits. Matmos, James Merry, and Andrew Huang excel in their respective craft, but are not as well-known as she is. So, even in choosing collaborators she is reaffirming her standing as experimental and authentic to an artistic vision. In this way, she's been able to stay true to her idiosyncrasies, but also break out into film acting, push the boundaries of style, and grow as a musical artist, and in our PR parlance, expand her audience.
3. She Rolls with the Punches
When Vulnicura, her "divorce album," was leaked two months early in January 2015, she and her label decided to release the digital album immediately. And instead of feeling pressure to also release song singles at the same time, she instead released a series of VR music videos (as planned) in March to coincide with an exhibit and book release. From this, PR pros can learn about assessing crisis situations and being agile in deciding on solutions. Having searches ready in your media intelligence platform can help with charting sentiment and social media conversations, but after monitoring the pulse of the situation; we can use Björk's example and decide when to engage and when to let things go.
4. She Listens to Her Audience and Repurposes Content
These VR music videos from Vulnicura eventually led to Björk Digital, a 360-degree virtual reality exhibit. This currently touring exhibition includes a new VR experience as well videos from her 20+ years as a solo artist and materials from a previous album and tour, Biophilia, including the associated digital games and special midi pipe organ. In experimenting with VR videos, she was able to see how to use them as part of another project that would lend more context (not to mention content) to her oeuvre.
And in late 2015, she released Vulnicura Strings, a version of the same album released earlier in the year, but this time recorded with only string instruments.
Björk pays attention to how people are responding to the work she's producing. By gauging the popularity of digital experiments and albums, she is able to repackage the experience for additional content. As comms professionals, we can spot trends via media monitoring and social listening to gauge what our audience wants and spot possible trends. Like Björk, we can build on our strengths to find new ways to connect with our audience.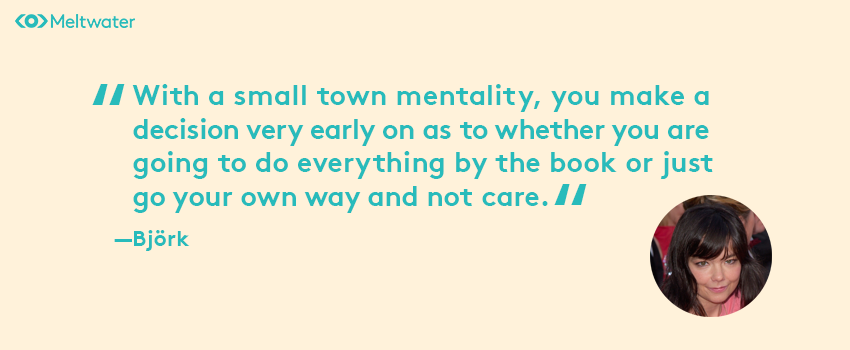 5. She Shows Vulnerability
When Björk and her husband, contemporary artist Matthew Barney, split, she turned all that energy into writing and producing an album. That album, Vulnicura, doesn't shy away from the feelings of grief and anger she was experiencing. Sure, she could've played it off as a persona and not based on true life. But instead, she gave interviews discussing how she tracked the songs to specific points in her grief about the divorce. In PR we call this authenticity and to reiterate her steely reserve, she toured for a year playing these heartbreak songs. It wasn't a surprise that a few months shy of the tour's end, she decided to prematurely end the tour. Instead of making up an excuse about ill health, she released a statement about being sick and tired of playing the songs as they were. As PR pros we can strive to be honest with our audience. Transparency in how we communicate with our community builds trust. If you're in a crisis situation, be honest to move towards a solution. Your community will appreciate it and that will increase their loyalty.
Bonus. She Knows Her Audience
When Björk canceled those shows in late 2015, she promised to return to Europe with a new tour. To make good on this promise, she toured with an orchestra in 2016 to play the Vulnicura Strings album. For her hometown, she played not one, but two small theater shows. These performances had her dancing to reworked songs that had previously broken her heart. Her resilience is a model of hard work and reminds us as comms professionals to continue to produce or repurpose content to remain vital. Also, if you keep promises to your community you'll be rewarded with loyalty.
At the crux of what Björk does is create music, digital experiences, and films, with an idiosyncratic aesthetic. She's consistent and at the same time, inherently creative and unpredictable. PR pros that manage brands can take a few cues from her PR secrets, including: partnering with those who make sense, but not straying from your vision (or brand message), keep relationships that work to anchor the work you do, only don't let that limit you. Never ever be afraid to experiment and repurpose what works, especially if that content is valuable to your audience, and always be authentic.