14 Proven PR KPIs That Matter and How to Track Them
You're doing everything you can to promote your brand and get your message out:
personalized pitches
, well-crafted releases, insightful bylines, and social strategy that's helping you build your audience even more. But how do you translate this activity into data that business leaders can understand and appreciate? Read this excerpt and then
download the ebook on proven PR KPIs
.
If your public relations reporting is only focusing on brand mentions and social validation (vanity metrics), PR is likely going to be considered a "nice to have" business function, rather than a valuable driver of business growth.
Your leadership team doesn't want a dashboard that's only a list of links to PR clips and some social media snapshots. They want to understand how their investment in PR—and you—is supporting their business goals. Yes, many of your goals center around eyeballs and engagement. But to prove your worth to the leadership team, you also need to measure reach, share of voice, and PR-generated website traffic. Here's how to get started.
14 Must-Have PR KPIs and How to Measure Them
We've identified proven PR KPIs you'll want to consider tracking. Always begin with the items that drive greatest business impact. And don't forget to measure your performance against your competitors by benchmarking yourself against them.
1. Active coverage: Coverage secured by the PR team. You may want to create a subset of this KPI specifically focused on top-tier publications for your industry and audience.
2. Potential reach: Sum of viewership for publications and websites in which your coverage is featured.
3. Share of voice: Percentage of coverage—for your brand, products, or high-profile executive(s)—compared to competitors. Include several competitors to gauge your place within the industry at large, or benchmark one at a time and drill down into the corresponding media coverage to uncover key differentiators. It's important to note that share of voice can be tracked by volume or reach. For instance, your competitor may have a higher volume in terms of mentions, but you might be in higher-reach publications.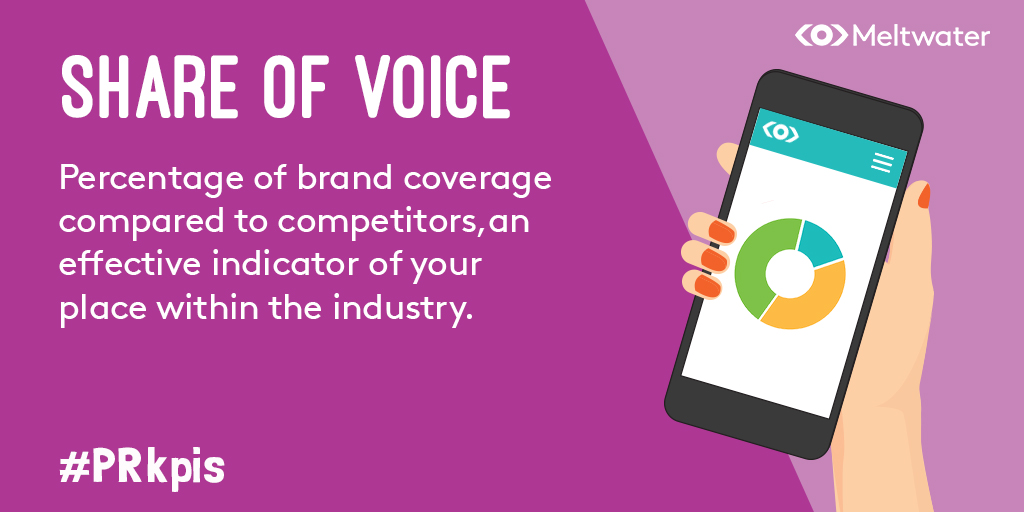 4. Social engagement: How many shares and comments the coverage you generate receives.
5. Sentiment: Tone of the articles mentioning your brand or competitors. This metric lets you see if your brand is creating positive or negative associations.
6. Media outreach: The number of press releases and pitches you are sending out and how they are performing. Along with the amount of coverage they generate, you can also measure your progress in building relationships with journalists (a good distribution tool provides metrics on open rates and even internal links clicked).
7. Quality of coverage: The placement of your brand mention (headline, body) and its prominence in the article's content.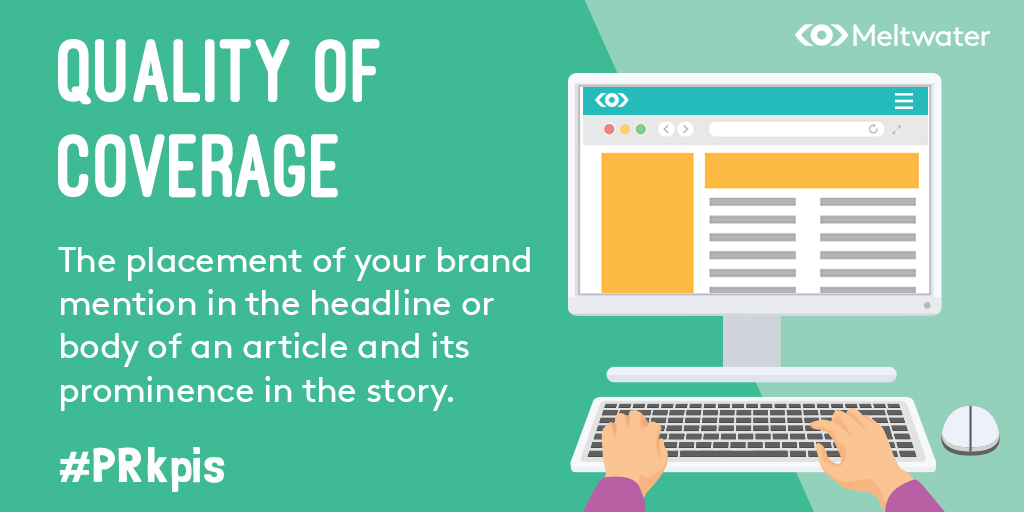 8. Geographical presence: Volume of coverage based on location. Assess your success at targeting key geographical demographics.
9. Key message penetration: Break your coverage down by key themes and measure how strongly you are associated with each one. You can also measure which ones your competitors are associated with and compare your results.
10. Overall media presence: Combine share of voice and sentiment to get a snapshot of your competitive landscape.
11. Earned traffic: The number of visitors that were driven to your website as a result of your earned coverage and link placement.
12. Domain authority: A metric created by SEO software company Moz to predict how well a website will rank on search engines, using a logarithmic, 100-point scale. By securing link placement on third-party sites, PR can have a big impact on your site's domain authority and SEO. To learn more, watch our webinar on PR's SEO superpowers.
13. Event promotion: PR's success in driving event attendance, garnering media coverage of events, and building relationships with speakers and attendees.
14. Crisis communications: When trouble hits, you'll want to measure how quickly PR gets things back to normal. Throughout the crisis, benchmark volume and sentiment to baseline levels from before the crisis started.
Takeaways
In order to measure these PR KPIs, you'll need to use the right tools for tracking PR metrics and visualizing that data. Analytics dashboards enable you to see your public relations performance metrics and keep track of your KPIs.
Using a comprehensive media intelligence platform like Meltwater allows you to track PR metrics in one place, while providing automated reporting capabilities. You'll also have robust outreach and distribution tools, a full-featured media contacts database to identify journalists, distribute pitches, personalize them, and measure pick-up.
This post is an excerpt from our ebook, Everything You Need to Prove PR ROI. Get a deeper dive on PR KPIs, and how to prove PR's contribution to business growth, by downloading the complete e-book now.