The Facebook, Twitter, and Instagram Brackets
March Madness! As the nickname suggests, the NCAA Men's College Basketball Championship is infused with frenzied emotion. This week, nearly 40 million fans predicted exactly which one of the 64 Division I teams will take home the men's college basketball's national title—and the exact path they'll take to get there.
Fans create their brackets based on numerous criteria: seeding, season performance, school rivalries, head-to-head match-ups, or even just their favorite mascots. But how about community engagement? Can social media data accurately forecast which team emerges victorious?
Imagine Facebook, Twitter, and Instagram as three buddies hanging out. A few days past Selection Sunday, each is filling out a March Madness bracket. Whose bracket will accurately predict championship results?
We've created these brackets using Meltwater media intelligence. Without the data, is it a surprise that Instagram is colored Carolina Blue while Facebook and Twitter favor Big Blue Nation to go all the way? Or that Facebook sees Syracuse and Oregon going much farther than either Twitter or Instagram? As we write this, all three channels predicted Duke's first win. But interestingly, none of them chose Duke to go to the Final Four
The question we'll be able to answer in April is: Can the social media enthusiasm of fans, players, coaches, and brands propel a team to victory?
Choosing brackets
Using the Meltwater media intelligence platform to perform analysis and deep listening of March Madness over the last few days, we unearthed data to create the Facebook, Twitter, and Instagram Brackets.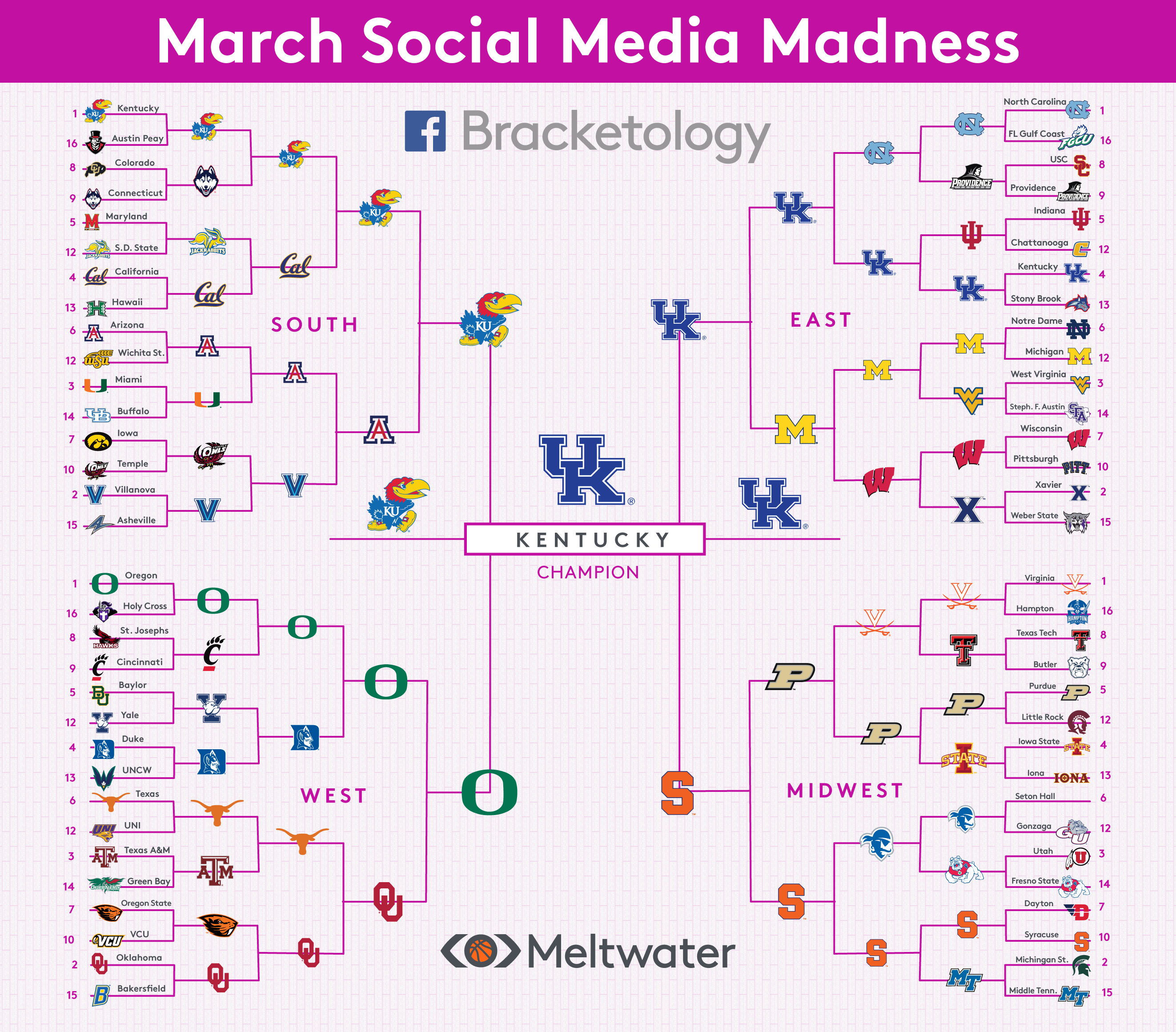 Highest reach for within coverage with positive sentiment went into pinpointing Facebook's brackets. Through Meltwater's platform, we've monitored and assessed how fans and players that are posting topics about March Madness are positively tagging, liking, and sharing information about teams on Facebook. This anonymous data (thanks to our partnership with DataSift) also contains demographic data that shares the gender, location, and age of posters, while retaining privacy controls.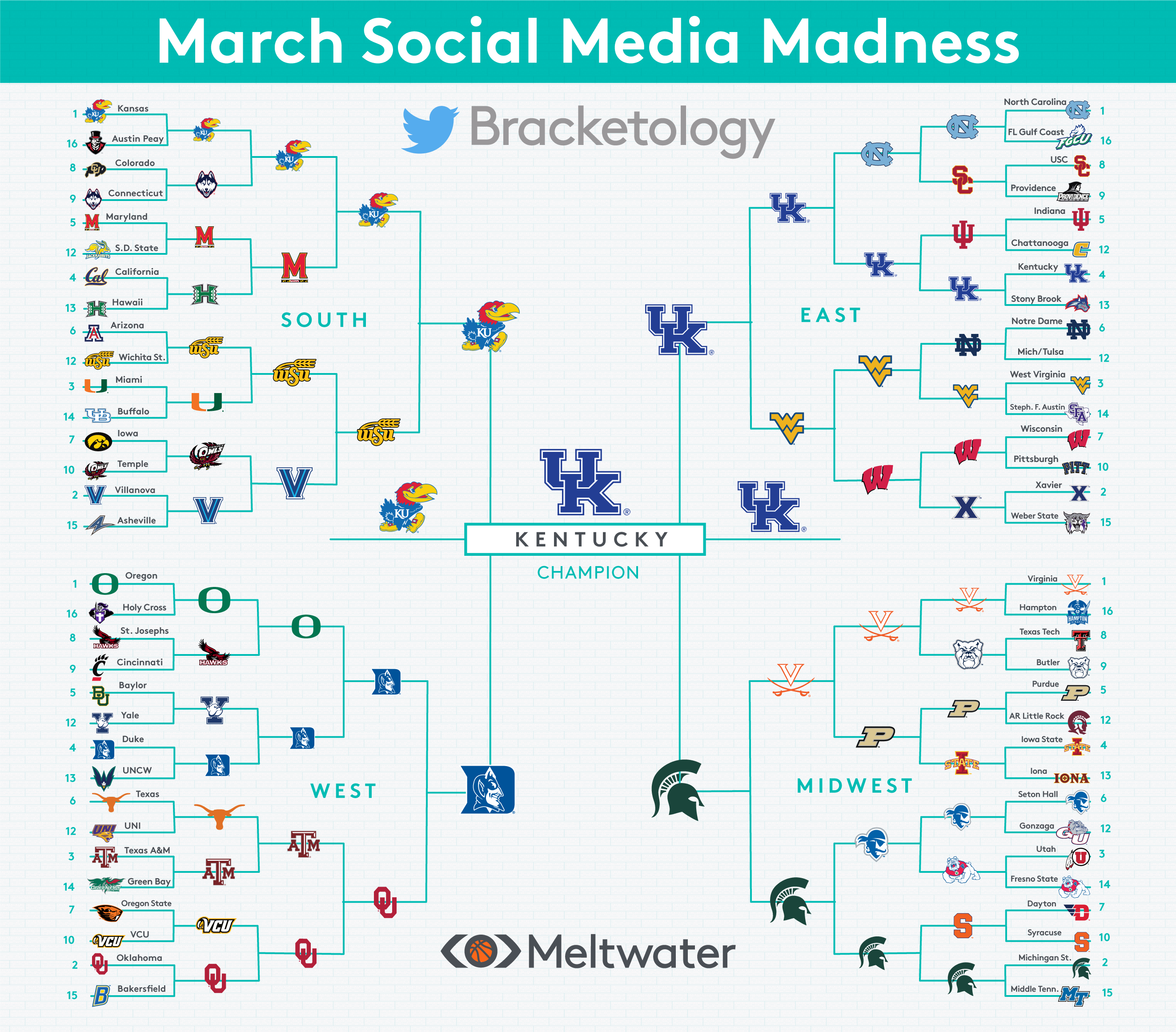 Twitter's bracket also uses the highest reach for within coverage with positive sentiment as a benchmark. In a similar vein to Facebook, Twitter's bracket was calculated by listening to fan interactions with their teams and fan chatter using hashtags or mentions of the team. Tracking positive sentiment within the Twittersphere gives us a complete picture of how Twitter's reactions to teams inform its bracket choices. Despite a lot of buzz on Twitter about President Obama having Kansas cut down the net, this wasn't enough positive sentiment to send them to victory according to Twitter.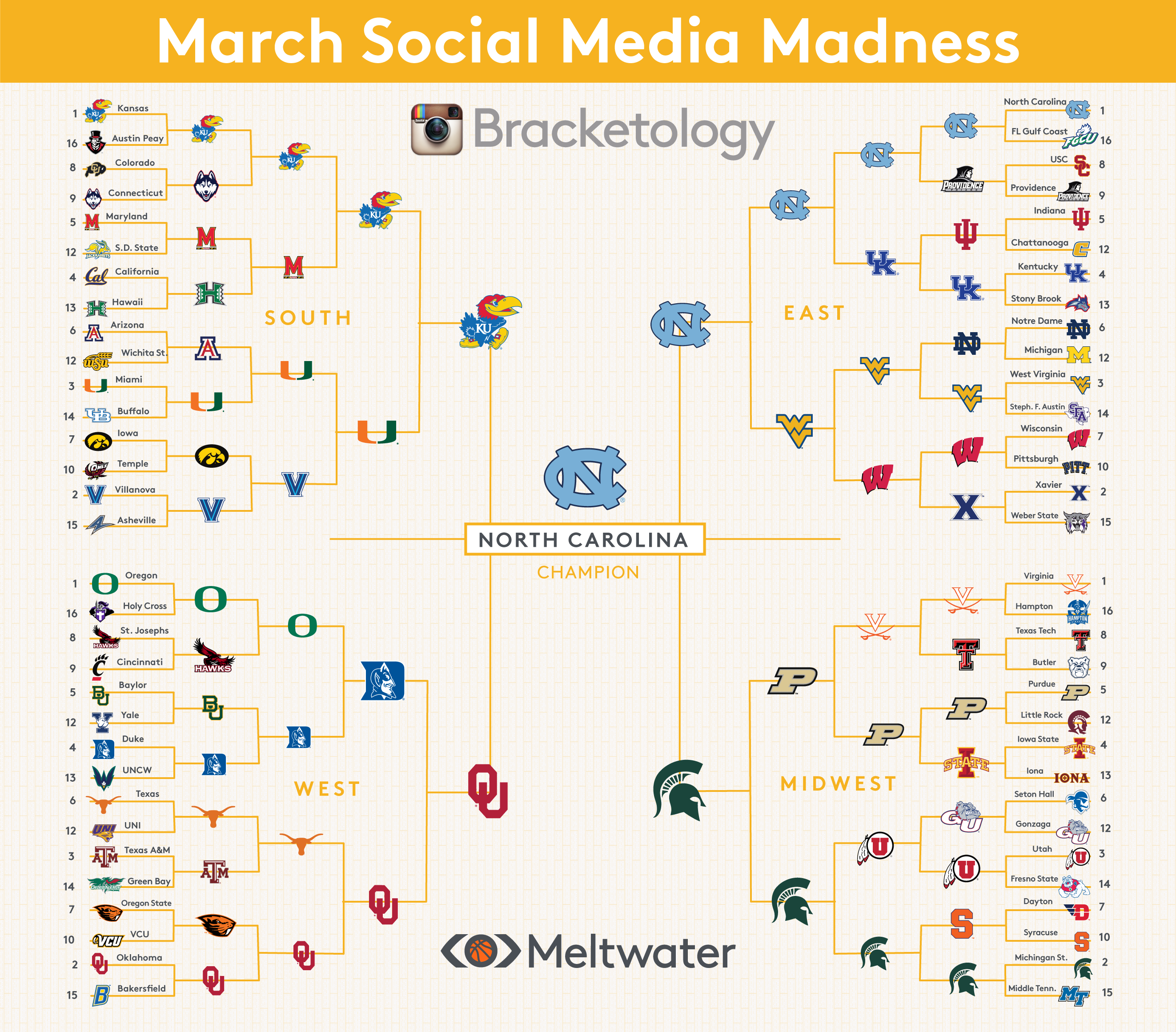 Instagram's bracket choices are based purely on reach. Posts on Instagram, since they're photos, skew towards positive sentiment, so we chose to focus on activity around the 64 teams. If an Instagram post is hashtagged, tagged, commented, or re-grammed—this is counted toward the Instagram reach dataset.
Our Process
We used our media intelligence platform to set up searches on each social channel for every one of the participating 64 teams. Then we began measuring and analyzing sentiment and posts on social media and compared how teams on the social channels matched up against each other. We run this analysis from Selection Sunday to end of day Wednesday, allowing us to capture millions of social conversations around the tournament.
After collecting this information, we filtered by positive sentiment for Twitter and Facebook. We then looked at the share of voice (or reach) of each team within this positive sentiment coverage. We used this information to populate the brackets.
Which channel do you think is best at predicting the outcome of the NCAA men's basketball championship? Is social media intelligence a better predictor than other statistics?
Make sure to check back throughout March Madness, as the championship moves onto Sweet 16 and the Final Four. We'll be providing more insights on tournament buzz. You won't want to miss out on which social media channel emerges victorious in Meltwater's 2016 Social Media March Madness Brackets. As for Meltwater, we may be biased, but we're going on record as rooting for Kansas (a Meltwater customer), who you can learn more about on our case studies page. Rock Chalk, Jayhawk.