Social Media Marketing Statistics Highlight the Importance of Trustworthy Engagement
Having a presence on social media isn't enough, as social media statistics bear out. You need to authentically engage with your community. If you're ready to start building a high-impact social media marketing program, download The Secrets to a Serious Social Media Program.
The role of social media manager is often relegated to junior staff. If you're considering hiring one, ask yourself if you want to trust such an important piece of your marketing strategy and a full range of consumer touch points to someone with little experience. If social media is an addendum to your workflow tasks, instead of a valuable component of your work day, your brand may miss out on opportunities to engage your audience. How your brand interacts with your community can not be an afterthought.
On top of that, interactions between consumers and brands happen at all times, not only in the 9-5 work day. They can occur 24/7, especially on social media, according to research by Jay Baer: "…among those respondents who have ever attempted to contact a brand, product, or company through social media for customer support, 57% expect the same response time at night and on weekends as during normal business hours." In that same study, of those consumers that contact brands on social media, 42% expect a response within 60 minutes. With the current expectation that brand accounts are always "on"—your social media accounts must be listening when your audience is ready to share.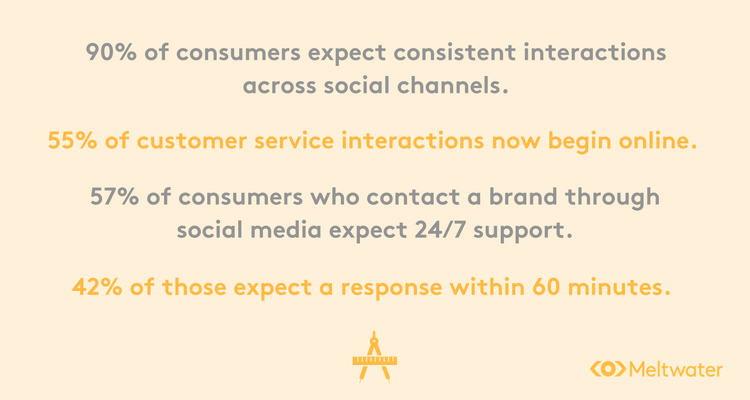 Beyond your branded social media broadcasts, genuine engagement with your audience begins when they share thoughts, photos, insights, and interests with your branded accounts. Every time your audience engages with you, they're inviting you into their community and offering you, not only access to dialog, but information about their habits, thoughts, and interests. Being attentive to this info is key to knowing what your audience cares about, where they gather online, and how to craft content that is valuable to them. There is the Oprah quote, "People will show you who they are. Believe them." Actively engaging with your audience on social media will give you a shortcut to what they want (and expect) from you on social.
Data Supports a Robust Social Media Marketing Strategy
Engagement
According to Statista, Facebook is the most popular social network with over 1,590 million active users. Its 18% market share makes it the most used social channel. TrackMaven analyzed brand engagement for the first half of 2016 for 40,000 brands and found that Instagram has some of the most valuable engagement at 10x over Facebook. Engagement is defined as average interactions per post per 1000 followers. Regarding long-term and evergreen engagement, Youtube has the best numbers for high-quality video consumption. Youtube visitors spend an average of four minutes visiting three pages. In this shuffle for engagement (measured as interactions with posts), LinkedIn and Twitter come in at fourth and fifth respectively (surprisingly after Google+, which has fewer, but more-engaged users).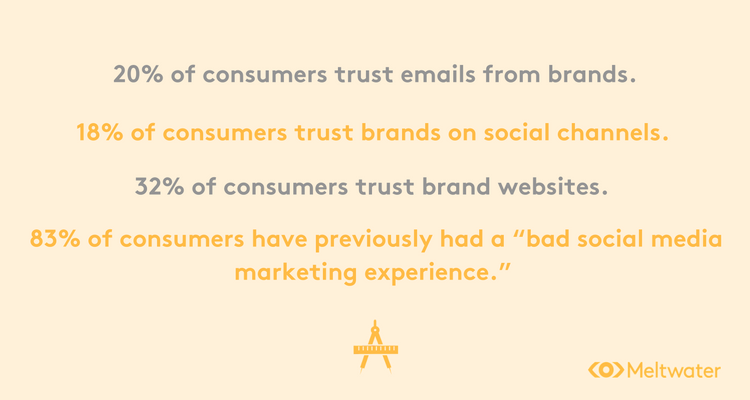 It may seem surprising to find Twitter is so far down the engagement list for brands, especially since 95% of brands are on Twitter with 65.8% of brands using it for marketing. While brands complain about the lack of Twitter engagement and brand tools, the default openness means people can engage without having a registered account. Because Twitter's algorithm doesn't prioritize posts based on follower/friend engagement as aggressively as other channels, brands and media outlets post more (sometimes repeating posts) to ensure a larger segment of the public comes across their messages. This has lead to criticism that Twitter is an unchecked flood, demanding that users wade through more posts.
Trust
According to DMNews, 90% of consumers expect consistent interactions across social channels. In a Mediapost survey, only 20% of consumers said they trust emails from brands or companies; and 18% trust posts by brands or companies on social sites like Facebook and Twitter. Even if they don't trust emails from brands, 32% of consumers in this survey trust information on company or brand websites; more so than ads in newspapers (only 24% of respondents).
SimplyMeasured found that 95% of brands are on Twitter, and of those, 82% tweet between one and six new posts per day. So, brands are broadcasting online, but consumers don't entirely trust them, yet. It could be because surveys find that 83% of consumers have previously had a "bad social media marketing experience." Which means that consumers are hoping brands continue to engage on social channels, but want brands to be trustworthy.
Social media marketing statistics bear out that Facebook, Twitter, and LinkedIn are now more than vehicles for broadcasting information about sales or asking people to purchase from you. More than ever consumers are inviting brands into their communities to exchange information that is relevant to them.
Be a Pro on Social Channels
Brands and consumers are interacting online more than ever, with 55% of customer service interactions beginning online. We're at the point in utilizing social channels for more than answering and responding to tweets, DMs, PMs, and comments during lunch or after hours. This increased use of social media underscores the need to dedicate resources to create relevant content and authentic engagement.
As you move forward with your social media strategy, and strive to build a full-fledged social marketing program, steer clear of these three common mistakes to avoid negative brand perception.
No or slow engagement. Ignoring direct call-outs on social media is a no-no. At the very least, it'll reveal your brand as one with shallow engagement. At worse, you'll gain a reputation for ignoring your community.
Unprofessional engagement. Tasking junior staff with social media engagement can have negative consequences. If your brand style guide doesn't cover social media etiquette, your brand reputation may be at risk. Brand protection should extend to all communications.
Boring content. Even though you're a brand with business goals, social posts need to be of value to the consumer. If you continuously post "buy me" messages, it'll be hard to create a relationship with your audience.
Engage with Experts
As social media marketing matures, getting online and engaging with consumers becomes a marketing imperative. Devoting resources to social media marketing can pay off, as you craft a social media strategy, remember to include listening tools to measure your effectiveness and keep on top of what your community is saying. Authentically engaging with consumers can help build relationships, assist with predicting trends, and extend the reach of your campaigns, it's time to explore tools that will help you manage and understand your social landscape.
If you're a social media marketing manager, download our free webinar, Social to Scale: How to Build a Serious Social Media Program.