Political PR: 7 Brands Show Us How to Do Corporate Social Responsibility Right
Sometimes political activism comes for your brand, whether you're ready for it or not, and sometimes it's part of your brand strategy. Either way, the outcome can be extreme. Whether you've chosen to enter the political fray or been dragged into it, your approach to the situation can result in your audience feeling even closer to you and the values you represent, or you can find yourself in a major brand-defining media crisis. The gulf between these two outcomes often depends on how much your position reflects the current social zeitgeist, the sincerity of your message, and how well you've navigated tricky PR waters.
Brands That Take Their Corporate Social Responsibility Seriously
As comms pros, continually monitoring social channels and media outlets, you may have already noticed that more and more brands are asserting their values via ad campaigns, press releases, social posts, and C-Suite interviews. Here are seven cases (in no particular order) where brands took a stand in accordance with their brand values and how this position impacted public perception.
1. Airbnb: Opening Doors to Some, Closing Them to Others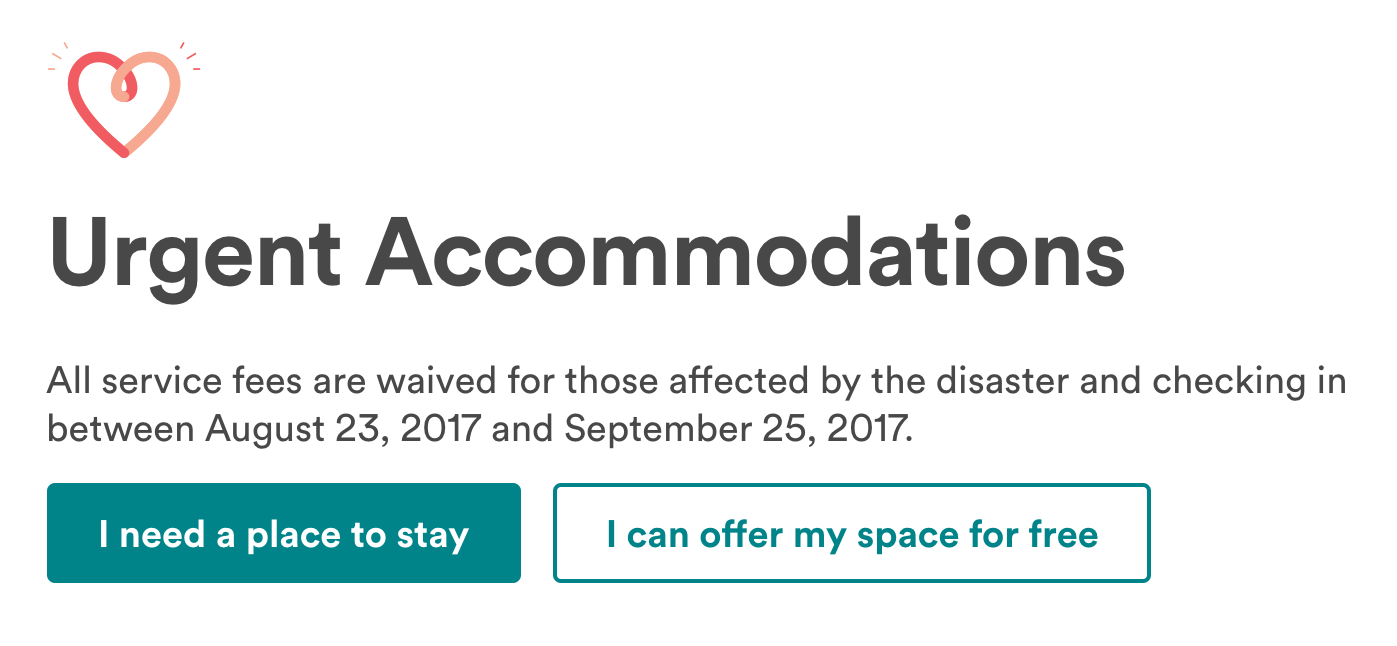 Airbnb has faced plenty of criticism, both for their business model and for their advertising. However, one thing they've shown they are very good at is using technology to coordinate those looking for housing with those who can provide it. They demonstrated this when Hurricane Harvey hit last weekend, eliminating service fees that would normally go to the platform. On the flip side, last month in Charlottesville, in a show of brand values, Airbnb didn't allow neo-Nazis, the KKK, or white supremacists to use their booking service when these groups showed up for a rally that turned violent and led to the death of counter-protestor, Heather Heyer.

On the left we see Airbnb's social sentiment score for July 2017 and on the right for August. The data shows that their audience is responding well to their support for victims of Hurricane Harvey.
PR Takeaway: Aiding those in need of housing during a crisis isn't as politically charged as denying housing to white supremacists, but both share positive values (brand or otherwise) with many in the Airbnb community. Both moves were easy wins.
2. Lyft: Taking the High Road on Equal Pay
We've covered Lyft's very public donations before. Since much of their marketing strategy is to position themselves as the "anti-Uber", Lyft has given to a number of causes over the last year as Uber continues to fall into crisis disarray. Lyft, it seems, has decided that they have a fighting chance if they compete for the hearts (and wallets) of consumers via brand values.
PR Takeaway: While it may be tempting to call out competitors and indulge in some schadenfreude, taking the high road and distinguishing yourself via example speaks volumes. As befitting their comms strategy, Lyft broadcasts their take on corporate social responsibility via their social channels, aligning themselves with values that their community has shown to be important in their stand against their primary competitor.
3. Target: Hitting the Mark with Trans Customers and Employees
In North Carolina, a law banning individuals from using the bathroom of their choice (instead of requiring them to use restrooms that align with the gender they were born with) went into effect. Not only did Target support restroom choice, they doubled down at all their retail locations. To ensure their inclusive stance was crystal clear, they released a press release that stated: "We believe that everyone—every team member, every guest, and every community—deserves to be protected from discrimination, and treated equally. Consistent with this belief, Target supports the federal Equality Act, which provides protections to LGBT individuals,
and opposes action that enables discrimination."
While conservatives tried to launch a boycott (via hashtag #BoycottTarget) against Target, supporters launched a competing hashtag #ThankYouTarget. To reiterate their stance, CEO Brian Cornell and various comms team members have gone on national TV and given interviews in media restating their tolerant bathroom policy. Since it hasn't impacted their stock price, it was definitely the right move.
PR Takeaway: Whatever your brand values are, be consistent. It's hard to preach equality and inclusivity but then enforce a trans bathroom ban at certain locations. Once your organization has made a possibly divisive decision, enforce it across the board and make sure that all levels of the C-Suite are brought onboard and have the talking points/data to back up your corporate brand values.
4. Tiki Brand: Turning the Lights Out on Hate Groups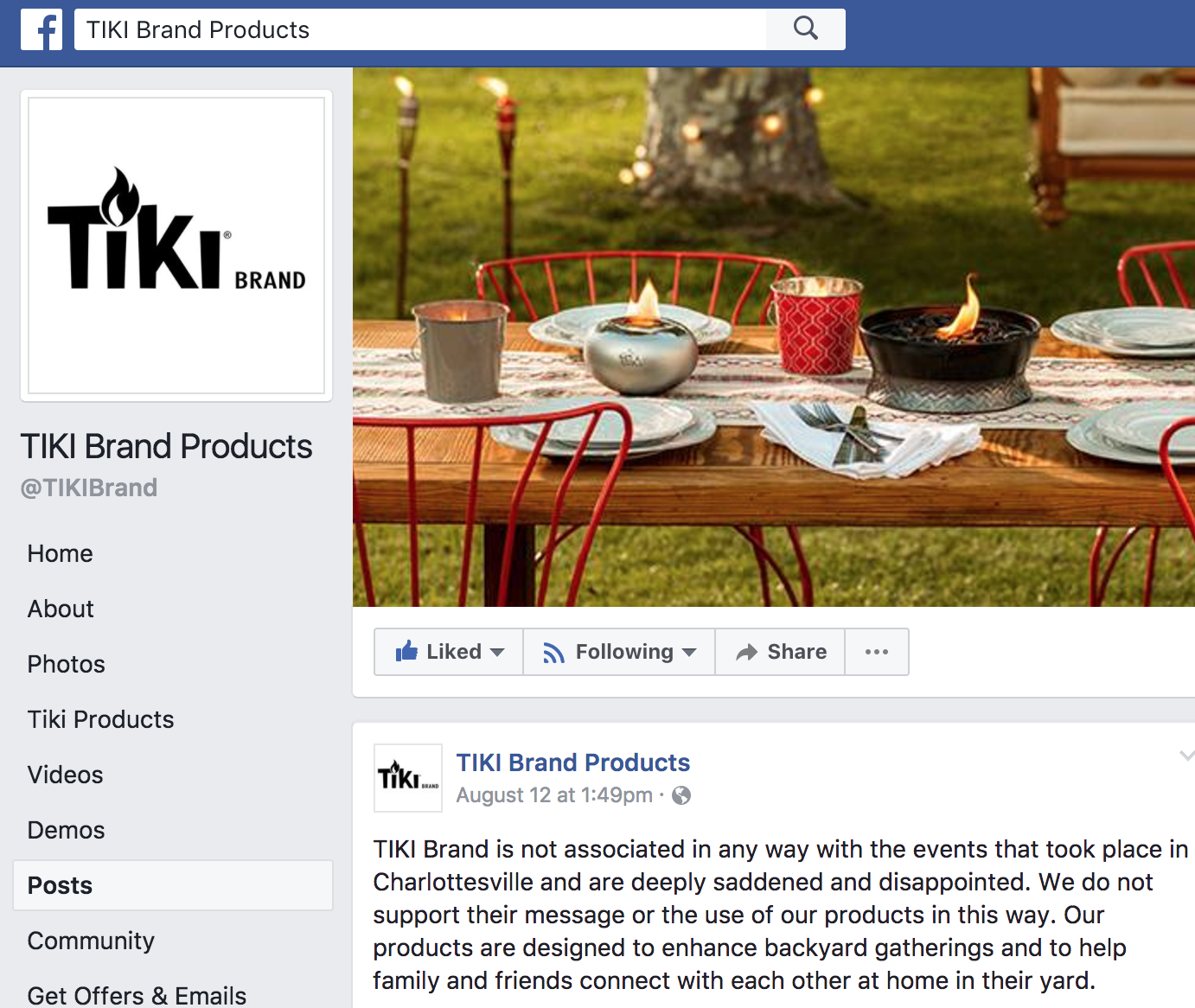 Tiki Brand learned an eye-opening PR lesson in early August: activism can come for your brand. When a Charlottesville white supremacist, neo-Nazi, and KKK rally turned aggressive, photos splashed across news outlets such as New York Times, the Washington Post, CNN, and The Sacramento Bee. The images revealed angry white men (in their 20s and 30s) wielding Tiki Brand's easily identifiable torches. It was in stark contrast to typical associations with their product as decorations at fun events and kitschy references to Polynesian culture. Now they were in danger of being associated with angry hate groups. Tiki Brand immediately issued a Facebook renunciation. It is only in our current reality that being against neo-Nazis, the KKK, and white supremacy might be considered a political stance. But, let's be real, those who support the ideals of Tiki Brand aren't likely to find fault with this stance.

A quick look at Tiki Brand's media intelligence dashboard shows us that a spike in brand mentions correspond with a precipitous dip in sentiment. This data serves as a clear indication to its communications team that the brand is in trouble.
PR Takeaway:Whether or not you take a stance in response to a controversy, it's important that you're always listening for unexpected associations to your brand. When necessary, reasserting your brand values might be a good idea, especially if there's a potential for your brand to be redefined in the public's eyes. You'll want to have a crisis comms plan in place, in case this situation arises.
5. GoDaddy: Pulling the Plug on "Morally Offensive Activity"
As the largest domain registrar in the world, GoDaddy facilitates the online presence of many a brand. Consumers zeroed in on this role as they lobbied GoDaddy to eject the Daily Stormer, a well-known neo-Nazi website from the service. However, GoDaddy supported DS via a subsidiary, even though their website warns users: "(Do) not even think about using our service" to partake in "morally offensive activity." It was not until the Daily Stormer's response to the death of Heather Heyer at Charlottesville, that GoDaddy decided the site was morally offensive after all. Whether or not this seeming inconsistency in policy will come back to bite them or not, only time will tell.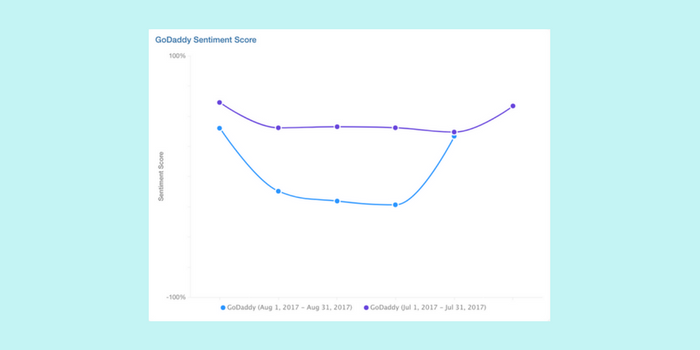 GoDaddy's weekly sentiment score for August (shown in blue) is well below August sentiment, quickly revealing that the brand was in trouble as its audience criticized the company for not acting on brand values.
PR Takeaway: If you state your brand values publicly, consider sticking to them and making your boundaries clear. When your corporate social responsibility is called out, you'll be expected to stick to your values or be questioned for not taking them seriously.
6. Merck: Prescribing Diversity
Kenneth C. Frazier, one of five African American CEOs at a Fortune 500 and the only African American on Trump's CEO Council most likely wrestled with the decision to leave this high-profile post. But given Trump's "both sides" statement in the wake of Charlottesville, Frazier responded, "As CEO of Merck, and as a matter of personal conscience, I feel a responsibility to take a stand against intolerance and extremism." While his departure was seen as political by Trump and received condemnation from him via a tweet, it was followed by other CEOs withdrawing from the Council and drew praise from other Fortune 500 CEOs. This act of conscience served as a reminder to other CEOs that they had an obligation to their employees and shareholders to support diversity.
PR Takeaway: Your brand does not exist in a vacuum. Consider how your brand values align with community values and act accordingly. Taking a sincere, relevant stand will undoubtedly bring you attention. If you're monitoring your social and media mentions, you might find the community approves of your integrity.
7. Proctor & Gamble: Spotlighting Difficult Dialog
Proctor & Gamble, the largest consumer goods company in the US and home to many highly recognizable brands, including Tide, Crest toothpaste, Gillette, and Pantene took a very personal approach in affirming its commitment to the African American community. While many of the brands we've looked at address this same theme by directly responding to events in the news, Proctor & Gamble never references today's headlines. Instead, they've produced a moving spot focusing on Black mothers as they discuss racial bias with their children. The commercial seemingly opens on the 1950s and goes through every decade to modern day, showing that having "the talk" has been a tradition for Black Americans and hinting that racism has been ongoing and isn't over, even as the talk has adjusted to the times. While the spot can be seen as subtly acknowledging Proctor & Gamble's presence in the American home, no products are visible or promoted, allowing its social message to stand on its own. And while think pieces from both sides of the aisle have weighed in on the success of the campaign, it looks like social media approves by embracing the branded hashtag #talkaboutbias.
Proctor & Gamble have received nearly universal support for their spot, as a search for brand mentions related to the commercial reveals. We clearly see that their approach to addressing a sensitive subject was a good one.
PR Takeaway: If you have resources to back up your brand values, you might be in the perfect position to push a timely conversation as part of your corporate social responsibility. While there is a chance that a segment of your audience might consider the move opportunistic (or even offensive), if the message is on-brand and socially resonant, you'll assert yourself as a voice for the community and open dialog, rather than self-interest or divisiveness. Launching a hashtag as a vehicle for interaction also gives you a leg up on understanding how the community receives your act of corporate social responsibility.
Knowing how to steer the conversation is an invaluable skill to modern PR pros, get a refresher by registering for our upcoming webinar: Crisis, Not Catastrophe.