Measuring Every Aspect of PR's Impact—Even Press Releases
You put a lot of work into crafting your press release. You hope it will become the source material for profiles and reviews of your brand. But the question about the effectiveness of a press release and who may be reading it (is anyone?) can be frustrating.
The wire service many of us have been using for years distributes your releases, and then? Was the effort a waste? Has anyone contacted you directly for additional information, quotes, an interview? Otherwise, your service might provide a simplified report with guesstimates around pageviews. But what you really want to know is which of outlets did your message resonate with and engage readers, rather than just quickly being eyeballed. Until now, it was hard to know if your "fire hose" approach was yielding any meaningful coverage, that you could take credit for.
In the age of Facebook, Twitter, Snapchat, and Instagram, we have become used to instant feedback. Social engagement leaves a data trail, including follower counts, likes, shares, retweets, re-grams, and comments, all available, as they happen. As we know, stats lend credibility to your efforts, help you spot trends, and enable you to refine your message and your approach. This type of data analytics wasn't readily available for press releases, until now.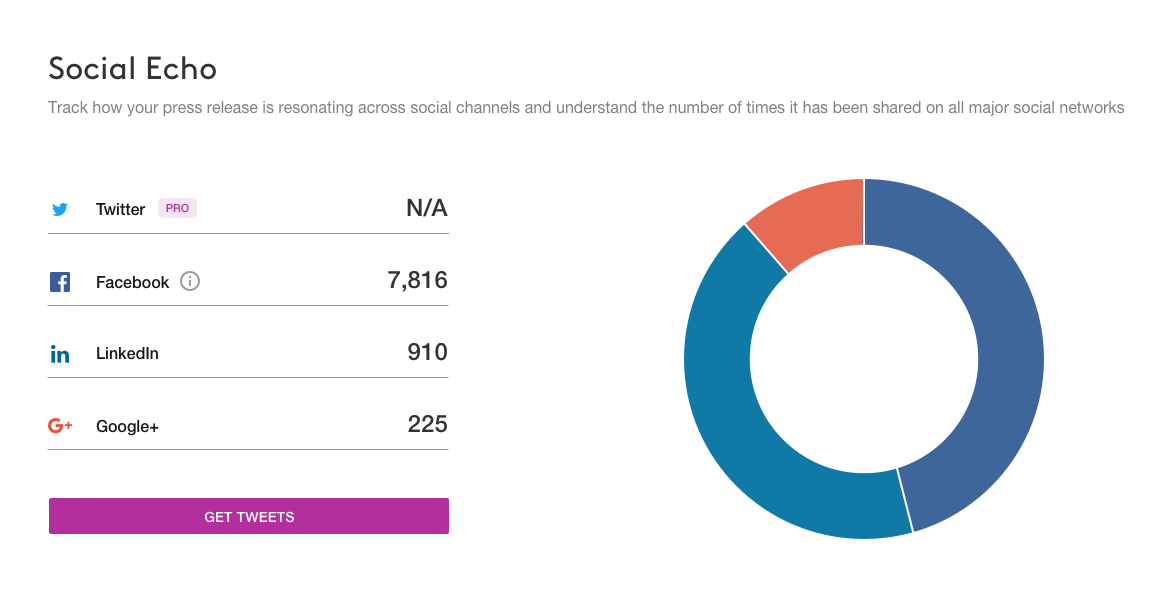 The feedback loop of ongoing social dialog has made the traditional press release follow up outdated. At Meltwater, we designed Meltwater Impact to help companies include press releases in their results reports, to empower them to transition from stats to insights by leveraging social data With data driving more and more decision-making, we believe it's time press releases to forge a data trail of their own.
Now you can see, not only how many articles originated from your original release, but also, how each article contributes to potential reach. You can now track the entirety of the press release's social footprint.
By better understanding distribution and engagement, you can better plan for future media coverage. With its ability to track insights and statistics of your press release, as well as associated topics and keywords, Meltwater Impact surfaces new data sets that illustrate the reach of your work. Welcome to a truly new era of press release reporting.
This post was originally published on this site on October 16, 2016.