Brand Crisis or False Alarm: Learning from the Backlash on Coca Cola's One-Brand Redesign
Last week, Coca-Cola announced a package redesign driven by its One-Brand strategy. Criticism was swift. Did Coke blur the product lines too much? Did a powerhouse brand just make a massive blunder on par with its infamous New Coke campaign?
It doesn't take much to push PR pros (and audiences at large) into fight or flight mode. But before we spend our PR budgets fighting the wrong fires, we should always step back and make a proper media intelligence sweep. Here's how we'd go about assessing the response to Coca-Cola's redesign.
We used sentiment analysis to scan one year's worth of Coca-Cola news coverage. We found the dates with the most circulated bad news, then drilled down for the corresponding headlines.
The Best of Times and the Worst of Times
Some stories were negative in scope, but nonetheless showed Coke as a positive influence amid the drama—see how the big sponsors responded to the FIFA scandal in October 2015. A savvy comms person might play up the company's core values.
Other stories reported the negative impact of external forces—when a strong dollar could mean weaker profits—which might have affected all competitors in the same space or multiple sectors. Without getting too educational, a comms person might explain to investors that a strong dollar means bigger purchases of raw materials and real estate abroad, or a net positive investment in operations and infrastructure. Growth doesn't just come from revenue, it also takes reinvestment and future planning.
Once we found the juiciest headlines, we compared the share of voice (SOV) of each story among all negatively scored articles.
Media intelligence identified the worst news of the year for Coke: sales of Diet Coke are tanking. With the public stance on artificial sweeteners, that isn't a surprise; however, were a media frenzy to develop over declining sales, it might be mitigated with a campaign on naturally sweetened products or promoting Coke's Dasani brand.
Gone Fishin' for Social
Before calling it a day, we dove into the sea of social media and found the biggest fish of the year.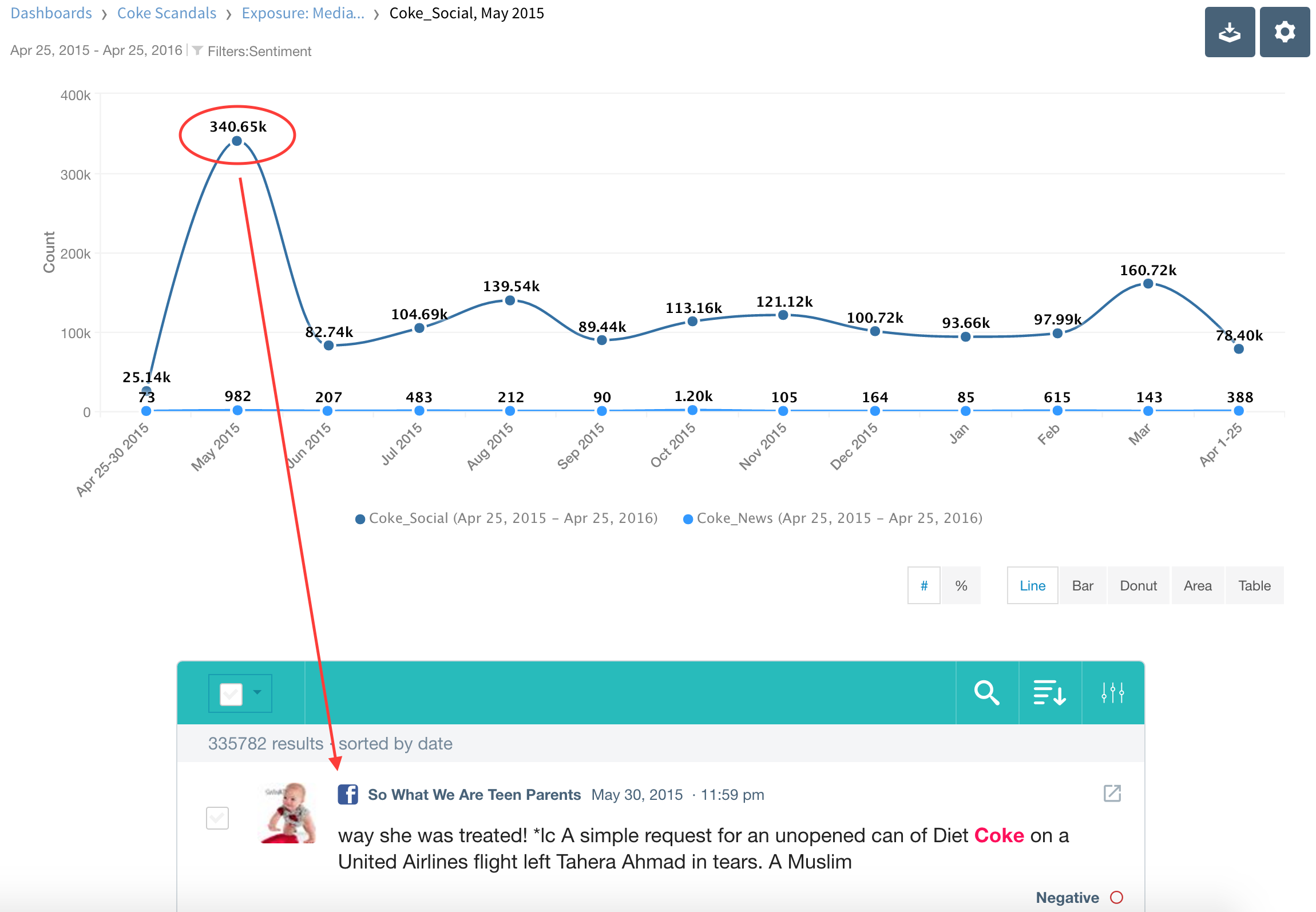 We clicked on the surge in social mentions and saw that a Muslim passenger aboard a United Airlines flight was denied her request for an unopened can of Diet Coke. This piece on racial profiling struck the biggest nerve with consumers according to our sentiment analysis, but Coke wasn't directly at fault for it.
The latest media criticism was that Coke's redesigned packaging will make it harder for consumers to find their preferred variant on the shelves. It remains to be seen whether this is true, because it's never an issue until it affects the bottom line. For now, we'll keep comparing news and social, comparing and investigating spikes. It's good to not get baited by sensationalist headlines. And with social media monitoring, brands can check whether the smoke and the fire are caused by the same issue.