Best 3 UX Lessons and Trends of 2016 + 1 Bonus
As digital marketing becomes more ubiquitous, it's important to understand the ways people interact with technology, especially as PR and marketing folks—we want people to interact with our technology—often. In order to calibrate PR and marketing efforts and make it easier for the user, we evolve our human computer interaction as technology changes. This is the crux of user experience.
Here are three lessons from major UX trends in 2016 and how they affect PR and marketing folks.
1. Content-Focused Design Provides Immediate Value
Presenting useful information allows people to engage effortlessly. By enabling nearly-preloaded no frills content, in essence reducing load time for the end-user. Presenting content quickly is a surefire way for users to derive immediate value without waiting; resulting in a satisfying mobile experience. Leaders in this space include Google's Accelerated Mobile Pages (AMP) and Facebook Instant Articles.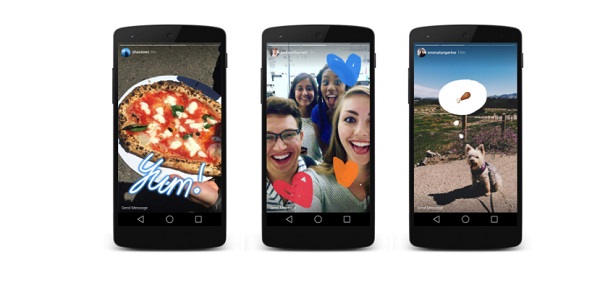 2. Storytelling Captures User Engagement
Narratives are baked into the experiences we have in the apps and websites we use every day. Snapchat Stories with its ability to connect snaps into daily narratives has had unprecedented growth over the last two years with 10 billion video views a day. These numbers inspired Instagram Stories, an obvious clone of the platform.
And Facebook's commitment to video extends beyond Instagram to their video autoplay on Newsfeeds, drawing in billions of views on the platform. During the recent holiday season, the platform took out advertisements in metropolitan areas promoting Facebook Live and its ease of use (for both recording and viewing content). It's clear that people are increasingly watching a variety of video stories, much of it on mobile, that unfolds in front of them. As PR and marketing pros, integrating video narratives into campaigns will ensure user engagement.

3. Facilitating Conversations Increases User Satisfaction
Interaction goes beyond passive consumption of content or video. As social animals conversations define our experiences. To enable more connection via technology, brands have fully embraced AI chatbots and voice interfaces in 2016. Not only are we talking to Alexa and Siri, we're having conversations with branded chatbots through Facebook Messenger and as first line customer service. Opening up a dialog with your users will not only improve satisfaction, but also allow for important feedback—a win-win!
Bonus: The Rise of The "Super" Or "One-Stop" App
2016 made way for the swiss army knife of apps—one-stop super app. You can hail an Uber in Facebook Messenger, pay your friends in Snapchat and even order dinner while texting in iMessage. With integrations of services baked into the apps you use the most, it's starting to make less sense to download a ton of apps to do small individual tasks. Being an "app of all trades" allows users to get everything done within a singular experience.
Meltwater's Media Intelligence Platform offers the ability to monitor trends, research and connect with influencers, send press releases, measure the impact of your press releases, create data visualizations of media mentions, monitor trends, analyze your social mentions, and broadcast on your social channels. Being an end-to-end communication, research, outreach, data analysis, and reporting tool for PR and marketing folks means we can help reach business goals with insights of both the data created and monitored.
2016's UX lessons and trends indicate how users might interact with your app or content. Being cognizant of the user's experience will improve your PR and marketing efforts.
More Bests Lists
If you enjoyed these UX lessons and trends list; then check out the best web trends, the best infographics of 2016, the best data visualization software, the top most anticipated movies of 2017, and the best ways to utilize Instagram hashtags for health activism. As you might guess, our team consistently reassesses best practices, so if your 2017 marcomms' resolution is to get data fluent for reporting campaigns and upping the ante with your content, we can help.