Can you believe 2017 is almost over and 2018 will be here before we know it? While the years may come and go, one thing is always changing: social media trends. You may have just become used to creating memes and adding videos to your social media channels, but it's time to learn a whole new set of rules.
What were the hottest social media trends of 2017?
Live Streaming Video
Chatbots
Expiring Social Content
Merging of Social Media Platforms
Harder Acquisition of Organic Social Traffic
Virtual Reality and Augmented Reality
Increased Personalized Content
Increased Usage of Social Influencers
What's on the horizon for 2018? Keep reading for trends to follow and become familiar with as you begin planning your strategy for the New Year.
Social Media Trends for 2018
Staying on top of social media trends is important for increasing user engagement, getting your content out there and it's important for your business. Here's what you need to keep your eye out for and learn next year.
1. Increase Relevant Content
Irrelevant social media content is a waste of everyone's time. It can be disappointing to customers when they want to read your latest news and the update they see has nothing to do with your brand. In fact, nearly three out of four users get frustrated when content isn't relevant to their interests.
Targeted personalization for audiences is a major trend in content marketing, and it extends to social media as well. As social media platforms change, their analytics tools and business-specific features will become more detailed and valuable to brands.
This kind of data means marketers will have the insights to craft better and more personalized content for their audiences. It's past time for marketers to be creating and distributing content that truly speaks to and engages audiences on a personal level; social media will help make that easier.
2. Overlapping Social Media Channels
Currently, Snapchat and Instagram feature timed videos and visual content. Instagram Stories have a significantly wider reach and receive more engagement; Instagram influencers see up to 10 percent of their audience members open their Instagram Stories on a daily basis, which is more than can be said for Snapchat. However, Snapchat continues to dominate among members of younger demographics. As more platforms offer similar features, brands and marketers will have to be increasingly selective about which ones they invest in. Take advantage of analytics and reporting features to identify which platforms could offer you the best return, and start there.
3. Engage in Social Listening
Instead of just watching what kind of content your competitors are creating or what they're posting on social media, you should also pay attention to their mentions and what people are saying, and use it as a metric to compare your performance.
"Using web monitoring, we can collect an enormous amount of data on our company and our competitors that can be used in our marketing strategy. Our research showed that in one month, 14,000 online searches started with 'Can anyone recommend?' and about 30,000 searches started with 'Where can I buy?' About 60 percent of these questions never received responses from companies; this is a huge opportunity," says Magdalena Urbaniak, global communications manager at Brand24.
Urbaniak says monitoring these social mentions can show you what people in your shared audience like and don't like, which can provide insight into where your brand can grow.
Social listening gives you valuable information about your competitors and your own audience that you can use to your advantage in your content strategy.
4. Video Will Continue to Grow
Everyone by now knows that video content is popular and, therefore, important for social media marketing. And as social algorithms keep evolving, video will only grow more valuable for generating engagement and building your following.
Instagram's Stories feature and Snapchat itself also give brands the chance to create video content and share it immediately with their followers. Having the ability to create that kind of content and the strategy to tie it to your written content for your blog and outside publications will be critical for brands in 2018.
More than 200 million people use Instagram Stories each month, which is 50 million more than those who use Snapchat. Amazingly, the Instagram Stories feature is just one year old! At this rate, nearly half of all Instagram users will be using Stories by the end of 2018.
5. Facebook is Going Mobile
By 2020, it's predicted that 59 percent of U.S. users will access Facebook through mobile exclusively, and 80 percent of the company's ad revenue already comes from mobile ads.
Facebook was one of the last social media platforms that wasn't originally designed to be on mobile devices. Looking at other apps like Instagram and Snapchat, we've seen the trend of mobile-only (or mostly mobile) social apps for a long time now. Mobile optimization has been an industry practice for savvy marketers for a while, but with Facebook not far from being dominated by mobile use, brands will have no excuse for creating or distributing content that's not optimized for mobile.
If you need help creating mobile-friendly content, check out my other blog post on just that topic.
6. Chatbots Are Continuing to Surge
Instant connection and widespread internet access have conditioned us to want things yesterday or, when that's not possible, in the next five minutes. Unfortunately, this prompts a lot of businesses to do one of two things: respond so quickly that mistakes are made and service quality suffers, or freeze in their tracks because they're not quite sure how to meet this demand for speed.
That's part of what makes chatbots, especially through Facebook Messenger valuable. Chatbots give companies the chance to interact quickly with your audience in a way that feels personal; you can customize your brand voice and send personalized content directly to users. This could be why there are at least 100,000 monthly active bots on Facebook Messenger and the reason two billion messages are exchanged between brands and their audiences each month. If you aren't already, 2018 might be the year to test chatbots for your business.
7. Investment in Influencer Marketing
Over 90 percent of marketers who employ an influencer marketing strategy believe it is successful. Companies like North Face, Hubspot and Rolex use social media–based influencer marketing strategies to connect with new audiences and improve engagement with existing audiences.
This year we saw that brands that opted for traditional advertising strategies struggled to connect to social media users. Next year, it is likely that more brands will embrace influencer marketing to connect with audiences who tend to ignore traditional strategies.
8. Focus on Generation Z
A recent study conducted by Goldman Sachs concluded that Generation Z was more valuable to most organizations than millennials. Today, the oldest Generation Zers are 22 years old. They are just beginning to enter the labor force and will have increased buying power for some time.
Brands should begin to recognize this and shift their social media strategies accordingly. Expect great investment in platforms loved by Gen Zers like Snapchat and Instagram.
9. Rethinking Twitter
Twitter has failed to grow followers significantly in 2017. In fact, LinkedIn, Facebook and Instagram all have more social media followers. This year, Twitter also lost access to streaming NFL games (Amazon won the rights). In 2018, it is likely that Twitter leadership will rethink how the platform operates.
Possible changes to Twitter include selling the company to private investors, changing the platform to include some subscription element and/or revamping Twitter advertising options, which have fallen behind other platforms. It might be better to invest more time and money in increasingly popular sites like Facebook and Instagram next year.
10. Social Media for Publishing
Social Media platforms are increasingly exploring options for users to move beyond simply sharing content by allowing them to publish their own content. Over the last year, LinkedIn has been growing in popularity as a publishing outlet, with many companies using the platform to boost their B2B marketing from influential articles.
Snapchat and Instagram are also evolving to allow linking features that allow users to swipe to read articles. Additionally, Facebook's Instant Articles is becoming increasingly popular with many content creators using the feature to publish their pieces directly to the Facebook App.
Content marketing is no longer just about creating great content for your website. It's now become about getting your content in front of consumers where they already are, and using social media as a publishing outlet is an effective way to do so.
11. Purpose Driven Marketing
Social media marketing is turning more into connecting with your audiences' emotions than it is just about unveiling a new product or sharing news. Brands can use purpose-driven marketing to target an audience based on their shared needs and interests – particularly in supporting a worthy cause.
Customers are loyal to brands that have a purpose, with 91% of millennials saying they would switch brands to one associated with a cause. Partnering with nonprofits and charities, or establishing a "give back" program, can give a brand a stronger presence by aligning their purpose with the values and priorities of their consumers.
Heading into 2018
Did any of these social media trends for 2018 surprise you? Are you ready to try and implement some of these trends into your social media marketing? To make sure the foundation to all your social media programs is equipped, download our ebook, Social to Scale: How to Build a Serious Social Media Program.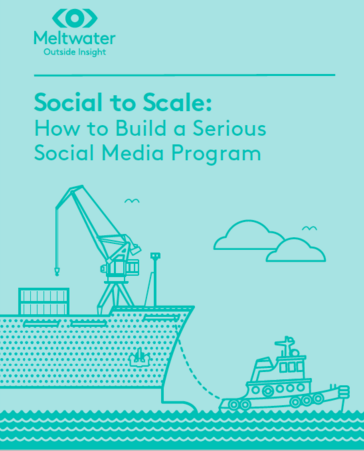 This article originally appeared in Three Girls Media, it was written by Natalie Petersen from Business2Community, and is legally licensed through the NewsCred publisher network. Please direct all licensing questions to legal@newscred.com.